.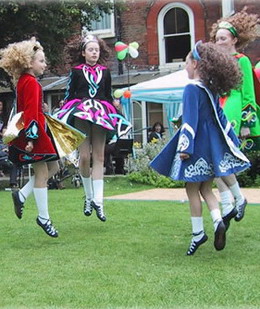 Dublin Folk Dance Group, Dance Theatre of Ireland, Irish Dance Wear, These are just a few of the Irish dance companies, Irish dance schools, dancing organizations and dance wear suppliers that that can be found in our comprehensive Directory of Irish Dance Companies.
Traditional Irish Dances

Jigs
There are references to the jig in ancient Ireland. A number of variations of the jig are performed including the single (or soft), double, treble, and slip jig. The music is 6/8 time (the emphasis on beats in a jig is: ONE-two-three four-five-six). Slip jigs are in 9/8 time (ONE-two-three four-five-six seven-eight-nine). Dancers perform single or soft jigs in soft shoes. Solo competitions only occur at the level of beginners, advanced beginners, and at some feisianna, Open. Competitions at all levels also occur in the treble jig which has a slower tempo, but dancers triple beats in hard shoes. The slip jig (soft shoes) is the most graceful of Irish dances and features light hopping, sliding, skipping and pointing. Only women dance the slip jig. In the Richens Academy, the first dance learned is the soft jig.

Reel
The reel originated around 1750 in Scotland and the Irish dance masters brought it to full
development. The music is 4/4 time and it is danced at a relatively fast tempo (ONE-two-three-four). Both men and women dance the reel. For women, it is a light, rapid soft shoe dance that allows for plenty of leaping and demands an energetic performance from the dancer. Men often dance the reel in hard shoes.

Hornpipe
The hornpipe began around 1760, evolving from English stage acts. It was originally danced
exclusively by males in hard shoes, but now, both men and women compete. It is reported that the ladies of Cork were the first to brazenly perform the hornpipe in the male style. The hornpipe is in 4/4 time, reminiscent of a slow reel with accents on the first and third beat (ONE-and-a two-and-a three-and-a four-and-a). A notable feature is the frequent use of a rocking motion with the ankles.

Set Dances
A set dance is performed to a specific tune which has remained set over time (at least during the 20th Century). Both males and females dance sets in hard shoes. Competitions begin at the level of "Open" because of the difficulty of the dances. Because the tune is always the same and the dancer knows the tune, adjudicators expect greater interpretation of the music. (In the jig, reel, and hornpipe competitions, the particular tune may vary depending on the musician.) The dances can be either in jig or hornpipe time. In one case, "Is the Big Man Within?" the time changes mid-tune. Regular jigs and hornpipes follow a particular structure of the number of measures per tune, but sets vary. Sets contain two parts, the first is the "lead around" (from 8 to 16 measures), the second is the "set" (12 to 16 measures). Some tunes are more than 250 years old, but most of the dances are of more recent origin, developed by dance masters. Also, some of the tunes have accompanying words.

Ceili Dances
Ceili dances were derived from group set dances and French quadrilles, but were set to Irish music. They appear to have evolved with the help of the Irish dance masters, many from County Kerry. Nationalism, combined with the Handbook of Irish Dances published in 1902, led to standardization of ceili dances. Recording the descriptions of these dances occurred through the 1930s. For example, the Sweets of May and A Trip to the Cottage were discovered in South Armagh, being known only to a group of elderly men and women. Luckily, many ceili dances were recorded before being lost in history.
AllAboutIrish
Irish Dance Video
Featured Irish Dance Company
Dance Theatre of Ireland
In the decade since its inception, Dance Theatre of Ireland has exemplified excellence and innovation in choreography, music & design. Featuring the work of its Artistic Directors Robert Connor & Loretta Yurick and distinguished international guest choreographers*, it has developed a reputation for producing dance theatre which is passionate, evocative, sophisticated yet arrestingly pure - exciting dance which is at times both fierce and uplifting.
Dance Theatre of Ireland tours extensively to all major venues in Ireland and Northern Ireland and by invitation to international Festivals and theatres in Europe. Featuring a repertoire rich in collaboration with Irish composers and artists, increasingly, the company works with New Technologies.
Dance Theatre of Ireland @ Dun Laoghaire is a state-of-the-Art purpose built dance studio facility located on the upper level Bloomfields Centre. It is the new home of the Company and a resource for dancers and dance companies offering classes to the public.

If you would like your Ireland Dance Company, Dance Organization, Dance School featured here then please email bangkokcompanies@gmail.com
There are many fine dance schools in Ireland. I know I am in contact with them as we supply a range of high quality dancewear products like leotards, dance pants, dance dresses and other dancing apparel.
Bangkok Companies supplies an amazing range of dancewear from Thailand. I have looked at these dance garments and dance accessories in detail. There is only one word to describe them Superb. For more details click on the pictures or send an email to bangkokcompanies@gmail.com We regret at this time we can only satisfy Ireland wholesale dancewear requests.
"Dancewear designed by dancers for dancers"
| | | | | |
| --- | --- | --- | --- | --- |
| Dance Dresses | Kids Leotards | Adult Leotards | Dance Bras | |
| | | | | |
| | Dance Pants | Tutu's | Dance Shorts | |
| | | | | |
| Dancewear | Dancewear Organizers | Dance Bags | Dance Backpacks | |
| | | | | |
Bangkok Companies is a full service product sourcing company in Thailand. For All your dancewear needs please email bangkokcompanies@gmail.com with your requests.
---
Dance Schools in Ireland, Dancewear Suppliers, Dancing Organizations
Dance Theatre of Ireland
Bloomfields, Lower Georges St. IE-Dun Laoghaire, Co. Dublin Ireland
Tel. (353.1)2803455; Fax (353.1)2803466
info@dancetheatreireland.com
http://www.dancetheatreireland.ie
Professional International Contemporary Company, and Centre for Dance
--------------------------------------------------------------------------------
Mr. Robert Connor, Artistic Director
Dance Theatre of Ireland
Bloomfields, Lower Georges Street IE-Dun Laoghaire, Co. Dublin Ireland
Tel. (353.1)280.3455; Fax (353.1)280.3466
info@dancetheatreireland.com ; danceire@iol.ie
www.dancetheatreireland.com
Professional International Contemporary Company, and Centre for Dance
--------------------------------------------------------------------------------
Ms. Loretta Yurick, Artistic Director
Dance Theatre of Ireland
Bloomfields, Lower Georges Street IE-Dun Laoghaire, Co. Dublin Ireland
Tel. (353)1 280 3455; Fax (353)1 280 3466
info@dancetheatreireland.com
http://www.dancetheatreireland.com
Professional International Contemporary Company, and Centre for Dance
--------------------------------------------------------------------------------
Irish Dance Wear
20 Capel Street IE-1 Dublin Ireland
Tel. (353)1.873.1398
irishdancewear@eircom.net
http://www.irishdancewear.net
Dance Company
--------------------------------------------------------------------------------
Dancenews Ireland, Dance Council of Ireland
23 Upper Gardner Street IE-1 Dublin Ireland
Dance Publication
--------------------------------------------------------------------------------
Mr. Frank Geary, Company Manager
John Scotts Irish Modern Dance Theatre
SFX City Theatre, 23 Upper Sherrard Street IE-1 Dublin Ireland
Tel. (353)1.874 9616 Fax (353)1.878 7784
imdt@iol.ie
www.imdt.iol.ie
Dance Theatre
--------------------------------------------------------------------------------
Mr. John Scott, Artistic Director
John Scotts Irish Modern Dance Theatre
SFX City Theatre, 23 Upper Sherrard Street IE-1 Dublin Ireland
Tel. (353.1)874.9616; Fax (353.1)878.7784
imdt@iol.ie
http://www.irishmoderndancetheatre.com
Creation of new dance theatre work for performances, performance and touring
--------------------------------------------------------------------------------
Ms. Adrienne Brown, Artistic Director
New Balance Dance Company
23 Goatstown Road IE-14 Dublin Ireland
Tel. (353)1.298 4167, 284 1784
Dance Company
--------------------------------------------------------------------------------
Ms. Clodagh Martin
16 Beechpark Crescent, Castleknock IE-15 Dublin Ireland
Tel. (353)1.8213598
Dance Organiser
--------------------------------------------------------------------------------
Siopa Rince Teoranta
Unit 49, Coolmine Business Park, Clonsilla IE-15 Dublin Ireland
Tel. (353)01.822.4922; Fax (353)01.822.4933
Dance Company
--------------------------------------------------------------------------------
An Coimisiem Le Rince Gaelacha
6 Harcourt Street IE-2 Dublin Ireland
Tel. (353)01.475.2220; Fax (353)01.475.1053
clrg@eircom.net
Dance Company
--------------------------------------------------------------------------------
Mr. Budget Wehster, General Manager
CoisCeim Dance Theatre
Top Floor, 7 South Creat Georges Street IE-2 Dublin Ireland
Tel. (353)1.670 4134; Fax (353)1.6704076
colsceim@iol.ie
www.iol.ie/~coisceim
Dance Theatre
--------------------------------------------------------------------------------
Pulsara Marketing
16 Sandford Road, Ranelagh IE-6 Dublin Ireland
Tel. (353)1.497.1670; Fax (353)1.496.7742
sales@pulsara.com
Dance Company
--------------------------------------------------------------------------------
Mr. Brian O. Huiginn, Director
Traditional Music and Dance Development Forum
27 Greenville Avenue, South Circular Road IE-8 Dublin Ireland
Tel. (353)16704686; Fax (353)16704684
ceoltoir@iol.ie
Folk dance group
--------------------------------------------------------------------------------
Mr. Kevin Cosgrave
Dublin Folk Dance Group
48 Ludford Drive IE-Ballinteer, Dublin 16 Ireland
Tel. (353.1)298 7929
Dance Group, folk, Irish set dancing
--------------------------------------------------------------------------------
Dancers Inc.
10 Woodford, Brewery Road IE-Blackrock, Co.Dublin Ireland
Tel. (353.1)2954095, (353.87)531566
Dance Agent, Dance organizer
--------------------------------------------------------------------------------
Mr. Lorcan Murphy
CIOFF Ireland
92 Dollymount Park IE-Clontarf, Dublin 3 Ireland
Tel. (353.1)976.788, (353.1)338.770; Fax (353.1)497.6497
Dance Festival, folk, organizer
--------------------------------------------------------------------------------
Ms. Catherine Nunes, Artistic Director
International Dance Festival of Ireland
35 St Beignets Villas IE-Dalkey, County Dublin Ireland
Tel. & Fax (353.1)202 5883
Dance Festival
--------------------------------------------------------------------------------
Mr. Eamon Ryan
Belfield House, UCD IE-Dublin Ireland
Tel. (353.1)260.0749
www.kerna.ie/ics
Dance Teacher, folk, Irish set dance, organizer
--------------------------------------------------------------------------------
Ms. Eileen Gibbons
Skerries IE-Dublin Ireland
Tel. (353.1)849.0498
Dance Teacher, folk, Irish set dance, organizer
--------------------------------------------------------------------------------
Mr. Jerry O'Reilly
15 Henrietta Street IE-Dublin 1 Ireland
Tel. (353.1)873.0093
npupipes@iol.ie
www.setdance.com
Dance Teacher, folk, Irish set dancing, organizer
--------------------------------------------------------------------------------
Mr. Terry Cullen
Brooks Academy
15 Henrietta Street IE-Dublin 1 Ireland
Tel. (353.1)873.0093
Dance Teacher, folk, Irish set dancing
--------------------------------------------------------------------------------
Ms. Eileen O'Doherty
Na Peobaire Uilleann
15 Henrietta Street IE-Dublin 1 Ireland
Tel. (353.1)873.0093
www.setdance.com
Dance Teacher, folk, Irish set dancing, organizer, publisher
--------------------------------------------------------------------------------
Ms. Bridget Webster
Coisceim Dance Theatre
1st & 2nd Floor, 14 Sackville Place IE-Dublin 1 Ireland
Tel. (353) 1 878 0838; Fax (353) 1 878 0813
coisceim@iol.ie
http://www.coisceim.org
Dance Theatre production company
--------------------------------------------------------------------------------
National Commission for UNESCO,
Department of Education and Science
Floor 1, Block 4, Irish Life Centre, Talbot Street IE-Dublin 1 Ireland
Tel. (353.1)873.47.00; Fax (353.1)872.92.93, 878.86.48
Organization
--------------------------------------------------------------------------------
Ms. Valerie Larkin
20 Sommerville, Dundrum Road, Dundrum Dublin 14. IE-Dublin 14 Ireland
Tel. (353)1 296.3856
bellydance@ireland.com
http://www.bellydance-irl.com
Dance Teacher, dancer, performer, Middle Eastern dance, Oriental, belly dance
--------------------------------------------------------------------------------
Ms. Adrienne Brown, Director
New Balance Dance Company
23 Goatstown Road IE-Dublin 14 Ireland
Tel. (353.1)298.4167
Dance Company, contemporary, professional, performing
--------------------------------------------------------------------------------
Mr. Colm Wynne, Secretary
Irish Dance Sport Federation
38 Ashton Avenue, Knocklyon IE-Dublin 16 Ireland
Tel. (35.3)1.6419619, (35.3)1.4944976; Fax (353.(35.3)1.2959779
wynnec@iol.ie
Dance Organization, dancesport
--------------------------------------------------------------------------------
Mr. Alan Corsini
Dublin City Morris Dancers
38 Meadow Mount IE-Dublin 16 Ireland
Tel. (44.1)298 5068
Open cotswold, border, longsword, clog club, English folk dances
--------------------------------------------------------------------------------
MaSamba Samba School
23 Moss Street, City Arts Centre IE-Dublin 2 Ireland
Tel. (353.1)677.0643
Dance Group, folk, samba school, recreational
--------------------------------------------------------------------------------
Mr. Michael John Callan
Folk Dance & Song Society
34 Derry Road, Crumlin IE-Dublin 2 Ireland
Dance Organization, folk, English dances, school, courses, library
--------------------------------------------------------------------------------
Ainm Records
5-6 Lombard Street East IE-Dublin 2 Ireland
Tel. (353.1)677.8701
www.iol.ie/~trend/ainm.html
Publisher, folk, Irish set dancing
--------------------------------------------------------------------------------
Commission of Irish Dancing (Irish Dancing Commission)
6 Harcourt Street IE-Dublin 2 Ireland
Tel. (353.1)475.2220; Fax (353.1)475.1053
Dance Organization, folk, Irish set dancing
--------------------------------------------------------------------------------
Ms. Kathy O'Kennedy, Administrator
Dance Council of Ireland
65 Fitzwilliam Square IE-Dublin 2 Ireland
--------------------------------------------------------------------------------
Colm Treanor
19 Glenaulin, Chapelizod IE-Dublin 20 Ireland
Tel. (353.1)623.1048
treanorc@entemp.irlgov.ie
Dance Teacher, folk, Irish set dancing, organizer
--------------------------------------------------------------------------------
Ms. Irene Martin
Strawberry Beds, Chapelizod IE-Dublin 20 Ireland
Tel. (353.1)821.3662
Dance Teacher, folk, Irish set dance, organizer
--------------------------------------------------------------------------------
Mr. Pat Murphy
72 Saint Johns Park East, Clondalkin IE-Dublin 22 Ireland
Tel. (353.1)457.1494
pmurphysetdance@eircom.net
Dance Teacher, folk, Irish set dancing, organizer
--------------------------------------------------------------------------------
Dan Crotty
23 Park Hill Lawn, Kilnamanagh IE-Dublin 24 Ireland
Tel. (353.1)451.5516
Dance Teacher, folk, Irish set dancing
--------------------------------------------------------------------------------
Mr. Jim Monaghan
313 Glenview Park, Tallaght IE-Dublin 24 Ireland
Tel. (353.1)451.6890
jimelvis@indigo.ie
Dance Teacher, folk, Irish set dancing, organizer
--------------------------------------------------------------------------------
Mr. Colm Mooney
Moonshine Productions
34 The Bramblings-Killester IE-Dublin 5 Ireland
Tel. 831.73.31; Fax (353.831.73.31
colm@moonshine.iol.ie
Dance School
--------------------------------------------------------------------------------
Ms. Claire Bogan
70 Ardmore Drive, Artane IE-Dublin 5 Ireland
Tel. (353.1)847.5628
Dance Teacher, folk, Irish set dancing, organizer
--------------------------------------------------------------------------------
Mr. Kim Nolan, Artistic Director
Dance Company
71 Leinster Road, Rathmines IE-Dublin 6 Ireland
Tel. (353.1)661.1361
Company, new dance
--------------------------------------------------------------------------------
Mel & Edith O'Connor
Standard Ballroom Class
Terenure Road West IE-Dublin 6W Ireland
Tel. (353.621)1514.087
Dance School, ballroom & partner dancing, Latin, salsa
--------------------------------------------------------------------------------
Ms. Mary Friel
98 New Cabra Road IE-Dublin 7 Ireland
Tel. (353.1)873.0093
Dance Teacher, folk, Irish set dance, organizer
--------------------------------------------------------------------------------
Cliodhna Na Anluain
10 Woodfield Terrace IE-Dublin 8 Ireland
Tel. (353.1)453.1818, 286.4107
nianluc@rte.ie
Dance Teacher, folk, Irish set dancing, organizer
--------------------------------------------------------------------------------
Mr. Terry Moylan
Craft Recordings
11 Merton Avenue, South Circular Road IE-Dublin 8 Ireland
Tel. (353.1)453.9095
terrym@iol.ie
www.shaw.iol.ie/~terrym/craft.htm
Publisher, folk, Irish set dancing
--------------------------------------------------------------------------------
Ms. Fiona Gilligan, Artistic Director
Rubato Ballet Company
19 Stamer Street IE-Dublin 8 Ireland
Tel. (353.1)453.8657; Fax (353.1)478.4353
Dance Company, neo-classical dance
--------------------------------------------------------------------------------
Ms. Laura Dempsey
The Association of Professional Dancers In Ireland
The Basement Office, 1 Harrington street IE-Dublin 8 Ireland
Tel. (353.1)4781130; Fax (353.1)4781137
prodance@iol.ie
http://www.prodanceireland.com
Dance Organization, classical Dance, contemporary Dance, association
--------------------------------------------------------------------------------
Ms. Eileen O'Doherty
3 Oak Green, Royal Oak, Santry IE-Dublin 9 Ireland
Tel. (353.1)842 0662
eileenod@indigo.ie
Dance Teacher, folk, Irish set dancing, organizer
--------------------------------------------------------------------------------
Mr. Michael Tubridy
42 Woodlawn Park IE-Dundrum, Dublin 14 Ireland
Dance Teacher, folk, Irish set dance, organizer
--------------------------------------------------------------------------------
Mr. Jerry O'Reilly
6 The Orchard, Woodfarm Acres IE-Palmerstown, Dublin 20 Ireland
Tel. (353.1)626.7589
Dance Teacher, folk, Irish set dance, organizer
--------------------------------------------------------------------------------
Donncha Mainneachain
5 Park View, Carrick Hill IE-Portmarnock, Dublin Ireland
Tel. (353.1)846.3479, (353.1)679.3377
muscrai@indigo.ie
Dance Teacher, folk, Irish set dancing, organizer
--------------------------------------------------------------------------------
Mr. Frank Whelan
Irish National Folk Company
Rearse Museum IE-Rathfarnham, Dublin Ireland
Dancer, teacher, organizer
--------------------------------------------------------------------------------
Mr. Tommy Shaughnessy
International Dancesport & American Style
19 Herberton Drive IE-Rialto, Dublin 12 Ireland
Tel. & Fax (353)14733095
shaugh@iol.ie
Dance Teacher, ballroom dance, Latin