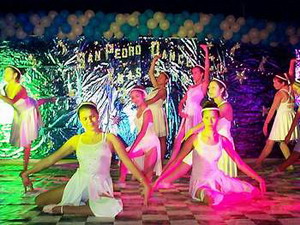 The Belize Dance Company, San Pedro Dance Company, Belize National Dance Company, are just a few of the Belizean dance companies, Belize dance schools, dancing organizations and dance wear suppliers that that can be found in our comprehensive Directory of Belize Dance Companies.
The Garifuna
Though commonly referred to as "Garifuna", the people are properly called "Garinagu" and the culture and language are "Garifuna". The Garinagu are recent arrivals to Belize, settling the southern coast of Belize in the early 19th century. The epic story of the Garinagu begins in the early 1600's on the Caribbean island of St. Vincent.

In 1635, two Spanish ships carrying Nigerian slaves floundered and sank off the coast of St. Vincent. The slaves that survived and swam ashore found shelter in the existing Carib Indian settlements. Over the next century and a half, the two peoples intermixed, intermarried and eventually fused into a single culture, the Black Caribs or Garinagu.

According to tradition, the first Garifuna arrived in then British Honduras on November 19th, 1802. This day is now a national holiday in Belize celebrated with drums, dancing and pageantry. Today, there is one town in Toledo - Punta Gorda - that is considered a Garifuna town, and two Garifuna villages - Barranco (the oldest Garifuna settlement in Belize) and tiny Punta Negra.

Central to the Garifuna community is the belief in and respect for the ancestors. The Garinagu retain their powerful spiritual connection with past generations of any family group through a ritual called "Dugu". A Spiritual leader called a "Buyei" or shaman presides over family members, who travel from all over the world to gather at the dugu meeting place called a "temple". No expense is spared as fresh seafood, pork, fowl and cassava bread are prepared for days of healing, dancing, drumming and communing with the spiritual world.

The Mayans
The Maya maintain a strong link to the past through rituals, folklore and family. Fiestas, dancing and traditional music remain important as several festivals and celebrations occur throughout the year. On these special occasions, masks and elaborate costumes are worn by dancers, singers, and musicians. One tradition occurs on the 1st and 2nd of November-All Saint's Day and All Souls Day. On this day, huge feasts are prepared for ancestors. Late evening, these meals are set on tables along with candles in the houses of those who have lost their loved ones. If the food is gone in the morning, the people believe that their ancestors came for the food.
Belize by Naturalight
Featured Belizean Dance Company
The Belize National Dance Company has toured world wide, and is well know for its fusion of modern and ethnic dance.

If you would like your Belize Dance Company, Dance Organization, Dance School featured here then please email bangkokcompanies@gmail.com
There are many fine dance schools in Belize. I know I am in contact with them as we supply a range of high quality dancewear products like leotards, dance pants, dance dresses and other dancing apparel.
Bangkok Companies supplies an amazing range of dancewear from Thailand. I have looked at these dance garments and dance accessories in detail. There is only one word to describe them Superb. For more details click on the pictures or send an email to bangkokcompanies@gmail.com We regret at this time we can only satisfy Belize wholesale dancewear requests.
"Dancewear designed by dancers for dancers"
| | | | | |
| --- | --- | --- | --- | --- |
| Dance Dresses | Kids Leotards | Adult Leotards | Dance Bras | |
| | | | | |
| | Dance Pants | Tutu's | Dance Shorts | |
| | | | | |
| Dancewear | Dancewear Organizers | Dance Bags | Dance Backpacks | |
| | | | | |
Bangkok Companies is a full service product sourcing company in Thailand. For All your dancewear needs please email bangkokcompanies@gmail.com with your requests.
---
Dance Schools in Belize, Dancewear Suppliers, Dancing Organizations
Belize National Commission for UNESCO
Ministry of Education; Museum Building, Culvert Road BZ- Belmopan, Belize Belize
Tel. (501.8)22.329, 22.380, 20.793; Fax (501.8)23.389
National organization
--------------------------------------------------------------------------------
Belize National Dance Company; Bliss Institute
P.O. Box 1204 BZ-Belize City Belize
Tel. (501) 2.72110; (501)2.72458; Fax (501)2.70726
http://www.utech.edu.jm/cariculture/Beli
Company
--------------------------------------------------------------------------------
Vania Duran
35 Elizabeth Street BZ-Benque Viejo Belize
Tel. (501) 82 32083
Contemporary dancer & teacher
--------------------------------------------------------------------------------
Charles Flores
10 Church Street, P.O. Box 41 BZ- Belize City Belize
Tel. 501.2.77451; 501.2.77452; 501.2.76750; Fax 501.2.70726
http://www.utech.edu.jm/cariculture/Beli
Company
--------------------------------------------------------------------------------
The Belize Dance Company
The Belize Dance Company is Belize's top dance group and has gained international recognition performing in the USA, Europe and many Central American countries.