.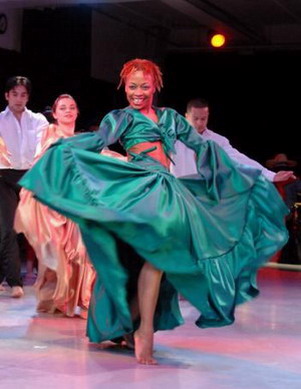 HAITIDANSCO, Ayikodans Dance Company, Ballet Bacoulou d'Haiti, these are just a few of the Haitian dance companies, Haitian dance schools, dancing organizations and dance wear suppliers that that can be found in our comprehensive Directory of Haitian Dance Companies.
Traditional Haitian Dance
Haitian dance is unique in its melding of diverse African styles and cultural traditions. Many different African ethnic groups crossed paths on the island of Hispanola (known now as Haiti and the Dominican Republic) when brought there as slaves by the French centuries ago. Old traditions, songs and dances (mostly of Congo and Dahomey origin) evolved and mixed with elements of Arawak (indigenous Haitian Indian) and French culture to form a new, uniquely Haitian dance expression. The creation of Vodou cosmology is a factor influencing Haitian movement. The dances and ritual arose as an attempt to preserve sacred and social art forms, customs and beliefs, in response to surviving the oppressive and arduous conditions of slavery.

The gods and goddesses (or L'wa) that are part of Haitian Vodoo spirit possession and myth, influenced and created dance movements. Theatrical in nature, Haitian dance can be feminine, masculine, proud, mischievous, sensual, and aggressive. It has been said that Haitian dance is full of opposites; it can be subtle and dynamic, as well as graceful and rugged. Dances that originated in the French upper classes influenced Haitian movement and combined with the vigorous torso, pelvis and leg movements and African rhythmic sensibility.

All of this rich variety of movement is facilitated, amplified and respired by the drum. The drum alone is a healing vehicle, its vibrating tones and rhythms creating calm, balance, focus, sensuality, passion and excitement. It is the guide and regulator, supporting the dancers' movements and inspiring and influencing them emotionally. This is why Haitian dance is such a powerful music and movement experience. (The original 'trance dance', if you will).
Haitian dance: movement rooted in ritual & tradition: feel the beat of this ancient healing practice with Ellen Bleier. Read More.. Ellen Bleier New Life Journal, Feb-March, 2003
Haitian Dance Video
Featured Haitian Dance Company
Ayikodans Dance Company
The Ayikodans Dance Company is the premiere dance troupe in Haiti. Led by internationally renowned choreographer Jeanguy Saintus, Ayikodans presents a seamless blend of modern and traditional dance styles. Founded in 1987, Ayikodans (formely Artcho Danse) has traveled extensively, representing the rich culture of Haiti at many international venues(Trinidad, Porto Rico, Guadeloupe, Martinique, France, Jamaica, New York, Miami, Dominican Republic, Spain, Japan..... ). The Company represents the absolute best of Haitian Culture. Its explosive drummers and dancers combine to deliver performances that capture the eye and move the spirit.
The group is in fact, a physical and intellectual confirmation of a new aesthetics in Haitian dance. Many, with good reason, view Ayikodans as Haitiís newest and most vibrant cultural ambassadors. Artcho et Performance Home of Ayikodans 38, Rue Chavannes, HT 6140 Petion-Ville, Haiti Founder/Artistic Director, Jeanguy Saints Rehearsal Director, Linda F. D'Meza Executive Director, Gerard Florestal Dance all styles, all levels, perf. company
---
HAITIDANSCO
HDC is formed by a group of talented artists who come from diverse cultural and dance backgrounds. All of them work together to learn and share the beautiful Afro-Haitian culture. Offering a strong mix of classical, modern and jazz dance styles, the group believes in the joy and excitement of all types of dance. They create their own language with each project and, in doing so, are willing to take the next step forward with each breath they take.

If you would like your Haiti Dance Company, Dance Organization, Dance School featured here then please email bangkokcompanies@gmail.com
There are many fine dance schools in Haiti. I know I am in contact with them as we supply a range of high quality dancewear products like leotards, dance pants, dance dresses and other dancing apparel.
Bangkok Companies supplies an amazing range of dancewear from Thailand. I have looked at these dance garments and dance accessories in detail. There is only one word to describe them Superb. For more details click on the pictures or send an email to bangkokcompanies@gmail.com We regret at this time we can only satisfy Haiti wholesale dancewear requests.
"Dancewear designed by dancers for dancers"
| | | | | |
| --- | --- | --- | --- | --- |
| Dance Dresses | Kids Leotards | Adult Leotards | Dance Bras | |
| | | | | |
| | Dance Pants | Tutu's | Dance Shorts | |
| | | | | |
| Dancewear | Dancewear Organizers | Dance Bags | Dance Backpacks | |
| | | | | |
Bangkok Companies is a full service product sourcing company in Thailand. For All your dancewear needs please email bangkokcompanies@gmail.com with your requests.
---
Dance Schools in Haiti, Dancewear Suppliers, Dancing Organizations
Dieufel Lamisere - Artistic Director & Founder
HAITIDANSCO
New York - USA
Tel: 1 646 920 1350
Email: info@haitidansco.com
www.haitidansco.com
Afro-Haitian culture. Offering a strong mix of classical, modern and jazz dance styles
Yvrose Green
42 route de Peguy-Ville HT-Petion Ville Haiti
(509)557.9472;
Fax (509)257.9536
Danse Classique, Moderne, technique Katherine Dunham, Haitian Folklore. Danses Folkloriques Traditionnelles
--------------------------------------------------------------------------------
Saintus Jeanguy
Ayikodans Dance Company
38, Petion-Ville HT-6140 Petion-Ville Haiti
(509) 25.71.663; 71.42.021;
Fax 22.92.053
38 Rue Chavannes HT-6140 Petion-Ville Haiti
(509)256.7231;(509)256.7268
www.ayikodans.org
ayikodans1@hotmail.com
Haitian-Contemporary, Jazz/Hip-Hop, Traditional Dances, Modern, Repertoire. Artcho Danse is the official School of the internationally acclaimed dance company Ayikodans (Haiti) Vitolio Jeune
--------------------------------------------------------------------------------
Dominique Richez
30, 30 rue Casseus/Pacot west Indies Pacot Haiti
011509-455-0778
www.millenniumballroom.net
Dancer, teacher/Researcher 1st Vice President National Dance Council of Haiti
President National dance teacher Association Haiti
--------------------------------------------------------------------------------
Centre culturel du Theatre de l''Air Nouveau
56 av. Jean Jaures FR-93500 Pantin France
Tel. (33)01 41 71 19 05
http://perso.club-internet.fr/theanou
Danse traditionnelle de Guadeloupe, Martinique, Haiti, danse africaine et afro-cubaine.
--------------------------------------------------------------------------------
Jesula Bien-Aime
#17, Rue Dalancourt HT Canape-vert Haiti Haiti
Tel. 011509-4215420
--------------------------------------------------------------------------------
Pierre-Richard Cherubin
38, Rue Lambert#38 west Indies Petionville Haiti
011509-256-0530
NDCH. Committee Member
--------------------------------------------------------------------------------
James Dorleus
48, Bois-verna #48 west Indies Delmas Haiti
011509-555-6585
Commitee member
--------------------------------------------------------------------------------
Jacson Dormevil-Brierre
36, Rue Vaillant-Lalue Port-Au-Prince, West Indies Haiti
011509-245-6162
Dance teacher
--------------------------------------------------------------------------------
Gregory Francois
106, Rue de la Reunion Port-au-Prince Haiti
Tel. 011509564-8818
Dance teacher
--------------------------------------------------------------------------------
Sheila Joseph-Adolph
29, Rue Jn. Augustin Petion-ville, West Indies Haiti
Tel. 011509-257-8054
Dance teacher
--------------------------------------------------------------------------------
Frantz Noel
24-E, Rue Cap Haitien Complex Versailles Port-Au-Prince, West Indies Haiti
Tel. 0115094322490
Dance teacher
--------------------------------------------------------------------------------
Rockfeller Pierre
36, Rue Panamericaine#36 west Indies Petionville Haiti
011509-257-1612
Commitee member for NDCH
--------------------------------------------------------------------------------
Jean Mariot Pierre
38, Rue Lambert HT-Petion-vill,haiti Petion-ville West Indies Petionvil Haiti
011509-4543161;0115092560530
NDCH. Committee Member
--------------------------------------------------------------------------------
Valnaire St-Juillet
#74, Ave Lamatiniere HT Port-au-prince Bois-vernat Haiti
Tel. 011509-461-0866
--------------------------------------------------------------------------------
Gail Barton
c/o PE-North, 50 Phelan SF CA 94112 U.S.A.
415.452.5353; 415.239.3800
www.ccsf.edu
Classes in African-Haitian, Modern, Tap, Ballet, International Folk, Hip Hop, Jazz, Dance Conditioning, Ballroom, Swing, Argentine Tango, Latin, Composition, Production, Repertory, History, Yoga; Cert
--------------------------------------------------------------------------------
Alexandra Blackbird
260094, PO BOX CA 91426 Encino, U.S.A.
1.818.455.5638; 1.818.997.3991
www.blackbirddance.com
Dancer, Actor, Model, Singer variety of styles:African, Ballet, Ballroom, Breakdance, Broadway, Classical & Contemp. Theatre, Cuban, Film, Haitian, HipHop, Imporv., Jazz, Latin, Modern, Musicals.
--------------------------------------------------------------------------------
Jennifer Chauvel
N/A, 1644 N.W 58 Avenue 33313 Florida U.S.A.
Tel. 954.478.2726
www.millenniumballroom.net
Dancer,teacher in Ballroom Dancing,Jazz and Haitian Folks Dance
--------------------------------------------------------------------------------
Ballet Bacoulou d''Haiti
42, Route de Peguy-Ville HT-Petion-Ville Haiti
509).257.2339
--------------------------------------------------------------------------------
Fondation Artchio
38 rue Chavarnes HT-Petion Ville Haiti
Tel. (509)257 5941, 257 1663
Ballet Jazz, Moden, Afro
--------------------------------------------------------------------------------
Haitian National Commission for UNESCO
(Commission Nationale Haitienne de Cooperation avec l'UNESCO)
Rue 4 - Pacot, # 4, B.P. 1347 HT- Port-au-Prince Haiti
Tel. & Fax (509)245.0370
National organization
--------------------------------------------------------------------------------
Wilkilson Touze
B.P. 19069 Bas peu de chose HT-Port-au-Prince Haiti
Fax (509)245.8681
Organization
--------------------------------------------------------------------------------
Odette Wiener
Hotel Maribu, B.P. 991 HT-Petion Ville Haiti
Tel. 509.57.0090, 1934;
Fax 509.57.3974
Festival, folk, organizer
--------------------------------------------------------------------------------
Lucina de Martis
Via Adige 66 IT-00198 Roma Italy
Tel. (6)8552215/85354142
Company, folk, Afro-haitian
--------------------------------------------------------------------------------
Guillermo Davis el Iyawo
5 Wedgewood House, Warley St E2 0PZ London U.K.
Tel. 07811 320 576
www.eliyawo.co.uk
Cuban Salsa, Afro-Cuban dance, Haitian dance, Cuban Popular dance, Carnival Dance
--------------------------------------------------------------------------------
Gage Averill
24 Waverly Place, 2nd floor, New York NY
10003-0067 New York U.S.A.
Historian, folk, Haiti, social history of popular dance music, member ICTM
--------------------------------------------------------------------------------
Lois E. Wilcken
621 Rutland Road, 4C NY 11203-1716 Brooklyn U.S.A.
Tel. (1.212)529-5062
Researcher, Haitian dance; ritual; gender; class