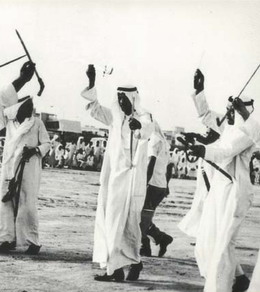 The British School of Ballet, Sargam Dance Troop, these are just a few of the Kuwaiti dance companies, Kuwaiti dance schools, dancing organizations and dance wear suppliers that that can be found in our comprehensive Directory of Kuwait Dance Companies.
Traditional Kuwaiti dance

Traditional dance is an important part of feasts and celebrations. The Ardah dance is performed by men at feasts and weddings. Dancers carry swords while dancing to the rhythm of folk music played on drums and tambourines. The Samiri , Fraisah, Al Zifan, Khamari, and Tanboura are dances that are performed by women at family and social gatherings.

Khalijiyya (Gulf Girl)
A Kuwaiti dance song describing the many fine qualities of a Gulf girl, especially her beautiful hair and how her dress (the dancing dress) compliments her figure. This dance is performed at women's parties.

Much of Kuwait's tradition in music and dance is derived from the Bedouin way of life. A national dance, the Ardha, is a men's sword dance accompanied by drums and tambourines.
In weddings in Kuwait there are four types of dancing:
Naggazi (Khaleeji)
This is a fast-paced dance and in most weddings most of the songs are of this type. It is also the easiest of all the dances and can be best described as walking while subtly hopping. It allows for a lot of free style movements through the use of the arms, shoulders and even the hair. Dancers walk from one side of the stage to the other while subtle hopping in sync with the beat of the song. Arms may be lifted up and shoulders subtly shaken.
Read about the other three Kuwaiti wedding dances
Kuwaiti Dance Video
Featured Kuwait Dance Company
The British School of Dance - Kuwait
Director: Ms Shannon Hart - Professional jazz and tap instructor with 15 years teaching experience
all courses 10 weeks long
Modern Jazz (for girls): 'fun and funky' modern street style moves mixed with traditional jazz ballet techniques
Tap dance (for girls): 'following the American Tap syllabus from 'Al-Gilbert' basic to advanced 'Stomp' moves
Breakdancing: for boys & and girls (ages 9-20). Instructor Sherzoud - former member of UKs top Breakdance Crew. Includes: backflips, headspins, windmills & more!

If you would like your Kuwait Dance Company, Dance Organization, Dance School featured here then please email bangkokcompanies@gmail.com
There are many fine dance schools in Kuwait. I know I am in contact with them as we supply a range of high quality dancewear products like leotards, dance pants, dance dresses and other dancing apparel.
Bangkok Companies supplies an amazing range of dancewear from Thailand. I have looked at these dance garments and dance accessories in detail. There is only one word to describe them Superb. For more details click on the pictures or send an email to bangkokcompanies@gmail.com We regret at this time we can only satisfy Kuwait wholesale dancewear requests.
"Dancewear designed by dancers for dancers"
| | | | | |
| --- | --- | --- | --- | --- |
| Dance Dresses | Kids Leotards | Adult Leotards | Dance Bras | |
| | | | | |
| | Dance Pants | Tutu's | Dance Shorts | |
| | | | | |
| Dancewear | Dancewear Organizers | Dance Bags | Dance Backpacks | |
| | | | | |
Bangkok Companies is a full service product sourcing company in Thailand. For All your dancewear needs please email bangkokcompanies@gmail.com with your requests.
---
Dance Schools in Kuwait, Dancewear Suppliers, Dancing Organizations
Kuwait National Commission for UNESCO
PO Box 3266 KW-13033 Safat Kuwait
Tel. (965)240.5331, 244.4403; Fax (965)246.9512
http://www.kwtnatcom.org
National organization
--------------------------------------------------------------------------------
Suad Abdullah
PO Box 5338, KW-13054 Safat Kuwait
Tel. 965/47 42 574; Fax 965/47 64 194
Institute
--------------------------------------------------------------------------------
Sonja Cvetkovic
The British School of Ballet
The British School of Kuwait
PO Box 26922, Safat 13130, State of Kuwait
Tel: 562 1701 Fax: 562 4903
email: gjh@bsk.edu.kw
The School has 1350 students. British School of Ballet is a subsidiary (100 students).
--------------------------------------------------------------------------------
Sargarm Sailaja
Sargam Dance Troop
Farwaniya.
Tel: 6948614 Mobile: 6948614
Classical, Semi Classical, Film, Indian Folk etc
--------------------------------------------------------------------------------
Hussein A. Al-Mussalem
PO Box 5338, Safat, N 13054 KW-Khaitan Kuwait
Tel. 965 47 42 574; Fax 965 47 64 194
Organisation
--------------------------------------------------------------------------------
Fuad Al-Shatti
PO Box 5338, KW-13054 Safat Kuwait
Tel. 965/47 42 574; Fax 965/47 64 194
Institute
--------------------------------------------------------------------------------
Dalal Hassan
Kuwait fax:
+965 2439278/2469512
Controller
--------------------------------------------------------------------------------
Abdul Fahed Wahab
Box 17580, Care Centre KW-Khalidiah Kuwait
Tel. (965)242.9158, Fax (965)244.1621
Organization, folklife
--------------------------------------------------------------------------------
Ms Shannon Hart, Cert.Perf.Arts
British School of Dance
Block one Street one SALWA Kuwait
http://www.bsk.edu.kw/britishschoolsmain/Dance/Dance.htm
Tap, Contemporary, Ballet, Jazz and Hip Hop