.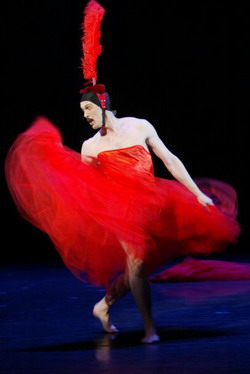 The Iceland Dance Company, Reykjavik City Theatre, Icelandic Ballet School, are just a few of the Icelandic dance companies, Icelandic dance schools, dancing organizations and dance wear suppliers that that can be found in our comprehensive Directory of Iceland Dance Companies.
Traditional Icelandic Dance

Icelandic Vikivaki folk dances. This dance is done in a circle to traditional folk music which is sung while dancing. The famed Icelandic dance known as the "Vikivaki" (pronounced "wickywacky"). This ancient dance was performed with great gusto at many Viking Feast and it goes without saying that it was EXTREMELY popular in Iceland.

Icelandic Schottische. Much of Iceland's indigenous music and dance traditions virtually disappeared centuries ago in the wake of strict religious bans. What remains is predominantly of later Danish origin. This schottische was taught by a folk dance team from Reykjavik. The tune, an old folk song, was learned by Gunnar Hahn from an Icelandic couple in Stockholm. Islenzkur skottis is especially suitable for teaching children the schottische, as there is no fully closed-position turn in the second half, thereby making the dance easier for the inexperienced or "shy" dancer. In keeping with the buoyant spirit of the dance, footwork should be sprightly - not at all "sluggish," but firmly under control. Pulling out, with bent elbows, on the turn, will facilitate the counterbalance needed for maximum momentum during the rotation.
Icelandic Dance Video
Featured Icelandic Dance Company
The Iceland Dance Company, ID, is the national institution of Iceland responsible for developing, creating and nurturing contemporary dance and choreography. ID puts special focus on new creations in dance as well as developing partnerships and collaborations with other artistic sectors, in particular music. ID is recognized as a contemporary dance company on a world-class scale.
The Iceland Dance Company is an independent public institution with residence at the City Theatre in Reykjavík, one of Europe's finest theatres for dance.
The company was founded in 1973 by the National Theatre of Iceland.
The company consists of nine to fourteen dancers, all sharing a background in classical training but retaining a pronounced individuality. The group has emerged as an exciting and critically acclaimed contemporary dance company.

If you would like your Iceland Dance Company, Dance Organization, Dance School featured here then please email bangkokcompanies@gmail.com
There are many fine dance schools in Iceland. I know I am in contact with them as we supply a range of high quality dancewear products like leotards, dance pants, dance dresses and other dancing apparel.
Bangkok Companies supplies an amazing range of dancewear from Thailand. I have looked at these dance garments and dance accessories in detail. There is only one word to describe them Superb. For more details click on the pictures or send an email to bangkokcompanies@gmail.com We regret at this time we can only satisfy Iceland wholesale dancewear requests.
"Dancewear designed by dancers for dancers"
| | | | | |
| --- | --- | --- | --- | --- |
| Dance Dresses | Kids Leotards | Adult Leotards | Dance Bras | |
| | | | | |
| | Dance Pants | Tutu's | Dance Shorts | |
| | | | | |
| Dancewear | Dancewear Organizers | Dance Bags | Dance Backpacks | |
| | | | | |
Bangkok Companies is a full service product sourcing company in Thailand. For All your dancewear needs please email bangkokcompanies@gmail.com with your requests.
---
Dance Schools in Iceland, Dancewear Suppliers, Dancing Organizations
Irma Gunnarsdottir
Lagmuli 9 IS-108 Reykjavik Iceland
(354)661.74.94
Choreographer, Dancer, managing director, dance theater, dance company
--------------------------------------------------------------------------------
Sigridur Valgeirsdottir
Klapparstig 1 IS-101 Reykjavik Iceland
(354)23074; (965)4365
Folk Dance (Icelandic song dances research reproduction and reconstruction)
--------------------------------------------------------------------------------
Thjoddansafelag Reykjavikur
Alfabakka 14a IS-109 Reykjavik Iceland
Tel. (354)5871616
Dance Group, folk dance and music, recreational & performing
--------------------------------------------------------------------------------
Dansrad Islands
Thingholsbraut 51 IS-200 Kopavogur Iceland
Tel. +3545540106
www.dansskoli.is
Ballroom and Latin American dances
--------------------------------------------------------------------------------
Iceland Dance Company
Reykjavik City Theatre, Listabraut 3 IS-103 Reykjavik Iceland
354.588.0900; Fax 354.588.0910
www.id.is
The Iceland Dance Company, ID, is an independent public institution in residence at the City Theatre in Reykjavik, one of Europe's finest theatres for dance.
--------------------------------------------------------------------------------
The Icelandic Dance Society F.I.L.D
Ligmili 9 108 Reykjavik Iceland
6617494
www.dance.is
Dance Organization
--------------------------------------------------------------------------------
The DANCE Theater from Iceland
www.dance.is
Dance in Iceland
--------------------------------------------------------------------------------
Waraporn Chanse
81, Strandgata 220 Hafnarfjodur Iceland
6988203
Bellydancer and Thai classic dances
--------------------------------------------------------------------------------
Valirie Anne Descrieres
10, Austurstrund IS-170 Seltjarnanes Reykjavik Iceland
Tel. 00-354-8623727, FAX 00-354-5623727
www.jerwoodspace.co.uk
Dancer Afri-Bellydance-Jazz Ballet
--------------------------------------------------------------------------------
Katrin Hall
The Iceland Dance Company
3, Listabraut IS-103 Reykjavik Iceland
Tel. (354)588 0900; Fax (354)588 0910, (354)568 8000
http://www.id.is
The Iceland Dance Company, ID, is the national institution of Iceland responsible for developing, creating and nurturing contemporary dance and choreography.
--------------------------------------------------------------------------------
Helena Jonsdottir
37, Njalsgata IC- 101 Reykjavik Iceland
(354) 588 0411; mob (354) 822 6100
www.this.is/helena , www.this.is/mypocket
Dancer, dance film maker, choreographer, director
--------------------------------------------------------------------------------
Rositsa Slavcheva
Ranargata 10 101 Europe Iceland
003548446716
Dancer, Teacher-world gypsy dance
--------------------------------------------------------------------------------
Association of Icelandic Dancers
Engjateigur 1 IS-105 Reykjavik Iceland
Tel. 588 9188; Fax 588 9197
Dance Company
--------------------------------------------------------------------------------
The Reykjavik City Theatre
Listabraut 3 Is-103 Reykjavik Iceland
Tel. (354) 568-5500; fax (354) 568-0383
www.borgarleikhus.is/default
Competitive festival that presents ideas for new dance-theatre works. Assistance of the theatre, rehearsal space and technical help.
--------------------------------------------------------------------------------
Cultural Night
Iceland Tourist Board, Laekjargata 3 Is-101 Reykjavik Iceland
Tel. (354) 535-5500; (354) 562-3045; fax (354) 535-5501
Festival, anything from plays, to poetry, from literature to jazz, from art shows to rock music, from ballet to karaoke.
--------------------------------------------------------------------------------
Dansleikhus Med Ekka
Ekka Dance Theatre
Guorn Osp Petursdottir, Hatun 41 IS-105 Reykjavik Iceland
Tel. 868 5813
Dance Company
--------------------------------------------------------------------------------
Iceland Dance Company (Slenski Dansflokkurinn)
Borgarleikhsinu, Posthalf 3067 IS-123 Reykjavik Iceland
Tel. 354 588 0900; Fax 354 588 0910; 354 568 8000
http://www.id.is/ietm
Dance Company
--------------------------------------------------------------------------------
Icelandic National Commission for UNESCO
Ministry of Education; Menntamalaraduneytid, Silvholsga IS-150 Reykjavik Iceland
Tel. (354)560.95.00, 560.95.77; Fax (354)562.30.68
http://www.unesco.is
National organization
--------------------------------------------------------------------------------
Islenski Dansflokkurinn
The Icelandic Dance Company
Borgarleikhusio, P.O.Box 3067 IS-123 Reykjavik Iceland
Tel. 588 0900; Fax 588 0910
www.id.is
Dance Company
--------------------------------------------------------------------------------
Listdansskoli Islands
The Icelandic Ballet School
Engjateigur 1 IS-105 Reykjavik Iceland
Tel. 588 9188; Fax 588 9197
Dance Company
--------------------------------------------------------------------------------
Reykjavik Dance Festival
Borgarleikhisinu, Listabraut 3 Is-103 Reykjavik Iceland
Tel. (354) 588-0900; fax (354) 588-0910
www.dancefestival.is
Dance Festival
--------------------------------------------------------------------------------
Birna Bjarnadottir
Engjavegur 6 IS-104 Reykjavik Iceland
Tel. & Fax (354)552.0465, (354)554.0580, Fax (354)564.2780
Dance Organization, dancesport
--------------------------------------------------------------------------------
Ingiirijorg Bjornsdottir
Hlyngeroi IS-10108 Reykjavik Iceland
Dancer
--------------------------------------------------------------------------------
Vidar Eggertsson
Thingholtstrasse 24 IS-101 Reykjavik Iceland
Tel. 354/562 2762 (Pres) Tel. 354/568 5500 Fax 354/568 03 83
Dance institute
--------------------------------------------------------------------------------
Bjorg Ellingsen
Brautarholti 4 IS-105 Reykjavik Iceland
Tel. 560 9500; Fax: 562 3068; (354)561 2770
Dance School
--------------------------------------------------------------------------------
Arn Guimundsson
Engjateigi 1 IS-105 Reykjavik Iceland
Tel. (354)588 9188; Fax (354)588 9197
http://www.listdans.is
Dance School, ballet
--------------------------------------------------------------------------------
R. Gudmundsson
Vesturgata 8 IS-220 Hafnarfjordur Iceland
Tel. (354)898.2915, 565.0661, Fax (354)555.4130
Festival, folk
--------------------------------------------------------------------------------
Vilborg Gunnarsdottir
Engjateigur 1 IS-105 Reykjavik Iceland
Tel. (354.1)889.188, Fax (354.1)889.197
Dance Company, ballet
--------------------------------------------------------------------------------
Sigurdur Hakonarson
udbrekka 4 IS-200 Kopavogur Iceland
Tel. (354)456.6589
Dance Organization, ballroom dancing, dancesport, Dance school
--------------------------------------------------------------------------------
Olof Ingolfsdottir
Grundarstig 12 IS-101 Reykjavik Iceland
Tel. 551 6140
Dance Company
--------------------------------------------------------------------------------
Gudjon Pedersen
Thingholtstrasse 24 IS-101 Reykjavik Iceland
Tel. 354/562 2762 (Pres), 354/568 5500 Fax 354/568 03 83
Institute
--------------------------------------------------------------------------------
Thrainn Skarphedinsson
Tjarnarbraut 21 IS-700 Egilsstadir Iceland
Tel. (354.4)711.349
Group, folk dance and music, recreational & performing
--------------------------------------------------------------------------------
Th. Thorleifsdottir
National Theatre of Iceland, Lindargata 7 IS-101 Reykjavik Iceland
Tel. 354 568 55 00; Fax 354 568 03 83
Organisation
--------------------------------------------------------------------------------
Valgeir Valdimarsson
Borgarleikhusinu, Listabraut 3 IS-103 Reykjavik Iceland
Tel. (354)588 0900; Fax (354)588 0910
http://www.id.is
Dance Ensemble, Ballet Company