.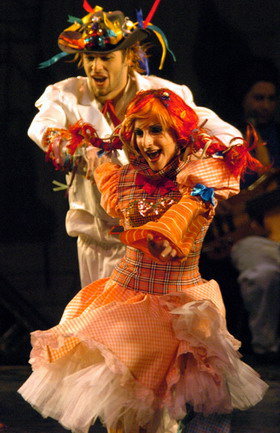 Caleidos Dance Company, Ballet of the City of Sao Paulo, Ballet do Teatro Municipal do Rio de Janeiro, are just a few of the Brazilian dance companies, Brazilian dance schools, dancing organizations and dance wear suppliers that that can be found in our comprehensive Directory of Brazil Dance Companies.
Traditional Brazillian Dance & Music

Under the influence of the many cultures of the immigrants that settled in Brazil, the variety of rhythms and dances that have been born in this country is more than one can count. Starting with the native ritual music that later the Portuguese Jesuits made suitable to their liturgies, to the percussive beats of the Africans, Brazil received many great cultural influences that helped shape it's unique fusion.

Batuque: Originated in a ritual of procreation that came with the African slaves from Congo and Angola. Dancing to the sounds of the drums, a man and a woman improvise moves in the center of circle. When they want to pass a chance to another couple they do that with an umbigada. (navel to navel)

Carimbo: Folkloric dance which originated in the state of Para in the area of the Brazilian Amazon. Danced to the accompaniment of drums and sometimes strings. The carimbo takes it's name from the large African drum. Man and woman dance and when the woman throws her handkerchief on the floor her companion picks it up using only his mouth.

Congada: Danced in circles in honor of Saint Benedict and our lady of Rosary.

Cordoes: Carnival group that sing and dance together on the streets.

Choro: A style of music that became popular in the sixth decade of the ninth century. The name Choro is related to the melancholy characteristic of the music. It was named Seresta when there was a singer as a soloist and Choro when it was all instrumental.

Maracatu: Performed out doors at the Carnival and Christmas time in Pernambuco it involves man and woman in a procession that mixes theater and music elements. The principal figure of the procession is the "Queen" who is protected by a canopy and surrounded by costumed consorts.

Modinha: Arias about love or lament. Music that expresses sentiment of nativism and nationalism. Usually done in binary or ternary compass.

Pastoris: Theatrical representations in front of the Nativity scene at Christmas time. The dramatic dances and songs performed praise and commemorate Jesus' birth.

Samba Enredo: a samba composed to be sang at carnival time by the schools of samba. The theme of the samba always celebrates a patriotic or historical event or person.

Frevo: Dance and style of music preeminent in Recife (capital of the state of Pernambuco). Happy rhythm with fast melodies performed especially at carnaval times in street parades. The frevo ensembles bring to mind a big band with saxophones, trombones, trumpets, shakers and the pandeiros
Hip Brazil
Indigenous Brazilian Dance Video
Featured Brazilian Dance Company
Caleidos Dance Company.: founded in 1996 by Dr. Isabel Marques with the aim to relate dance as a performing art and education through interactivity. Since 2002 the company also carries projects relating dance and poetry and not necessarily educational. The company has presented in several cities in Brazil, Canada and Portugal. In 2003 the company received an award for the work SILสNCIO (Silence) - a dance performance in dialogue with Fabio Brazil's poem by the same name.

Caleidos Teachers Company.: founded in 2003 by Dr. Marques, the company gathers public school teachers with no previous experience in dance in order to give them both, artistic and educational experience to teach dance at schools. This is also a research project part of a larger project conducted at the Department of Dance and Theatre Pedagogy of the Theatre Academy of Finland named "Challenging the notion of Knowledge", The first work of the company was Voices of School , presented in several theaters in the city of Sใo Paulo. In 2004 the company received a small support by Cortez Editora, Brazil.

If you would like your Brazil Dance Company, Dance Organization, Dance School featured here then please email bangkokcompanies@gmail.com
There are many fine dance schools in Brazil. I know I am in contact with them as we supply a range of high quality dancewear products like leotards, dance pants, dance dresses and other dancing apparel.
Bangkok Companies supplies an amazing range of dancewear from Thailand. I have looked at these dance garments and dance accessories in detail. There is only one word to describe them Superb. For more details click on the pictures or send an email to bangkokcompanies@gmail.com We regret at this time we can only satisfy Brazil wholesale dancewear requests.
"Dancewear designed by dancers for dancers"
| | | | | |
| --- | --- | --- | --- | --- |
| Dance Dresses | Kids Leotards | Adult Leotards | Dance Bras | |
| | | | | |
| | Dance Pants | Tutu's | Dance Shorts | |
| | | | | |
| Dancewear | Dancewear Organizers | Dance Bags | Dance Backpacks | |
| | | | | |
Bangkok Companies is a full service product sourcing company in Thailand. For All your dancewear needs please email bangkokcompanies@gmail.com with your requests.
---
Dance Schools in Brazil, Dancewear Suppliers, Dancing Organizations
Ms. Maria Jose Colares de Araejo Moreira
Grupo Folclorico Danza
BR- Brazil
banze@uai.com.br
Dance Festival, folk, international dances
--------------------------------------------------------------------------------
Saint Paul Dance Group
Rua Bresser 790 BR-01000 Sao Paulo Brazil
Tel. 2649117
Dance Group, folk, Greek Dance, performing. amateur
--------------------------------------------------------------------------------
Ballet of the City of Sao Paulo
Teatro Munic. de Sao Paulo, Praca Ramos de Azevado BR-01037 Sao Paulo
Dance Company, ballet, classical Dance
------------------------------------------------------------------------------
Escola de Samba Gavines da Fiel Torcida
Rua Cristina Thomaz 183 BR-01129-020 Sao Paulo Brazil
Tel. (011)221.2066
Dance Group, folk, samba school, recreational
--------------------------------------------------------------------------------
Prof. Ms. Maria Amalia Giffoni
Rua Sergipe, 424 ap.13 A BR-01243 Hygienopolis, Sao Paulo
Dance Historian, author
--------------------------------------------------------------------------------
Mr. Marcos Sobrinho
Marcos Sobrinho company of Dance-theater
av. 09 de julho,1953/905 BR-01313-001 CEP Sao Paulo
Tel. (11)32621663; Fax (11) 4666-6816
zigotus@hotmail.com
Contemporary Dance teacher and choreographer
--------------------------------------------------------------------------------
Unieo das Escolas de Samba Paulistanas - UESP
r. Rui Barbosa 588 BR-01326-010 Bela Vista, Sao Paulo
Tel. (55.11)285.3846, 284.4493
Dance Group, folk Dance, samba school, recreational
--------------------------------------------------------------------------------
Ms. Ivonice Satie, Artistic Director
Bale da Cidade de Sao Paulo
Rua Joao Passalacqua, 66 BR-01326-020 Sao Paulo
Tel. (5511)2393883, 2391740; Fax (5511)2393883
pcontier@contier.com.br
http://www.baledacidade.com.br
Dance Company
--------------------------------------------------------------------------------
Mr. Pepe de Cordoba
Centro Flamenco Pepe de Cordoba
Rua Dos Ingleses 103 -01329 Bela Vista, Sao Paulo
Tel. (55.11)289.8026, (55.11)283.5832
Dance School, folk, flamenco, Spanish dance instruction
-------------------------------------------------------------------------------
Ms. Cecilia de Arruda
Al. Lorena 632, Apt. 62 JD Paulista BR-01424-000 Sao Paulo
Tel. (55.11)3051.2998
antoniettaceci@uol.com.br
Dance Researcher
--------------------------------------------------------------------------------
Associacao Okinawa do Brasil
R. Tomas de Lima, 72, Liberdade BR-01513-010 CEP Sao Paulo, SP Brazil
Tel. 606.8823; Fax 239.0874
Okinawan Traditional Dance
--------------------------------------------------------------------------------
Mr. Naohide Urasaki
Hananokai
Rua Rogerio Giorgi, 98, Vila Carrao BR-03431-000 CEP Sao Paulo, SP
Tel. 55(0xx11)294.5995
Okinawan Traditional Dance, group of teachers, "minyo" or folk and "koten" (court) dance; dance with portable taiko
--------------------------------------------------------------------------------
Ms. Lulu Sabongi
R.Dr. Jose de Queiroz Aranha, 320 - Vila Mariana BR-04106-062 Sao Paulo
Tel. (55)021 11 575.6647 . 571.3209
lulusabongi@cyber-inn.com.br
Dance Company
--------------------------------------------------------------------------------
Ms. Gisele Bellot
Gisele Bellot Academia / Dans La Danse Dance Company
Rua Caiowae 266 BR-05018.000 Sao Paulo Brazil
giselebellot@hotmail.com
www.angelfire.com/ga/gbaballe
Dance School, dance tuition, classes
--------------------------------------------------------------------------------
Ms. Tamara Toledo
Dans La Danse Dance Company
Rua Croata 66 apto 62 BR-05056.020 Sao Paulo
Tel. (55)3871.1174
tata_toledo@hotmail.com
www.angelfire.com/art/tamaratoledo
Dance Company
--------------------------------------------------------------------------------
Dr. Ms. Isabel A. Marques, Director
Caleidos Dance Education Company
R. Pio XI, 1497 BR-05468-140 Sao Paulo SP
Tel. (55)11 30217510
caleidos@caleidos.com.br
http://www.caleidos.com.br
Dance education, contemporary dance, Rudolf Laban, School
--------------------------------------------------------------------------------
Mr. Evaldo Bogado, Director
Associanao de Capoeira Barravento
Rua Moreira Cesar 50, Casa 02, Icarai, BR-106053 Niteroi RJ
Tel. & Fax (55)21.7226741, 24232070
Group, folk, Brazilian, capoeira
--------------------------------------------------------------------------------
Ms. Helena Lourenyo
Rua Adhemar de Figueiredo Lyra 43 BR-11013-175 Santos Brazil
Tel. (5513)32897474, 32351121; Fax (5513)32351122
abrasoffa@uol.com.br
Dance Organiser, Folk dance festivals
--------------------------------------------------------------------------------
Circuito Brasil Fest in folk
Rua Adhemar de Figueiredo Lyra no 43-4, C.P.504 BR-11013-175 Santos
Tel. (55.13)32351122; Fax (55.13)32351122
iov.brasil@abrasoffa.org.br
Folk, Festival
--------------------------------------------------------------------------------
Ms. Helena Lourenco
International Folklore Festival "Brasil Fest in Folk"
Adhemar de Figueiredo 43-40 andar BR-11013-175 Santos-SP
Tel. (55)13.284.1951, 15.235.1121, Fax (55)13.235.1122
abrasoffa@ual.com.br
Dance Festival, folk
--------------------------------------------------------------------------------
Dr. Ms. Marilia de Andrade
Andrade e Arantes LTDA
Estudio XXI, Sitio Santa Rita, Joaquim Egidio BR-13120-970 Campinas, Sao Paulo
Tel. & Fax (55)19.258.39.56
andradearantes@terra.com.br
Researcher, teacher, choreographer, contemporary dance theatre and Duncan dance
--------------------------------------------------------------------------------
Sadira
Rua Aristarco Nogueira, 260 BR-13206-380 Jundia, Sao Paulo Brazil
Tel. 011 73974453
rezinha@hotmail.com
Dance Company
--------------------------------------------------------------------------------
Mr. Jono Roberto De Souza, President
Ogawa Butoh Center
Rua Dr. Bandeira Villela 125 BR-14200-000 Sao Simeo, SP
Fax (16)6841858
School, Butoh, Japanese dance
--------------------------------------------------------------------------------
Festival de Folclore
Casa Postal 60 BR-15.4000-000 Olimpia Sao Paulo Brazil
Tel. (55)017.281.6786, Fax (55)017.281.6941
Festival, folk
--------------------------------------------------------------------------------
Mr. Joaquim C. Gentil Netto, Executive Secretary
Institut Brasilien pour l'education, la science et la culture (IBECC)
196 Avenida Marechal Floriano BR-20080-002 CEP Rio de Janeiro
Tel. & Fax (55.21)516.2458
ibecc@unisys.com.br
Dance Association
--------------------------------------------------------------------------------
Nelma Darzi
Rua Uruguai no 463,Tijuca BR-20510-060 Rio de Janeiro
Tel. (55)5714741, Fax (55)5717531
ndarzi@petitedanse.com.br
Ballet Classic, modern jazz, flamenco
--------------------------------------------------------------------------------
Ms. Rosa Maria Barbosa Zamith
Escola de Musica Villa-Lobos
Centro de Pesquisa e Documentacao
Rua Conde de Bonfim, 850, bl. 2, apt. 602 BR-20530-002 CEP Tijuca, Rio de Janeiro
Tel. (21)2288.0359
rozamith@uol.com.br
Researcher, Folk dance, Quadrille (Country dance)
--------------------------------------------------------------------------------
Ms. Lucilia Brandao Soares
Rua Santa Clara 377/904 BR-22.041-010 Rio de Janeiro Brazil
Tel. (55.21)256.9312
leksilog@pontocom.com.br
Dancer, Greek folk dances
--------------------------------------------------------------------------------
Ms. Lucilia Soares Brandeo
Rua Santa Clara 377/904 BR-22.041-010 Rio de Janeiro
Tel. & Fax (55.21)256.9312
leksilog@pontocom.com.br
Teacher, researcher, Greek folk dances
--------------------------------------------------------------------------------
Ms. Angela Cepeda
Tango Cafe - Restaurante Atlantico Palace
Rua Raul Pompeia 94 BR-22000 Copacabana, Rio de Janeiro
Tel. 55.21.295.2276
Dance Teacher, ballroom, tango
--------------------------------------------------------------------------------
Liga Independente das Escolas de Samba do Rio de Janeiro - LIESA
Av.Rio Branco 4, 18o. andar BR-22000 Rio de Janeiro RJ Brazil
Tel. (55.21)512.3415
Group, folk, samba school, recreational
--------------------------------------------------------------------------------
Mr. Spyros Cavadias
Rua Tonelero 293, Casa 8 BR-22030000 CEP Copacabana, Rio de Janeiro
Tel. (21)2559285, 2564764; Fax (021)2569312
pouto@pontocom.com.br
Dancer, Greek folk dances
--------------------------------------------------------------------------------
Ms. Tatiana Leskova, Director
Ballet do Teatro Municipal do Rio de Janeiro
Rua Maestro Francisco Braga 42, ap. 701, Floriano BR-22041 Copacabana, Rio de Janeiro
Tel. (55.21)210.2463
Dance Company, ballet, classical
--------------------------------------------------------------------------------
Mr. Paulo Araujo
Rua da Passagem 172, 3o piso BR-22200 Botafogo, Rio de Janeiro Brazil
Tel. (55.21)541.5184
Dance School, ballroom, tango
------------------------------------------------------------------------------
Ms. Maria Lina Jacobina
Roda de Luz
Praia do Flamengo 122/1202 a BR-22210030 Rio de Janeiro Brazil
Tel. & Fax (55.21)205.3451
Brazilian folk dances
-------------------------------------------------------------------------------
Ms. Giselle Tapias & Bianca Caruso
Centro International de Cultura e Informacio - CICIT
Rua Marquis de Abrantes 209/Sobrado-Flamengo BR-22230 060 Rio de Janeiro
Tel. (55)2155 16397; Fax (55)2155 75 775
cicit@openlink.com.br
Dance Company
--------------------------------------------------------------------------------
Mr. Jose Tadeu Carneiro Cardoso, President, Adaba Capoeira,
Brazilian Association for the Support & Development of the Art of Capoeira
Rua Humaita 73 BR-22261-150 Botafogo, Rio de Janeiro Brazil
Tel. (55)21.2412906, Fax (55)21.2947625
Dance Organization, folk, Brazilian, capoeira, groups
--------------------------------------------------------------------------------
Ms. Luciana Midlej
Av. Ataulfo de Paiva, 932/301. Leblon. BR-22440-031 Rio de Janeiro
Tel. (55)21 9999 6681
Dance Company
--------------------------------------------------------------------------------
Mr. Theo Dantes
Calleo Ballet Dalal Achan
Rua dos Oitis 20, Gavea BR-22451-050 Rio de Janeiro Brazil
Tel. (55.21)267.4969
Teacher, folk, flamenco, Spanish dances
--------------------------------------------------------------------------------
Bloco Carnavalesco Tem Gringo no Samba
Rua dos Oitis 29, 201 BR-22451-0501 Rio de Janeiro Brazil
Tel. 0055.021.2744489
Dance Group, folk, samba school, recreational
-----------------------------------------------------------------------------
Ms. Esther Weitzman, Director
Esther Weitzman Dance Company
Rua Major Rubens Vaz, 436 BR-22470-070 CEP Givea Rio de Janeiro RJ Brazil
Tel. (21)259.4183 Fax (21)259.4183, 239.3822
weitzman@gbl.com.br
Contemporary Dance Company