.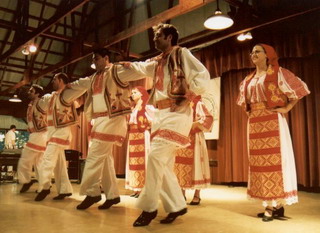 Orion Ballet Company, Theodor & Lia Vasilescu - Romanian Folk Dance Experts, Hobby Dance Sport Club, are just a few of the dance companies, Romanian dance schools, dancing organizations and dance wear suppliers that that can be found in our comprehensive Directory of Romanian Dance Companies.
Traditional Romanian dance
A rich variety of traditional dances still exists in Romania due to the continuation of the feudal system until the mid 19th century with the peasant life style continuing during the isolation imposed by Ceausescu. Romania is a unique European country as its folklore still exists in its natural environment, but this is now fast vanishing with spread of the western cultures and modern technology takes hold.

Any "dance" is a combination of elements: formation, regional style; motifs, musical rhythm, choreography and social occasion. A change in one or more of these elements can give another dance, sometimes too subtle for a visitor to understand. As newer dance formations become fashionable these combined with elements of the existing music and dance to give new local variants. New melodies may be used for old dances and new dances danced to old melodies.

The selection of dances performed in each village is often done in a fixed order, the slowest dances first then sometimes men's showing off dances and ending with the fastest dances. These are known as dance cycles and are best developed in Transylvania.

Many Romanian dances are accompanied by loud shouts and calls known as Strigaturi which are called rhythmically, but often across the musical melody and rhythm. Such calls seem to be specific to Romania, and are only otherwise found in the Hungarian minorities of Transylvania. Individuality and improvisation is found both in couple and line dances with men demonstrating their agility and dance ability.

Dance researchers and dance teachers like classify and group traditional dances. For Romanian dances these tend to be by musical rhythm for the line and circle dances and by choreographic form for the men's dances and couple dances.
Featured Romanian Dance Company
Theodor & Lia Vasilescu - Romanian Folk Dance Experts
Theodor is the author of a dance notation system currently used by professional and amateur choreographers throughout Romania (54 volumes of folklore dances collections were published in this system) and also used in other countries. He is the author of "Folclor coregrafic romanesc" (Romanian Folklore Dances), based on several years of research throughout Romania, a collection of 130 dances from all parts of the country, author of numerous technical papers on methods and practice of teaching folklore dance and editor of a series of 40 volumes of collections of Romanian folk dances from most of the counties of Romania. Theodor is the author of a system of Romanian Character dance studies used in various dance ensembles from Romania and abroad. Theodor graduated as dipl. chemical engineer but decided in 1964 to follow folklore research and dance as a full time profession.
Lia Vasilescu - was born in Sibiu an old town and important cultural center of Transylvania region. After the high school in her birthplace she attended the University in Bucharest, Faculty of Philology which she graduated as an English teacher.
Even during school in Sibiu she was attracted by music and dance, studying classical music and taking ballet lessons at the local Art School. When Lia started her studies in Bucharest she began her approach towards the folk dance, becoming an amateur dancer in the folklore dance group "Cununa Carpatilor". There she met Theodor Vasilescu, the choreographer and dance teacher of this group. They married in 1959. They have a son, Florin, who's profession is dipl. engineer, and is also an amateur folk dancer. Now, they have two grand children.Since they met, they worked together in the field of research, enriching their knowledge about the traditional life and creation of Romanian villages. She was of great help by her methodical spirit of organization. With "Cununa Carpatilor", as a dancer, Lia made numerous tours in Germany, Italy, The Netherlands, Belgium, France, China, Vietnam, Russia and many other countries in Europe.

If you would like your Romania Dance Company, Dance Organization, Dance School featured here then please email bangkokcompanies@gmail.com
There are many fine dance schools in Romania. I know I am in contact with them as we supply a range of high quality dancewear products like leotards, dance pants, dance dresses and other dancing apparel.
Bangkok Companies supplies an amazing range of dancewear from Thailand. I have looked at these dance garments and dance accessories in detail. There is only one word to describe them Superb. For more details click on the pictures or send an email to bangkokcompanies@gmail.com We regret at this time we can only satisfy Romanian wholesale dancewear requests.
"Dancewear designed by dancers for dancers"
| | | | | |
| --- | --- | --- | --- | --- |
| Dance Dresses | Kids Leotards | Adult Leotards | Dance Bras | |
| | | | | |
| | Dance Pants | Tutu's | Dance Shorts | |
| | | | | |
| Dancewear | Dancewear Organizers | Dance Bags | Dance Backpacks | |
| | | | | |
Bangkok Companies is a full service product sourcing company in Thailand. For All your dancewear needs please email bangkokcompanies@gmail.com with your requests.
---
Dance Schools in Romania, Dancewear Suppliers, Dancing Organizations
Sergiu Anghel
1, Pictor Stahi Nr. 3 Et. II ap.6 RO-70764 Bucharest Romania
(40)131.595.17; (094)50.98.54, Fax (40)131.595.17; 505.209.5923
http://orion.inflop.ro
Choreographer
--------------------------------------------------------------------------------
Mihaela Boldor
Gutenberg 19 sector 5 RO-050028 Bucharest Romania
(40)213.151.371;(40)213.159.517;Fax:(40)213.121.962;
http://orion.inflop.ro
Develops cooperation projects with the artists from different European areas. Aorion Ballet realized East Euro Dance Windows, a cooperation project created with the Dutch choreographer Krisztina
--------------------------------------------------------------------------------
Mariana Ivanescu
Piata Presei Libere nr. 1, Sector 1, Min RO-71341 Bucharest Romania
Tel. (40)216.532.206; (40)212.228.320; Fax. (40)212.228.320;
Conseiller Culturel
--------------------------------------------------------------------------------
Ileana Iliescu
Bulevardul Mihail Kogalniceanu 70-72 RO-70609 Bucuresti 5 Romania
Tel. (40.1)315.79.39, (40.1)310.26.61, (40.1)315.68.12, Fax (40.1)315.
Company, ballet, classical
--------------------------------------------------------------------------------
Art Addict
14 Horei RO-021378 Bucharest Romania
(40)21.642.6396; Fax (40)21.642.6396
www.artaddict.go.ro
Romanian company, organizing cultural events and assisting partners - institutions, organizations, independent artists - in their specific activities.
--------------------------------------------------------------------------------
Hobby Dance Sport Club
37, Resita RO-7000 Bucharest Romania
Tel. 0440214510934, FAX 0440214510934
www.hobbydance.ro
Dance Sport Club
--------------------------------------------------------------------------------
Orion Ballet Company
Gutenberg 19, S 5 RO-050028 Bucharest Romania
(40) 21 3151371; (40) 21 3159517 Fax (40) 21 3121962
http://orion.inflop.ro
Cooperation projects with the artists from different European areas. Supports the creation of the young Romanian choreographers, organize dance workshops and informal meetings with students from different areas.
--------------------------------------------------------------------------------
Romanian Society for Ethnomusicology
Institute of Ethnography and Folklore, str. Take Ionesc RO-010353 Bucharest Romania
Tel. & Fax 4021-2128873
http://eme.ong.ro
Dance studies and research, dance music studies, ethnochoreology, dance anthropology,
ethnomusiciology
--------------------------------------------------------------------------------
Salsa Galaxy School
no. 3 Al. Trestiana, bl. 23, entr. A, 5th fl. , ap. 23, RO-040378 Bucharest Romania
0040 724 572 944
www.salsagalaxy.com
Teaching dance: Salsa, Rueda de Casino, merengue, bachata, street cha cha
--------------------------------------------------------------------------------
The National College ''George Cosbuc''
str. Avram Iancu, nr. 70-72 RO-400083 Cluj-Napoca Romania Phone
0040 264 595455, Fax 0040 264 599486
--------------------------------------------------------------------------------
Universitatea De Muzica Bucuresti
Stirbei Voda 33 RO-Bucuresti Romania
Tel. (01)314.26.38
--------------------------------------------------------------------------------
Sergiu Anghel
Gutenberg 19 RO-050028 Bucuresti Romania
Tel. (021)615.47.02; Fax (021)312.19.62
http://orion.inflop.ro
--------------------------------------------------------------------------------
Sergiu Anghel
3, Pictor Stahi RO-010188 Bucharest Romania
Tel. 00 40 21 3159517 or 0722817269
Teacher, pedagogy and creation, modern dance, professional
--------------------------------------------------------------------------------
Alexandru Arsinel
Calea Victoriei 33-35 RO-010061 Bucuresti Romania
Tel. (021)614.19.79 (dir.); 312.10.29; Fax (021)312.10.29
--------------------------------------------------------------------------------
Vasile Bucur
Iuliu Maniu 4 RO-450016 Zalau Romania
Tel. (0260)63.14.33
--------------------------------------------------------------------------------
Popovici Constantin
B-dul Drumul Taberei 5 RO-061352 Bucuresti Romania
Tel. (021)410.33.82; 410.33.63; Fax 02908 fax10600.631.68.60
--------------------------------------------------------------------------------
Iancu Dumitrescu
16, Dr Draghiescu Ro-76224 Sect. 5 Bucarest Romania
Tel/fax : +4021/4100457
--------------------------------------------------------------------------------
Voicu Enachescu
Gutemberg 19 RO-050028 Bucuresti Romania
Tel. (021)615.43.26
--------------------------------------------------------------------------------
Viorica Enachiuc
George Cosbuc 3 RO-080029 Giurgiu Romania
Tel. (0246)21.52.40
--------------------------------------------------------------------------------
Eduard Gabia
Tepes Voda 16A, ap.1 RO-021525 Bucuresti Romania
--------------------------------------------------------------------------------
Luigi Gageos
Bucharest 13 C.P. 13 - 63 Romania
tel: +40 722 383 542 / fax: +40 21 323 66 00
www.jmEvents.ro
promoting Romanian artists nationally and abroad
--------------------------------------------------------------------------------
Alin Gheorghiu
Str. Doamnei nr.27-29, bl B, sc.A, et.4, ap. 16 sect. 3 Bucharest Romania
Tel. 004021-313.81.84, 0040-744-66.77.70
www.alingheorghiu.algsolutions.com
dancer, ballet dancer, teacher
--------------------------------------------------------------------------------
Ballet Raluca Ianegic
Matei Voievod 75-77, sect.2 RO-Bucuresti Romania
Tel. (01)252.80.20; Fax (01)252.58.81
--------------------------------------------------------------------------------
Justin Corneliu Istrate
Resita 37, Bl. A5, Sc. H, Ap. 109, sector 4 RO-040924 Bucharest Romania
(0040)214.510.934; Fax (0040)214.510.934; (0040)722.888.094
www.hobbydance.ro
Dance sport club; ballroom and latin; organizer of dance competitions; social and competition level; private and group lessons
--------------------------------------------------------------------------------
Raluca Larca
6,ap6,sect 1, Roma RO Bucharest Romania
4 0723 406 921
dancer, choreographer - contemporary dance; Irish traditional dance
-------------------------------------------------------------------------------
Dragan Muntean
Mihai Voda 17 RO-050042 Bucuresti Romania
Tel. (021)613.13.77; Fax (021)311.24.30
--------------------------------------------------------------------------------
Diana Neicu
Sabinelor 72, sector 5 RO-050854 Bucuresti Romania
(0040)217.787.825
www.diana_neicu.tripod.com
Performing Arts; Couple Dances; Street & Pop Dance.
--------------------------------------------------------------------------------
Viorica Petrovici
Batistei 2 RO-Bucuresti Romania
tel. (021)410.65.83; (0244)35.16.92; 0722-703-730; Fax (021)410.65.83; (0244)35.16.92
--------------------------------------------------------------------------------
Luisa Ana Popa
Aleea Tebea,nr.8 RO-7000, Bucharest Romania
Tel. 0721999948; 6845128
Ethnochoreologist, member of I.C.T.M. Studying Romanian dances and Iarca Raluca-
36, ap 6, sect 1, RO Roma, Bucharest Romania Bucharest
--------------------------------------------------------------------------------
Iuliana Rizescu
27, Ciresului RO-024103 Bucuresti Romania
40.21.3305504
www.giuliana.ro
ballet school ; Director, ballet teacher
--------------------------------------------------------------------------------
Amza Saceanu
B-dul Nicolae Balcescu 2 RO-010051 Bucuresti Romania
Tel. (021)312.65.83; 315.15.02 /int.147 (secr.muz.); 313.63.48 (ag.bilete); Fax (021)312.65.83
www.opereta.ro
--------------------------------------------------------------------------------
Vivia Sandulescu
Thomas Masaryk 27, Ap. 3, Sector 2 RO-70000 Bucuresti Romania
Tel. (40.1)211.7401
let and modern, professional
--------------------------------------------------------------------------------
Vava Stefanescu
Aleea Tomesti 11, bl.14, ap.12, sect.4 RO-042142 Bucuresti Romania
Tel. (021)334.46.10
--------------------------------------------------------------------------------
Marius Stefanescu
Str. carol 34-36 RO-5100 Bucharest Romania
--------------------------------------------------------------------------------
Anca Tudor
Capitan Gh. Preotescu 9 RO- Bucuresti Romania
Tel. (01)336.78.50
--------------------------------------------------------------------------------
Lia Vasilescu
Olimpului 19 RO-040196 Bucharest Romania
Tel & Fax 4021.3360426
www.theodorandlia.go.ro
Researching and promoting of traditional dance of Romania
--------------------------------------------------------------------------------
Theodor Vasilescu
Olimpului 19 RO-040196 Bucharest Romania
Tel & Fax 4021.3360426
www.theodorandlia.go.ro
Researching and promoting of traditional dance of Romania
--------------------------------------------------------------------------------
Mihaela Vosganian
Ardeleni street, sector 2 RO-Bucharest Romania
+4021 212 2574
The Inter-Art group brings to the Romanian contemporary art scene, a unique initiative of mixing live performances of new music with original choreographic creations. Its goal is to present a special
--------------------------------------------------------------------------------
Agentia Sonart - Bucuresti / Sonart Agency
Str. Academiei 35-37, sc.A, et.6, ap.12 RO-Bucuresti Romania
Tel. (01)314.40.32
http:// www.sonart.ro
Festival organizer, agency
--------------------------------------------------------------------------------
Artexim - Bucuresti / Artexim Agency
Piata Victoriei 155, bl.D1, sc.8, et.2 RO-711021 Bucuresti Romania
Tel. (01)650.18.06.12: Fax (01)311.02.00
Festival organizer
--------------------------------------------------------------------------------
Festivalul International "George Enescu" Bucuresti
Calea Victoriei 155, bl.D1, sc.8, et.2 RO-71012 Bucuresti Romania
Tel. (01)650.18.06.12; Fax:(01)311.02.00
http://www.romania-gateway.ro/enescu.
Festival
-------------------------------------------------------------------------------
Romanian National Commission for UNESCO
(Commission Nationale Roumaine pour l'UNESCO)
nton Cehov 8, Sect. 1 RO-011998 Bucarest Romania
Tel. (40.1)222.30.48, 231.32.24, Fax (40.1)230.76.36
http://www.cnr-unesco.roNational organization
--------------------------------------------------------------------------------
Universitatea de Arta Teatrala si Cinematografica "Ion Luca Caragiale" - Bucuresti
Matei Voievod 75-77, sect.2 RO-Bucuresti Romania
Tel. (01)252.80.20; Fax: (01)252.58.81
School, graduate, profesor de dans Raluca Ianegic
--------------------------------------------------------------------------------
Universitetea de Muzica Bucuresti
Stirbei Voda 33 RO-Bucuresti Romania
Tel. (01)314.26.38
School, graduate
--------------------------------------------------------------------------------
Justin
Resita 37, bl a5 sc H ap 109 s4 RO-7000 Bucharest Romania
09.288.8094
Teacher, ballroom dances
--------------------------------------------------------------------------------
Madalina-Floriana Andrei
Sos. Mihai Bravu 302-304, Bl.B 13, Sc.B, et.3, Ap.10 RO-Sector 3 Bucharest Romania
--------------------------------------------------------------------------------
Sergiu Anghel
Gutenberg 19 RO-70000 Bucuresti Romania
Tel. (01)615.47.02: Fax (01)312.19.62
http://orion.inflop.ro
Ensemble, contemporary dance
--------------------------------------------------------------------------------
Marin Barbu
Decembrie 1918 No28, Bdul 1,Ml 7,Sc B Et 3Ap55 RO-74652 Bucaresti Romania
Tel. & Fax 40.1.40 1443
Festival, folk, organizer
--------------------------------------------------------------------------------
Margareta Barbutza
George Enescu 2-4 RO-70141 Bucarest I Romania
Tel. 40/1/315 36 36; Tel. 401/311 32 14; Fax 40/1/312 09 13
Institute
--------------------------------------------------------------------------------
Beatrice Bleont
Calea Mosilor 272, Bl. 16, sc. A, ap. 25, St 2 RO-70000 Bucuresti Romania
Tel. (40.1)610.41.63, (40.1)619.36.11, (093)21.74.75
Choreographer, modern, professional
--------------------------------------------------------------------------------
Beatrice Bleont
Bd. Nicolae Balcescu nr. 2, Sector 1 RO-70000 Bucuresti Romania
Tel. (40.1)313.94.37, (40.1)314.56.92, Fax (40.1)312.31.69
Choreographer, modern dance, professional
--------------------------------------------------------------------------------
Vasile Bucur
Iuliu Maniu 4 RO-4700 Zalau, Judetul Salaj Romania
Tel. (40.60)63.14.33
Folk dance ensemble, Romanian dances
--------------------------------------------------------------------------------
Aurel Bulbuc
Aleda Padin no. 18, B1.B3 Sc. II Ap. 78 RO-3400 Cluj-Napoca Romania
Tel. & Fax (40)64.425.095
Festival, folk
--------------------------------------------------------------------------------
Aurel Ioan Bulbuc
Aleea Padin nr. 18, ap. 78 RO-3400 Cluj-Napoca, Judetul Cluj Romania
Group, Romanian folk dances, amateur
--------------------------------------------------------------------------------
Ion Caramitru
George Enescu 2-4 RO-70141 Bucarest 1 Romania
Tel. 40 1 315 36 36, 311 32 14; 0040213139437
Organisation
--------------------------------------------------------------------------------
Adina Cezar
Anton Pann 48A, Sector 3 RO-70000 Bucuresti Romania
Tel. (40.1)323.40.19
Choreographer, modern, professional
--------------------------------------------------------------------------------
Adina Cezar
Bd. Nicolae Balcescu nr. 2, Sector 1 RO-70121 Bucuresti Romania
Tel. (40.1)312.65.83, (40.1)314.11.87; Fax (40.1)312.65.83, (40.1)311.20.15
Company, modern, professional, Ensemble, contemporary dance
--------------------------------------------------------------------------------
Silvia Ciurescu
alea Dorobantilor nr. 191, Sector 1 RO-70000 Bucuresti Romania
Tel. (40.1)230.57.10, (40.1)230.62.90 (094)30.41.07
Producer, TV, ballet and modern dance, professional
--------------------------------------------------------------------------------
Andreea Constantinescu
Bd. Nicolae Balcescu nr. 2, Sector 1 RO-70121 Bucuresti Romania
Tel. (40.1)314.11.87, (40.1)312.65.83, (40.1)311.20.15, Fax (40.1)312.
Choreographer, ballet, professional
--------------------------------------------------------------------------------
Cornelia Dobre
Sos.Iancului 29, bl.105B, scA, et12, ap 52,sector2 RO-Bucharest Romania
Tel. 016531729; 095031332
Teacher
--------------------------------------------------------------------------------
Voicu Enachescu
Gutemberg 19, Sector 5 RO-70626 Bucuresti Romania
Tel. (40.1)315.13.71, (40.1)315.43.26 (40.1)312.19.62, Fax (40.1)312.1
Group, Romanian folk dance, professional
--------------------------------------------------------------------------------
Viorica Enachiuc
George Cosbuc 3 RO-8375 Giurgiu, Judetul Giurgiu Romania
Tel. (046)21.52.40
Folk dance ensemble, Romanian dances