.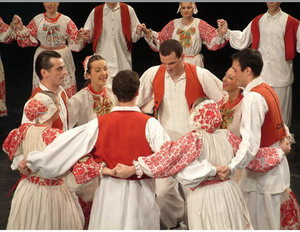 BADco, Dalmatian Folk Festival, Contemporary Dance Company, Croatian Folklore Ensemble, Zagreb Dance Ensemble, are just a few of the Croatian dance companies, Croatian dance schools, dancing organizations and dance wear suppliers that that can be found in our comprehensive Directory of Croatian Dance Companies.
Traditional Croatian Dance - Kolo Dance - the Circle Dance

The circle dance Kolo is one of the basic forms of Croatian folk dance. Because of its simplicity, the Kolo, a circular form of dance in which the dancers follow each other around in the circle, is unusually widespread and can even be called a general human phenomenon.

The circle dance is regarded as the oldest form of dance, manifesting a marked need for expression of community. Throughout a large part of Croatia right up until World War II, and in some places as late as the 1950s, the Kolo had been the centre of village social life.

The Kolo as a dance and as a social gathering was the main place at which young women and men could get to know each other, express mutual liking, make pledges of brotherhood and sisterhood, and also provided an opportunity for mockery and social criticism.

Through the singing of jocular verses during the performance of the Kolo, everyone was able to express his or her feelings, to approach anyone present, to disclose misbehavior, to mock a male or female opponent, and to criticize recent events in the village. By singing, movement, and gestures one could express what was proscribed in ordinary speech.
Culturenet Croatia
Croatian Dance Video
Featured Croatian Dance Company
BADco
BADco. was founded in 2000 while some of the authors worked together on the project Confessions in Theatre &TD. It was founded as a non-profit organization to produce collaborative performance work. So far the group has produced the following performances: Man.Chair (2000), 2tri4 (2001), Diderot's Nephew or Blood is Thicker than Water (2001), Solo Me (2002), RibCage (2002), Walk This Way (2003), Mass (for Election Day Silence) (2003), Deleted Messages (2004) and Fleshdance (2004)

BADco. is a Zagreb-based collaborative performance group. The core of the group are: Pravdan Devlahović, Ivana Ivković, Ana Kreitmeyer, Tomislav Medak, Goran Sergej Pristaš, Nikolina Pristaš, Ivana Sajko. Other collaborators: Aleksandra Janeva, Oliver Frljić, Goran Petercol, Silvio Vujičić, Helge Hinteregger, Miljenko Bengez, Oliver Imfeld, Marko Sančanin, Jelena Vukmirica and many others.

The artistic work of BADco. is not so marked by the choice of subject matter as it is by the production of various problematic aspects of working in/as collaboration i.e. through specific ways of self-organization of the authors involved in a particular project during the process of work. Authors see their performances as performance machines which can enter various referential contexts such as social, political, intimate, dance and artistic contexts in general. Instead of thematic naming which stands closer to the traditional ideas of theatre the group prefers thinking in terms of eventility. Some key words for our thematic interest are: vitalism, virus material, collective, flesh vs. body, strategies of observing.
---
Sodaberg Dance Company
Sodaberg is a dance company, choreographic laboratory and art organization, based in Zagreb which gathers artists from a different fields of contemporary dance production and further.
Sodaberg dedicates its forces to a constant re-evaluation of the actual artistic work action as well as actual thinking process around it as well as re-evaluation of the dedication process itself. In its very name, Sodaberg stands simultaneously for a wide variety of functions; from the dance company over organization of authors, to the thinking field, blog, activation platform, brand, opera production office or whatever is needed to fulfill the most present time artistic occupation. It is a Question of Desire that we are driven by, in a constant redefinition of our very definition - post contemporary, post political, post esthetical and post activistic we are determent to use every technology as well as technique that we find is the most intriguing for the producement of the contemporaneity itself.
Sodaberg is founded in 2005 by choreographer and dancer Marjana Krajač with the support of choreographers, authors and theoreticians: Nensi Lazić, Selma Banich and Andrej Mirčev. Sound designers Darius Gall and Guido Henneböhl as well as a video artist Anna Safary are also regular support to a creation and research.
Sodaberg co-operates and works with numerous artists, authors, theoreticians and the involved ones in the Croatian as well as European contemporary dance scene. We thank everybody for lively and constructive cooperation.
If you would like your Croatian Dance Company, Dance Organization, Dance School featured here then please email bangkokcompanies@gmail.com
There are many fine dance schools in Croatia. I know I am in contact with them as we supply a range of high quality dancewear products like leotards, dance pants, dance dresses and other dancing apparel.
Bangkok Companies supplies an amazing range of dancewear from Thailand. I have looked at these dance garments and dance accessories in detail. There is only one word to describe them Superb. For more details click on the pictures or send an email to bangkokcompanies@gmail.com We regret at this time we can only satisfy Croatian wholesale dancewear requests.
"Dancewear designed by dancers for dancers"
| | | | | |
| --- | --- | --- | --- | --- |
| Dance Dresses | Kids Leotards | Adult Leotards | Dance Bras | |
| | | | | |
| | Dance Pants | Tutu's | Dance Shorts | |
| | | | | |
| Dancewear | Dancewear Organizers | Dance Bags | Dance Backpacks | |
| | | | | |
Bangkok Companies is a full service product sourcing company in Thailand. For All your dancewear needs please email bangkokcompanies@gmail.com with your requests.
---
Dance Schools in Croatia, Dancewear Suppliers, Dancing Organizations
Ruzica Soldo
Alojza Stepinca 28 BA-88220 Siroki Brijeg Bosnia and Herzegovina
Tel. (387)397.064.01;(387)633.273.72;
Folklore dances, playing and singing. The group performs the dances from all parts of : Bosnia-Herzegovina, Croatia, Mazedonia, Kosovo, Serbia etc.
--------------------------------------------------------------------------------
Elsie Dunin
Gomila 38 HR-20235 Zaton Veliki Croatia
385.208.91346
Prof. Emerita (Dance Ethnology), University of California, Los Angeles Dance Research Advisor-Institute of Ethnology and Folklore Research (Zagreb, Croatia).
--------------------------------------------------------------------------------
Mladen Mordej Vuckovic
Koranska 16 HR-10000 Zagreb Croatia
(385)161.702.59;Fax(385)161.702.59
dancer, ballet journalist and critic (free lance), correspondent of Croatian newspapers "Vjesnik" and "Vijenac", magazine "Zaposlena", and Serbian dance magazine "Orchestra"
--------------------------------------------------------------------------------
HR-21320 Baska Voda Croatia
Tel. (036)324.461;Mobile063. 312 893
Professional dancer, amateur dancer, choreographer, book, author, tradition, dance
--------------------------------------------------------------------------------
Branka Petricvic
6, Medvedgradska 10000 Zagreb Croatia
Tel. +385 1 466 82 79
Retired dance teacher and choreographer (Zagreb Youth Theatre Dance Studio)
--------------------------------------------------------------------------------
Dalmatian Folk Festival
KUD Metkovic
Ante Starcevica 11 HR-20350 Metkovic Croatia
Tel. (385)20.681175
Festival, folk dances
--------------------------------------------------------------------------------
Festival of Sword Dances
Turisticka Zajednica Grada Korcule, p.p.8 HR-20260 Korcula Island Croatia
Tel. (385)20.726336, Fax (385)20.711746
Festival, folk, sword dances
--------------------------------------------------------------------------------
International Folklore Festival Zagreb, Zagreb Concert Management
Kneza Mislava 18 HR-10000 Zagreb Croatia
Tel. (385)1.4611797, Fax (385)1.4611807
Festival, folk dances
--------------------------------------------------------------------------------
Vinkovacke jeseni
Trg Vinkovacke jeseni 1 HR-32100 Vinkovci Croatia
Tel. (385)32.322611
Festival, folk dances
--------------------------------------------------------------------------------
Guillermo Miguel Terrazas
Ocampo 2946 San Justo AR-1754 San Justo, Buenos Aires Argentina
Tel. 011 - 4461 - 4819
Croatian folklor dance; argentinian tango
--------------------------------------------------------------------------------
HKUD ''HERCEGOVAC''
Kralja Tomislava bb BA-88220 Siroki Brijeg Bosnia and Herzegovina
Tel/Fax: 00387 39 704 328
folklore dances, playing and singing. The group performs the dances from all parts of : Bosnia-Herzegovina, Croatia, Mazedonia, Kosovo, Serbia etc.
--------------------------------------------------------------------------------
BADco
a: Deželićev prilaz 26 10000 Zagreb Croatia
t: +385-(0)98-317586
e: badco@badco.hr
www.badco.hr
Dance
--------------------------------------------------------------------------------
Contemporary Dance Company (SCDC)
Acepa Pomorara 7 HR-10000 Zagreb Croatia
+385/91/6527-392
www.ssp.hr
Dance company
--------------------------------------------------------------------------------
Cultural Artistic Society "Vjekoslav Klaic" Garcin
Kralja Tomislava 92 35212 Garcin Croatia
(385)3542.2061; 0987.97825 Mobile; Fax (385)3542.2442
Dance
--------------------------------------------------------------------------------
EkS-scena / eksperimental free scene
Vukovarska 68 HR-10000 Zagreb Croatia
(385) 91 357 2362; (385) 1 461 7127
www.eks-scena.hr / www.clubture.org
contemporary dance/multimedia/experimental research programs/ performing arts/ theater
--------------------------------------------------------------------------------
INTERNATIONAL FOLKLORE FESTIVAL
Kneza Mislava 18 HR-10000 Zagreb Croatia
Tel. +385 1 4501-194, FAX +385 1 4611-907
www.msf.hr
Folk Dance& Music, Sacral Folk Singing, World Music Concerts, Folk Dance & Music Workshops, Exhibitions
--------------------------------------------------------------------------------
Nenad Barac
Novska 24 HR-10000 Zagreb Croatia
Tel. & Fax (385)16147191, Tel. & Fax (385)21.362674
www.stela.hr
social dance; sport dance; we are teaching children as well as adults; contact persons are licentiated IDSF & WDDSC adjudicators and chairman for IDSF competitions (Nenad Barac)
--------------------------------------------------------------------------------
Elio Basan
Puntizela 19 HR-52100 Pula Croatia
0038552517083
www.dansel.org
Latin american and ballroom dancing, salsa and caraibic dances, hip hop..
--------------------------------------------------------------------------------
Gorana Doliner
3, Primorska 10000 Zagreb Croatia
(395.1)3759324, FAX (385.1)4895303
www.hazu.hr
I am researching historical sources on dances, concerning sources on dances in Croatia and in international institutions. I have participated at the international symposiums with that themes in Lariss
--------------------------------------------------------------------------------
Igor Grgic
I.G.Kovaeiaea 2 HR-47300 Ogulin Croatia
tel / fax (385)4752.2915
Dance
--------------------------------------------------------------------------------
Ivancica Jankovic
15, Podgaj 10000 Zagreb Croatia
Tel. (385)1.4673318, FAX (385)1.4673318
Teacher of Laban's space harmony and effort at the Ana Maletic School of Contemporary Dance, Zagreb. Member of Dance and the Child International.
--------------------------------------------------------------------------------
Marjana Krajac
6, Opaticka HR-10000 Zagreb Croatia
Tel. + 385 1 485 18 71
www.sodaberg.hr
Choreographer and dancer, artistic director of Sodaberg dance company.
--------------------------------------------------------------------------------
Tihomir Krmek
Stjepana Radica 3 HR-44320 Kutina Croatia
Tel. (38) 544680672 & (38)544682369;(385.44.) 68.34.16 (385.98)36.64.30, FAX (385.44)68.23.69 www.moslavina.hr
Art director & choreographer & researcher of Croatian folk tradition (songs and dances). I'm trying to teach younger generations about our folklore customs, tradition, folk-songs and dances so that w
--------------------------------------------------------------------------------
MARIJA KRZNARIC
Jarnoviceva 3 10000 Zagreb, Republic of Croatia Croatia
00 385 1 3881 084
www.folklorcroatia.hr
children and youth folklore group, Croatian songs and dances, rich and different national costumes, traditional instruments
--------------------------------------------------------------------------------
Larisa Lipovac
B.Magovca 50 HR-10000 Zagreb Croatia
(00385)1668.1009
www.tala.hr
Dancer, modern, contemporary dance choreography. Nikolina Luketic
-------------------------------------------------------------------------------
I.G.Kovacica
2 47300 Ogulin Croatia
Tel/Fax (38)547.522.915 Office
Folk Dance
--------------------------------------------------------------------------------
Nikolina Mekovec
80, Slavka Kolara HR-40000 Cakovec Croatia
Tel. +38540396535
dance choreographer, dance teacher, modern
-------------------------------------------------------------------------------
Goran Oreb
Horvacanski zavoj 15 HR-10000 Zagreb Croatia
(385) 98 246 491 Old Tel. (385.1)3658.666, (385.1)3658.769, Fax (385.1)3634.146
www.kif.hr
folk dance, social dance, motor training, dance training, Katja Simunic
-------------------------------------------------------------------------------
llinkt! dance project
Plesni projekt, Prisavlje 10 HR-10 000 Zagreb Croatia
++ 385 91 252 28 56
www.llinkt.hr
llinkt! dance project is independent, cross media, collaborative, research orientated group of authors: Iva Nerina Sibila, choreographer, dance teacher and dancer, Katja Simunic, theater director, wri
--------------------------------------------------------------------------------
Jana Sivak
Bijankinijeva 5 HR-10000 Zagreb Croatia
385)1.4621.976; 1.4641.154; 1.4621.969; fax. 1.4641.154
www.danceweekfestival.com
not for profit organization instrumental
--------------------------------------------------------------------------------
Greenwoodschool of Dancing
Stiftsstr. 23 DE-53225 Bonn Germany
Tel 49/228/476634 49/228/431813
www.anmacalla.de
Irish Dancing (Step, Set, Ceili), Scottish, Folkdance in general - balkan, serbian, croatian, bulgarian, hungarian, mazedonian, albanian, greek, breton, swedish, armenian, turkish, german, gypsy danc
--------------------------------------------------------------------------------
Svanibor Pettan
Askerceva 2 SI-1000 Ljubljana Slovenia
(386 1) 2411 438
Ethnomusicologist; Lambada in Kosovo; folk dance music (Slovenia, Croatia, Egypt)
--------------------------------------------------------------------------------
Conjunto de Danzas Croatas Pobjeda
Avenida Debenedetti 1776 Dock Sud AR-1871 Avellaneda, Buenos Aires Argentina
Ensemble, performing folk dances from Croatia
--------------------------------------------------------------------------------
Mariana Meyer-Vidic
Hrvatski Dom, Lugones 4936 AR- Buenos Aires Argentina
http://pobjeda.cjb.net
Ensemble, folk dance group, amateur. Croatian dances.
--------------------------------------------------------------------------------
Croatian Folklore Ensemble "Croatoan"
P.O. Box 38072, Rideauview K2C1N0 Ottawa, Ontario Canada
Ensemble, Croatian folk dances
--------------------------------------------------------------------------------
Vlasta Kauric Petraciceva
26 HR-41000 Zagreb Croatia
--------------------------------------------------------------------------------
Zagreb Dance Ensemble
ebrangova 26 Hr-10000 Zagreb Croatia
Tel. (385) 912-527-455; fax (385) 14-872-551
www.zagrebackiplesniansambl.hr
Festival
--------------------------------------------------------------------------------
Folk Dance Group KUD ''''Moslavina''''
Kutina Radiceva
3 HR-44320 Kutina Croatia
Tel. 099/522-383
Group
--------------------------------------------------------------------------------
Hrvatski Rock''n''Roll Savez (Croatian Rock''n''Roll Association)
Trg Sportova 11 HR-10000 Zagreb Croatia
Organization, ballroom, couple dances
--------------------------------------------------------------------------------
Institute For Movement And Dance
Bijankinijeva 5 Hr-10000 Zagreb Croatia
Tel/Fax (385) 14-641-154; (385) 14-621-967; (385)14-621-969
www.danceweekfestival.com
Festival
--------------------------------------------------------------------------------
K.U.D. Jedinstvo
Tina Ujevia 3 HR-21000 Split Croatia
Tel. & Fax 021 395 838
Ensemble, Croatian folk dances
--------------------------------------------------------------------------------
KUDZ "Filip Devic"
Petrova 46 HR-21000 Split Croatia
Tel. (385)21.362.536
Ensemble, Croatian folk dances
--------------------------------------------------------------------------------
Lado - Croatian National Folk Dance Ensemble
Trg Marsala Tita 6a HR-10000 Zagreb Croatia
(358).4871.773; Fax (358).4828.474
www.lado.hr
--------------------------------------------------------------------------------
Licitarsko Srce Children Folk Dance Festival
Radnicki trg 5 HR-35000 Slavonski Brod Croatia
Tel. & Fax 385.35.445 801
School
--------------------------------------------------------------------------------
Slavica Donkov
Mazuranieevo setaliste 71 HR-21000 Split Croatia
Tel. 021.532 080; 091.545 8388
Club, couple dances
--------------------------------------------------------------------------------
Ivan I. Ivancan
Trg Marsala Tita 6a HR-10000 Zagreb Croatia
Tel. ( 385 1)48 28 472, 48 28 473; Fax 385 1 48 28 474; 385 1 48 71 77
http://www.lado.hr
Folk dance ensemble, Croatian dances
--------------------------------------------------------------------------------
Vlasta Kauric
Petraciceva 26 HR-41000 Zagreb Croatia
Contemporary dance
--------------------------------------------------------------------------------
Angelija Kuzet
Rudjera Boskovica bb HR-23000 Zadar Croatia
Group, Croatian folk dance
--------------------------------------------------------------------------------
Denis Lilih
9 Svibnja bb HR-44250 Petrinja Croatia
Tel. 044.530 338, Fax 044.530 338; 098 659 364
http://free-sk.hinet.hr/Ana-Denis/petrin
Club, couple dances
--------------------------------------------------------------------------------
Ivana Lusic
Trg marsala Tita 6a HR-10000 Zagreb Croatia
Tel. (385 1) 48 28 472; 48 28 473; Fax (385 1) 48 28 474; 385 1 48 71
http://www.lado.hr
Ensemble, Croatian folk dances
--------------------------------------------------------------------------------
Barbara Matijevic
Hecimoviceva 3 HR-10000 Zagreb Croatia
Tel. 00385/91/564.4476
Dancer
--------------------------------------------------------------------------------
Sandra Mileti
Rendieva 30 HR-10000 Zagreb Croatia
Tel. 01.2305 266; 091 505 8712
Club, couple dances
--------------------------------------------------------------------------------
Sasa Srbi
Klekovaka 30 HR-10000 Zagreb Croatia
Tel. 01.2988 637; 099.553 888
Club, couple dances
--------------------------------------------------------------------------------
Stjepan Sremac
10 000 Vrbaniceva 17 HR-385 Zagreb Croatia
Tel. (385 1)46 47 390
Dance assistant
--------------------------------------------------------------------------------
Zrinka Stimac
Ivana Kukuljevia Sakcinskog 16 HR-44000 Sisak Croatia
Tel. 044.523 227, Fax 044.523 227; 091.352 3227
Club, couple dances, teacher, bougie woogie, international judge
--------------------------------------------------------------------------------
Damir Sut
Stefanieva 2 HR-10000 Zagreb Croatia
Tel. 01.333 6126; 091.519 7180
Club, couple dances
--------------------------------------------------------------------------------
Darko Torjanac
Slavenskoga 9 HR-10000 Zagreb Croatia
Tel. 01.364 7038, Fax 01.364 7038; 091 253 6726
http://www.rnrgimnazija.hr
Club, couple dances
--------------------------------------------------------------------------------
Dejan Veki
I. Mestrovia 18 HR-44000 Sisak Croatia
Tel. 044.547 677; 098.176 9428
Club, couple dances
--------------------------------------------------------------------------------
Igor Vinkovi
Naselje Slavonija 1/3 HR-35000 Slavonski Brod Croatia
Tel. 035.429 320, Fax 035.429 320; 098.550 290
Club, couple dances
--------------------------------------------------------------------------------
Tibor Ember
Kossuth L. u. 66 HU-2316 T?k?l Hungary
Tel. (36.24)379.284
Dance-house, folk, South-Slavic (Serbian, Croatian, Macedonian) dances
--------------------------------------------------------------------------------
Visnja Hrbud Popovic
Suzerobertsomstraat 5/11 NL-1062 Amsterdam Netherlands
Tel. (1) 448.184, (31.20) 615.23.55
Dance history in Croatia
--------------------------------------------------------------------------------
Nancy Leeper
PO Box 3969 OR 97403 Eugene, Oregon U.S.A.
Tel. (1.541)687.6799
Camp, folk, workshop, music & dance of Albania, Bulgaria, Croatia, Greece, Macedonia, Romania, Serbia