.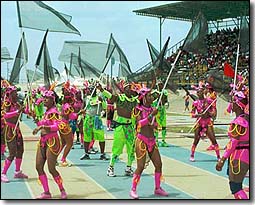 Praise Academy of Dance Barbados, Cobalt Dance, Barbados Dance Theatre Company, are just a few of the dance Barbados companies, Barbadian dance schools, dancing organizations and dance wear suppliers that that can be found in our comprehensive Directory of Barbados Dance Companies.
Traditional Barbados Dance
Crop Over is a Barbadian Folk Festival which evolved out of the harvest festivals of two cultures, England and West Africa. This colourful national celebration is also one the Western world's oldest festivals, dating back to the 1780s' when plantation workers proclaimed the end of the sugar crop with feasting and dancing in the plantation yards. At that time the end of the crop and grueling field-work was cause for celebration. It was a plantation event marked by the arrival of the last cart of canes and punctuated by a day of dancing and frolic. As the last procession of decorated carts made their way into the mill yard, a labourer would beat a make shift gong announcing the "Crop Over."

The day's festivities comprised of three main aspects, local food, music and dance. Food was extremely important and included meat made into stews, pudding and souse and roast pork. There were also pots of rice & peas as well as coconut bread and pone.

Entertainment came in the form of the the Landship whose members performed to the music of the "Tuk Band" with its accompanying troupe of "Shaggy Bear", a man dressed in an outfit made of plantation shags or sheaves, the "Mother Sally" another man dressed up like a woman with exaggerated bosoms and buttocks and the Steel Donkey or "Donkey Man" who danced in a donkey's costume with four legs, but when in silhouette, looked like a man riding a two-legged animal.

Of course no folk festival is complete without dance and many dances were created over the years. Very important too was the art of stilt walking. The grand finale of the festivities was the burning of the Mr. Harding effigy, which symbolized the hope that the hard times to come would not be too severe.

In the 1940's, the Crop Over Festival ended as the Sugar Cane Industry in Barbados declined, but the festival was revived in the 1974 and has since grown from strength to strength. It is now the premiere festival of Barbados and has now become a fusion of old and modern elements of Barbadian culture, attracting many visitors every year.
Barbados Dance Video
Featured Barbados Dance Company
Praise Academy of Dance Barbados
Praise Academy of Dance Barbados began in 2003; it is an affiliate of Praise Academy of Dance Jamaica which was established by C. Patricia Noble in 1993. This inter-denominational, non-profit company, headed by Artistic Director Marcia Weekes, has a roll of 185+ students and a 7 member staff. Praise Academy of Dance is a non-profit company which is administrated by a Board of Directors.
This Christian school brings a message of hope, encouragement and empowerment to their audiences while promoting culture and the arts. They have achieved many awards from the Barbados National Independence Festival of Creative Arts (NIFCA).

If you would like your Barbados Dance Company, Dance Organization, Dance School featured here then please email bangkokcompanies@gmail.com
There are many fine dance schools in Barbados . I know I am in contact with them as we supply a range of high quality dancewear products like leotards, dance pants, dance dresses and other dancing apparel.
Bangkok Companies supplies an amazing range of dancewear from Thailand. I have looked at these dance garments and dance accessories in detail. There is only one word to describe them Superb. For more details click on the pictures or send an email to bangkokcompanies@gmail.com We regret at this time we can only satisfy Barbados wholesale dancewear requests.
"Dancewear designed by dancers for dancers"
| | | | | |
| --- | --- | --- | --- | --- |
| Dance Dresses | Kids Leotards | Adult Leotards | Dance Bras | |
| | | | | |
| | Dance Pants | Tutu's | Dance Shorts | |
| | | | | |
| Dancewear | Dancewear Organizers | Dance Bags | Dance Backpacks | |
| | | | | |
Bangkok Companies is a full service product sourcing company in Thailand. For All your dancewear needs please email bangkokcompanies@gmail.com with your requests.
---
Dance Schools in Barbados, Dancewear Suppliers, Dancing Organizations
Shama Harding
55 Halton Terrace BB- St. Philip Barbados
Tel. (246)437.087
Researcher, Dance Education, Dip.ed.M.A.
--------------------------------------------------------------------------------
Dianne Squires
55 Halton Terrace BB-St. Philip Barbados
el. (246)423.2523;
--------------------------------------------------------------------------------
Barbados Dance Council
P.O.Box 1058 Bridgetown Barbados
246 428 2179 Fax: 246 428 1097
Looking after all Ballroom and Latin dance competitions on the island in terms of organization and regulating.
--------------------------------------------------------------------------------
Praise Academy of Dance Barbados
The Dry Dock, Cavans Lane, Bridgetown, Barbados
(246) 426-2443
info@praiseacademyofdance.org
Christian Dance School
--------------------------------------------------------------------------------
Livy
#363 Citrine Road Kingsland Terrace, Christ Church Barbados
246 428 1097
Ballroom & Latin, Street dance, Lindy Hop and Disco
--------------------------------------------------------------------------------
Ian Douglas
West Terrace, St. James BB -23018 Barbados, W.I. Barbados
tel: (246) 4240908 ; Fax: (246) 424 0918
www.ncf.bb
--------------------------------------------------------------------------------
Sheron M. Trotman
Lot 1, Vauxhall, Christ Church BB-15083 West Indies Barbados
1246 435-2654, FAX 1246 437-1073
A Modern dance school offering classes in Horton technique, free style Ballet, Jazz, Afro/Caribbean, Gymnastics for dance, Power ball and Jazzercise, Mime, Drama and Voice workshops are also offered.
--------------------------------------------------------------------------------
After Dark Dance Club
St. Lawrence Gap, Dover BB-Christ Church Barbados
Tel. 246/435.6547
Shows of reggae, calypso, and soca (a of calypso)
--------------------------------------------------------------------------------
Barbados Dance Theatre Company
Erin Hall, Bishops Court Hill BB-Saint Michael Barbados
Tel. (246) 429.4870
School, ballet, classical dance, creative modern, folk, African, Latin, jazz, tap
Artistic Director - Gene Carson, Co-Principals - Rosemary Neilands, Granville Garner. The BDTC was formed in 1968 and has represented Barbados at several CARIFESTA's, in addition to touring the region and various parts of the USA. The company offers classes in modern dance, Caribbean folk, African, Latin, jazz and classical ballet.
-------------------------------------------------------------------------------
Barbados National Commission for UNESCO
Ministry of Education, Elsie Payne Complex, Constitution BB- Bridgetown, St. Michael Barbados
Tel. (1246)430.2700; Fax (1246)436.2411 National organization
--------------------------------------------------------------------------------
Body Reflections
Norman Centre, Broad Street BB-Bridgetown Barbados
Tel. (246) 431.0334
Supplier, Exercise Dance & Skim Wear
--------------------------------------------------------------------------------
Cobalt Dance
55 Halton Terrace BB-St. Philip Barbados
246.437.0872
All female Modern/ Contemporary Dance Company a fusion of Caribbean dance forms and modern technique. Available for workshops, choreographing and performances.
--------------------------------------------------------------------------------
Dance World Teens
Indian River Mall, Hincks Street BB-Saint Michael Barbados
Tel. (246) 436.3696
Dance music record company
--------------------------------------------------------------------------------
Harbour Lights Dance Club
Marine Villa, Bay Street, Bridgetown BB-Saint Michael Barbados
Tel. 246/436.7225
Dancing live reggae and soca music.
--------------------------------------------------------------------------------
National Cultural Foundation
West Terrace BB-Saint James Barbados
Tel. (1246)424.0909, (1246)424.0912, Fax (1246)424.0916
Organization, culture, dance
--------------------------------------------------------------------------------
Pinelands Creative Work Shop
Wildey Great House, Rock Cl BB-Wildey Barbados
Tel. (1246)429.5359, (1246)430.0551, Fax (1246)430.0552
School, modern, folk, jazz, tap
--------------------------------------------------------------------------------
Ship Inn Dance Club
Saint Lawrence Gap, Dover BB-Christ Church Barbados
Tel. 246/435.6961
Dancing
--------------------------------------------------------------------------------
The Dance Place
5th Avenue & 7th Avenue BB-B'ville, Saint Michael Barbados
Tel. (1246)228.7625, (1246)437.6127
School, ballet, classical, folk, African, Latin, tap
--------------------------------------------------------------------------------
Woodville Louise Dance Academy
Upton Street BB-Saint Michael Barbados
Tel. (1246)430.9017
School, modern, jazz, tap, Latin
--------------------------------------------------------------------------------
Adrian R. Agard
BB-Saint James Barbados
Tel. 246.422.4077; 246.426.5940;
Fax 246.228.8723
http://www.barbadosgospelfest.com/html
Festival
--------------------------------------------------------------------------------
Hartley ALLEYNE
The Eyrie Howell Cross Road ST. MICHAEL Barbados
--------------------------------------------------------------------------------
Shama Harding
#55, Halton Terrace BB St. Philip Barbados
Tel. 1-246-437-0872
Available for workshops, choreographing and performances. Janice Millington Robertson
Harrison College, Crumpton street BB-Saint Michael Barbados Researcher, folk dance, member ICTM
--------------------------------------------------------------------------------
Sheron Trotman
28 Collins Building, Broad Street BB-Bridgetown, Saint Michael Barbados
Tel. (1246)435.2654
School, ballet, classical dance, modern, folk, Latin, jazz, tap
--------------------------------------------------------------------------------
Louise Woodvine
BB-Upton, Saint Michael Barbados
Tel. (246) 430.9017
School, classes
--------------------------------------------------------------------------------
Ian Douglas
Pox Box 1370, Bridgetown Barbados
W.I DE-10553 Berlin Germany
Tel. 0049.30.39849; Fax 0049.30.34509
Teacher, Caribbean contemporary dance, choreographer