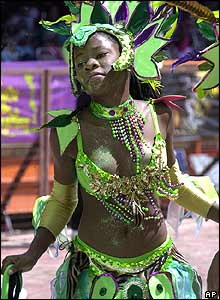 AMIGOS BAILADORES Dance Associates, Exclusive Ball Room Dance School, Trinidad Dance Theatre, are just a few of the dance companies, Trinidad dance schools, dancing organizations and dance wear suppliers that that can be found in our comprehensive Directory of Trinidad Dance Companies.
Dancing in Trinidad
Trinidad and Tobago is the most southerly island in the Caribbean. Dance, rhythm and song are synonymous with this twin island Republic! We are a Caribbean nation, located not far from the north east coast of Venezuela.

To the visitor, dance in Trinidad is a new experience - they soon realise that music, rhythm and culture are as normal as breathing in this place I call home. With the ethnic mix that we have here itís not surprising that we have numerous cultural influences which have given us a lot of different forms of dance. A great time to visit Trinidad would be at Carnival time. Carnival usually falls anywhere between the second week in February to the first week in March. It consists of a massive two-day celebration and display of masqueraders and their costumes. Now the celebration begins way in advance and just culminates with that parade. There are fetes. These are large parties (sometimes hundreds to thousands of people) where the major bands perform and the people just have a grand time. The predominant music is Soca, which is an adaptation to the traditional calypso. Carnival is a festive time, when people give way to wanton freedom, especially freedom of bodily expression.

Dance has been described as the art of moving the body in a rhythmical way (usually) to music, to express an emotion or idea, to narrate a story of simply to take delight in the movement itself. To me, dance is indeed a beautiful expression of self! Your senses are tuned! The sense of touch is alive because you are dancing with another. He or she is holding you in a particular way, maybe intimately. Your sense of sound is alive because the music starts a positive feedback mechanism throughout you. You hear the music, you know the song and it immediately sends brain waves to start tapping the foot. This tap moves into a motion and before you know it your entire body is moving to the pulsating beat of that rhythm! Dancing in Trinidad By Cleva Weekes
Featured Trinidad Dance Company
AMIGOS BAILADORES Dance Associates became a registered company in January of 1998, having been established a few years earlier by a small group of Latin dance enthusiasts, in response to overwhelming requests for quality Latin Dance tutoring.
With the benefit of a prior 5 years exploration of the various social and Latin dances including Salsa, Merengue, Cha Cha Cha, Rumba, Latin 3-Step, etc., our school now caters to a wide cross section of Latin dance interests, providing tuition and special workshops in these and other popular Latin and Ballroom Dance favorites including Salsa, Mambo, Rumba, Cha Cha Cha, Argentine Tango, Viennese Waltz, Quick-Step, Zouk, Bachata, Swing / Jive and the ever popular SALSA Rueda.
With a team of 6 Dance Tutors and 6 Coaches, our group and classes have since grown to over 850+ students and performers, who are called upon to perform at various exhibitions and shows, bringing a fun-flavored Latin element to these events.
It is our aim to continue to increase the exposure and uplift the standard of this form of social and competitive dance, in our continuing bid to promote "Dancing" as a healthy and constructive alternative to social and personal entertainment. For the coming year, we will continue to pursue development and strive to further elevate the standard of dance for our students and members and for all to enjoy.

If you would like your Trinidad & Tobago Dance Company, Dance Organization, Dance School featured here then please email bangkokcompanies@gmail.com
There are many fine dance schools in Trinidad. I know I am in contact with them as we supply a range of high quality dancewear products like leotards, dance pants, dance dresses and other dancing apparel.
Bangkok Companies supplies an amazing range of dancewear from Thailand. I have looked at these dance garments and dance accessories in detail. There is only one word to describe them Superb. For more details click on the pictures or send an email to bangkokcompanies@gmail.com We regret at this time we can only satisfy Trinidad wholesale dancewear requests.
"Dancewear designed by dancers for dancers"
| | | | | |
| --- | --- | --- | --- | --- |
| Dance Dresses | Kids Leotards | Adult Leotards | Dance Bras | |
| | | | | |
| | Dance Pants | Tutu's | Dance Shorts | |
| | | | | |
| Dancewear | Dancewear Organizers | Dance Bags | Dance Backpacks | |
| | | | | |
Bangkok Companies is a full service product sourcing company in Thailand. For All your dancewear needs please email bangkokcompanies@gmail.com with your requests.
---
Dance Schools in Trinidad, Dancewear Suppliers, Dancing Organizations
Metamorphosis Dance Company
Address: 2A Dere Street Port of Spain Republic of Trinidad & Tobago
Phone/Fax: 868-625-3225
E-mail: info@metamorphosisdance.com
www.metamorphosisdance.com
As its name suggests, Metamorphosis provides an opportunity for young local dancers to metamorphose into able, professional dancers as preparation for professional dance careers, usually abroad.

Metamorphosis was formed in November 1994 by a group of three teachers from the Caribbean School of Dancing - Nancy Herrera, Carol Yip Choy and Christel De Souza (now residing in England), who were interested in establishing a professional dance company. The company has since been joined by Gillian Merry, also a teacher in the school. The company is currently comprised of sixteen dancers. Once integrated into the company, all dancers are expected to be proficient, at a minimum, in classical ballet and modern dance. Most of the company members have also achieved high levels of proficiency in Afro-Caribbean folk dance, Jazz and Tap. The majority of the repertoire is modern and contemporary.

The company has worked and continues to work in close collaboration with various local and international artists, such as the Lydian Singers, Trinidad and Tobago's leading choir; American choreographer Reggie Wilson; prominent Caribbean choreographer Noble Douglas; former Martha Graham soloist Peter London; leading Caribbean director Tony Hall; impresario Aubrey Adams; master drummer Everald "Redman" Watson; choreographers Sonja Dumas, Dave Williams and Richard Lessey; the late Carlisle Chang, designer, and the late Beryl Mc Burnie, Trinidad and Tobago's Grande Dame of Dance.

It has also been active in community outreach through its presentation, "Gabriel - Your Angel Lives in You", a self-esteem project for young people, conceptualized and choreographed by Sonja Dumas.

Metamorphosis continues to build its repertoire around contemporary works, many of which have relevance in a Caribbean context. The company aims to continue to develop dancers and to share this work locally, regionally and internationally.
--------------------------------------------------------------------------------
Hazel Franco
91 Norfolk Street, Belmont TT-Port of Spain Trinidad & Tobago
Tel. (86)866.220.02;Fax(86)866.322.22
Organizer
--------------------------------------------------------------------------------
Patrick Parson
375, Dovercourt Road M6J 3E5 Toronto Canada
Tel. 416-960-0350, FAX 416-960-2067
www.balletcreole.org
Founded in 1990 by Trinidadian-born Patrick Parson Ballet Creole is a contemporary Canadian dance company whose art is rooted in the dance and music of Africa and the Caribbean. Its Professional Training
--------------------------------------------------------------------------------
Wayne Sargeant
AMIGOS BAILADORES Dance Associates
P.O. Box 479 ES , Port of Spain Port Trinidad & Tobago
Tel. 868 678 8688; 868 633 0633, FAX 868 627 4237
www.amigosbda.com
Amigos Bailadores promotes all Latin & Ballroom dance tuition, events, activities, competitions and parties in Ballroom and Latin Dances: Salsa, Mambo, Cha Cha Cha, Argentine Tango, Merengue, Zouk
--------------------------------------------------------------------------------
Kathryn Lydia Chan
162 Duke of Edinburgh Avenue TT-Petit Valley, West Indies Trinidad & Tobago
(868)637.4735
www.kathrynchan.com
Designer of costumes and set for contemporary dance
--------------------------------------------------------------------------------
Makeda Thomas
- NY New York U.S.A.
Tel. 718 228 8497
Contemporary dancer, choreographer and Artistic Director that develops cross-disciplinary dance works with artists around the world. Based in New York and Trinidad
--------------------------------------------------------------------------------
Bettina Habekost
I der Zeil 1 DE-67125 Darmstadt Germany
Fax 6231 98539
Teacher, Caribbean Folk Dance & Street Crossover (Jamaica, Trinidad)
--------------------------------------------------------------------------------
Rita Vaamonde-Specht
Urb. Castillejo, Res. La Trinidad, Edif. 8 Piso 3, Apto ES-1221Guatire, Estado Miranda Spain
582123411723 / 584122941209
http://soyvasalla.blogspot.com
Dancer of popular traditions, teacher of traditional dances, corporal expression, latin rhythms
Caribbean Intercultural Music Institute, Creative Arts Centre University of the West Indies TT-Saint Augustine Trinidad & Tobago School, folk dances
--------------------------------------------------------------------------------
Exclusive Ball Room Dance School
145-147 Henry Street TT-Port of Spain, Trinidad Trinidad & Tobago
Tel. (868) 687.0245
School
--------------------------------------------------------------------------------
Lambert School of Dance
60-62 Lady Hailes Avenue TT-San Fernando, Trinidad Trinidad & Tobago
Tel. (868) 657.1695
School
--------------------------------------------------------------------------------
Mystic 16 Restaurant, Sports Bar & Pub
9 Endeavour Road TT-Chaguanas, Trinidad Trinidad & Tobago
Tel. 868.671.2853
Center
--------------------------------------------------------------------------------
Rituals Limited
5 Longden Street TT-Port of Spain, Trinidad Trinidad & Tobago
Tel. (868) 625.3262 , (868) 625.7127; Fax (868) 623.0560
http://www.ritualsmusic.com
Collaborative from Trinidad & Tobago rooted in Rapso dance music.
--------------------------------------------------------------------------------
Trinidad and Tobago National Commission for UNESCO
15 Wainwright Street TT- Saint Clair, Port of Spain Trinidad & Tobago
Tel. (1.868)622.0939; Fax (1.868)622.8909
National organization
--------------------------------------------------------------------------------
Joseph Eugene
24 Torrance Street, Mon Repos TT-San Fernando Trinidad & Tobago
(868) 652.4826; Fax. 868.652.5527
School
--------------------------------------------------------------------------------
Rawle Gibbons
Saint Augustine TT-Trinidad W1 Trinidad & Tobago
Folk culture and dance
--------------------------------------------------------------------------------
Sarah Lambert
60-62 Lady Hailes Avenue TT-San Fernando Trinidad & Tobago
Tel. (868) 657 1695, Fax (868) 657 1695
Teacher, choreographer, school, ballet, modern, tap, creative dance, GCSE dance
--------------------------------------------------------------------------------
Kathryn Proudfoot
27 Regents Drive West Regents Park TT-Pt Cumana Trinidad & Tobago
Tel/Fax (1)868 632 4820
--------------------------------------------------------------------------------
Ballroom Dancing Into the New Millennium
Mr. Richard Boatswain
Lions S/Fdo, Lions Siparia, Pt. Fortin Civic Centre, Lake Asphalt Sports Club
Ballroom Dancing
--------------------------------------------------------------------------------
Cosmopolitan School of Arts
Mr. Winston Cooper
27 Finland Street, St. James
Ballroom Dancing
--------------------------------------------------------------------------------
Dance Ensemble
Mr. Louis Charles
Scarborough Senior Comprehensive
La Romain Community Centre Sodo/Guapo Community Centre
639 -7287
Ballroom Dancing
--------------------------------------------------------------------------------
Dance Partners & Company
Mr. Ken Wilson
Audrey Jeffers House, Kew Place Port of Spain
632-2855
Ballroom Dancing
--------------------------------------------------------------------------------
Dance Vision Studios
Mr. Patrick Vidale
Central Regional Indoor Sporting Arena (CRISP)
665-0110, 623 - 3875,
Ballroom Dancing
--------------------------------------------------------------------------------
Edinburgh Dance Studio
Mr. Dexter Mc Kay
Communication Workers Union Hall
627-8821
Ballroom Dancing
--------------------------------------------------------------------------------
Exclusive Ballroom Dance School
Ms. Marcia Gill,
NUGFW Hall
622 -2909
Ballroom Dancing
--------------------------------------------------------------------------------
Jonah Regis Dance School
Mr. Jonah Regis
SWWTU Hall Wrightson Rd., Port Of Spain
Ballroom Dancing
--------------------------------------------------------------------------------
Modern Ballroom Dance School
Mrs. Joyce Fernandes
Chaguanas Junior Secondary School
679-5319 or 62 f
Ballroom Dancing
--------------------------------------------------------------------------------
Regency Regalia
Mr. Andy Jack
Caribbean Sound Basin, Maraval.
683 - 6157 622 - 7543
Ballroom Dancing
--------------------------------------------------------------------------------
Shirley Francis Ballroom Dance School
Ms. Shirley Francis
Siparia Community Lodge
Ballroom Dancing
--------------------------------------------------------------------------------
Supreme Dance School
Mr. Dennis Durity
Central Bank
678-2344, 676 -7707
Ballroom Dancing
--------------------------------------------------------------------------------
Trinidad & Tobago Ballroom Dancers
Mr. Reynold Jones,
668-1392, 627-6147
Ballroom Dancing
--------------------------------------------------------------------------------
Trinidad Dance Theatre
Mr. Eugene Joseph
Trinidad Dance Theatre, Curepe
625 -3012(w), 652-4826
Ballroom Dancing
--------------------------------------------------------------------------------
West End Academy
Ms. Gina John
Bagatelle Community Centre, Diego Martin Rd. Diego
Ballroom Dancing
--------------------------------------------------------------------------------
AMIGOS BAILADORES Dance Associates (ABDA)
Mr. Wayne Sargeant
De Nu MASCAMP Pub, Woodbrook, Millenium Fitness Centre, Centre of Excellence, Macoya;
Ph.: 678 8688; Fax: 627 4237;
info@amigosbda.com
www.amigosbda.com
Latin Dancing
--------------------------------------------------------------------------------
El Mundo De Danza
Mr. Kirt Charles; Ms. Carol Boissiere
Club 44, Independence Sq., POS.
Latin Dancing