.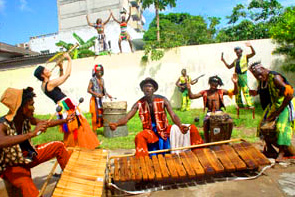 National Song & Dance Company of Mozambique, Culturarte, are just a few of the dance companies, dance schools, dancing organizations and dance wear suppliers that that can be found in our comprehensive Directory of Mozambique Dance Companies.
Traditional Mozambique Dance

Marrabenta is the best-known form of music from Mozambique. It is urban in origin, and meant for dancing. Marrabenta was born as a fusion of imported European music played on improvised materials. The word marrabenta derives from the Portuguese rebentar (arrabentar in the local vernacular), meaning to break, a reference to cheap guitar strings that snapped quickly. Instruments were fashioned out of tin cans and pieces of wood. Lyrics were usually in local languages, and included songs of social criticism as well as love. The late 1970s saw tremendous innovation in marrabenta, as 1001 Music Productions recorded artists and staged large concerts. The compilation album Amanhecer was released, followed by more such LPs under the title Ngoma.

The most influential early marrabenta performer was Fany Pfumo, whose fame began after the success of "Loko ni kumbuka Jorgina". He recorded in South Africa on HMV and later incorporated South African kwela into his music. The group Orchestra Marrabenta Star de Moçambique formed in 1979, led by long-time performer Wazimbo. The group toured Europe and other parts of the world, and soon brought international recognition to marrabenta.

Many of the most popular musicians in modern Mozambique spent time with Orchestra Marrabenta Star de Moçambique, including Stewart Sukuma, Chico António, José Mucavel and Mingas, while other popular bands include Ghorwane.
Featured Mozambique Dance Company
National Song & Dance Company of Mozambique
Stylish performances delivered with warmth, humor and joy have won fans worldwide for these virtuoso artists celebrating the varied cultures of Mozambique. With a repertoire ranging from traditional dance with choral and instrumental music to modern African ballet accompanied by story telling, this high spirited ensemble made its U.S. debut in 1998 at the Kennedy Center. More than 35 touring company members have returned annually ever since to the delight of audiences across the country. Stay after the performance for a Meet-the-Artists discussion.
---
Culturarte
Panaibra GABRIEL lives and works in Maputo, the capital of Mozambique. He started off as a traditional dancer in 1993, but then switched to modern dance. Abroad, his approach linked up with the initiatives of Danças na Cidade (Lisbon), often alongside choreographers carrying out advanced research. In France, he choreographed a solo performance for Sandra Martinez in the context of "Vif du sujet" programmed by the SACD in Montpellier ("Danse 05"). He leads a training programme in Mozambique in close cooperation with artists from Madagascar (Ariry Andriamoratsiresy) and South Africa (Boyzie Cekwana).
Culturarte was founded in 1998 by Panaibra Gabriel. As well as its productions, this company is also developing a workshop programme and runs a six-month vocational training course,designed, notably, in partnership with P.A.R.T.S.

If you would like your Mozambique Dance Company, Dance Organization, Dance School featured here then please email bangkokcompanies@gmail.com
There are many fine dance schools in Mozambique. I know I am in contact with them as we supply a range of high quality dancewear products like leotards, dance pants, dance dresses and other dancing apparel.
Bangkok Companies supplies an amazing range of dancewear from Thailand. I have looked at these dance garments and dance accessories in detail. There is only one word to describe them Superb. For more details click on the pictures or send an email to bangkokcompanies@gmail.com We regret at this time we can only satisfy Mozambique wholesale dancewear requests.
"Dancewear designed by dancers for dancers"
| | | | | |
| --- | --- | --- | --- | --- |
| Dance Dresses | Kids Leotards | Adult Leotards | Dance Bras | |
| | | | | |
| | Dance Pants | Tutu's | Dance Shorts | |
| | | | | |
| Dancewear | Dancewear Organizers | Dance Bags | Dance Backpacks | |
| | | | | |
Bangkok Companies is a full service product sourcing company in Thailand. For All your dancewear needs please email bangkokcompanies@gmail.com with your requests.
---
Dance Schools in Mozambique, Dancewear Suppliers, Dancing Organizations
Claudia Marques
Delegacao CIC-Mocambique, Avenida do Zimbabwe 1368 MZ-Maputo Mozambique
Tel. (258) 82 322 962; Fax (258) 1 491 277
--------------------------------------------------------------------------------
Maria Helena Pinto
Av 24 de julho 2790 9? andar flet 17 MZ-Maputo Mozambique
00258827722310
Creations des pieces, echanges artistiques entre des artistes locales et des artistes intenacionationaux et formation pedagogique en danse contemporaine
--------------------------------------------------------------------------------
Carlos-Alberto Ruben-Xirinda
av. Ahmed Sekou Tourene 2733 R/C Flat 3 bairro do Alto-Maeidade de Maputo Mozambique
258 82 4406530/ 4329092/9186710
www.hopangalatana.blogspot.com
Companhia Cultural Hepangalatana Teatro e dan?a tradicional, moderna, contemporenia e criativa
--------------------------------------------------------------------------------
Carlos Alberto Ruben Xirinda
Av. Ahmed Sekou toure no 2773 R/C flat 3, b. do MZ-Alto Mae - Maputo Mozambique
258 82 4406530/ 82 8166840/ 829186710
www.hopangalatana.blogspot.com
Danza Tradicional, Moderna, contemporaneo, criativa e teatro. Em muitos casos danea para eriquecer o teatro.
--------------------------------------------------------------------------------
Mozambique National Commission for UNESCO
45 rua Dr. Egas Moniz MZ-3674 Maputo Mozambique
Tel. (258.1)49.33.85, 49.22.02, Tel. 7 Fax (258.1)49.17.66
National organization
--------------------------------------------------------------------------------
Joao Armando Vilanculo
Rua de Bagamoyo 201, C.P. 2702 MZ-3600 Maputo Mozambique
Fax (258)305559
Researcher, folk dances
--------------------------------------------------------------------------------
Moira Laffranchini
39, ch. de Fontanney CH-1052 Le Mont-sur-Lausanne Switzerland
Tel. & Fax (41.21)652.39.25
Researcher, Traditional dances in Mozambique, especially timbila dance of the Chopi ethnic group group