.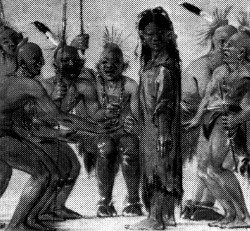 A Academy of Ballroom & Latin Dancing, Carol Manning Dance Studios, School of Toronto Dance Theatre, are just a few of the Toronto dance companies, Toronto dance schools, dancing organizations and dance wear suppliers that that can be found in our comprehensive Directory of Canadian Dance Companies.
Canadian Dance History - The Beginning
Long before the arrival of transatlantic explorers, dance was an important part of the ritual, religious and social life of Canada's aboriginal peoples. The earliest written record of dancing in Canada is found in the diaries of Jacques Cartier. He wrote in 1534 of being approached, along the shore of Chalem Bay, by 7 canoes bearing "wild men ... dancing and making many signs of joy and mirth." In their journals, those who came after Cartier made frequent reference to Native dance.

Under the impact of centuries of colonization and immigration, Canada's indigenous peoples retained a tenuous hold on their once rich dance heritage. Given the often hostile indifference of European settlers to the Aboriginal cultures they disrupted and displaced, and the very different directions in which dance developed in the settler cultures, it was inevitable that indigenous dance forms would have little impact on the later development of dance in Canada. However, by the end of the 20th century, the established and evolving tradition of indigenous dance performance was an important element of the culture of many of Canada's Aboriginal communities.

The modern history of dance in Canada begins with the implanting of European culture from the 16th century onward. The French, and later the British, brought with them their own social dances but, despite the presence from the mid-18th century of local dancing teachers in Canada's principal colonial settlements, theatrical presentations of dance were generally imported.
Excerpts from the History of Dance in Canada - Historica Foundation of Canada - Author MAX WYMAN and MICHAEL CRABB
Canadian Dance Video
Featured Toronto Dance School
A Academy of Ballroom & Latin Dancing
We are devoted to providing a genuine and reliable service to all, who aspire to dance. Our aim is to make Ballroom Dancing and Latin dancing attainable and accessible to EVERYONE. Our dedication to cultivating good, knowledgeable dancers, whether for social, competitive or professional purposes, is unprecedented.
Remember no one was born a dancer, we all had to learn. This type of dancing is an entertaining, invigorating and challenging way to get in shape, gain self-confidence and socialise with others because it is a partnership oriented art/sport. The old saying: "It takes two to Tango." is definitely true when Ballroom and Latin dancing are in question. As the initials of our school so proficiently intonate (aabl= able), we firmly believe that everyone is aabl (able) 2 dance, if he/she chooses to.
---

Ijo Vudu African Dance Company is one of the leading Nigerian dance company with branches in New Jersey, Cape Town and headquarters in Toronto Canada. The company is also affiliated to Sani-Abu School for African and Contemporary Dance. This school offer student, children and adult who are interested and have to love for African culture. The founder, artistic/executive director of the institution Mr. Sani-Abu Mohammed Allen travel twice every year with his company to both Europe, Africa and north America to promote Nigerian and other African dances/workshops to our African brothers in the diaspora. The company also invite professional dance teacher from all over to conduct dance classes, workshops and collaborative performances with the company.
If you would like your Canadian Dance Company, Dance Organization, Dance School featured here then please email bangkokcompanies@gmail.com
There are many fine dance schools in Canada. I know I am in contact with them as we supply a range of high quality dancewear products like leotards, dance pants, dance dresses and other dancing apparel.
Bangkok Companies supplies an amazing range of dancewear from Thailand. I have looked at these dance garments and dance accessories in detail. There is only one word to describe them Superb. For more details click on the pictures or send an email to bangkokcompanies@gmail.com We regret at this time we can only satisfy Canadian wholesale dancewear requests.
"Dancewear designed by dancers for dancers"
| | | | | |
| --- | --- | --- | --- | --- |
| Dance Dresses | Kids Leotards | Adult Leotards | Dance Bras | |
| | | | | |
| | Dance Pants | Tutu's | Dance Shorts | |
| | | | | |
| Dancewear | Dancewear Organizers | Dance Bags | Dance Backpacks | |
| | | | | |
Bangkok Companies is a full service product sourcing company in Thailand. For All your dancewear needs please email bangkokcompanies@gmail.com with your requests.
---
Dance Schools in Canada, Dancewear Suppliers, Dancing Organizations
Ijo Vudu African Dance Company
Mohammed Abu
436 Brock Ave.
M6H 3N3
Toronto, ON
Canada.
tel: 416.901.1340, 416-884-8805
fax: 416.901.1340
info@ijovududance.com blkpepper74@yahoo.ca
http://www.ijovududance.com/services.html
--------------------------------------------------------------------------------
Rizevski Ibrahim
2434 Alta Vista dr, K1H 7N1 Ottawa, Ontario, Canada
+1 613 526 97 31
ibo5@bluewin.ch
Dance Teacher, Choreographer, Macedonian dance and Serbian dance
--------------------------------------------------------------------------------
Kevin Budd
222 Christie Street M6G2B7 Toronto, Ontario Canada
Tel. (1.416)537.7360
Dance School, folk dance calendar, directory, newsletter
--------------------------------------------------------------------------------
Academy of Ballroom Dancing
2140 Dundas West ON Toronto Canada
Tel. 1(416) 531-8921
http://www.aabl2dance.com
Dance School, Dance studio, Dance instruction
--------------------------------------------------------------------------------
Arthur Murray Etobicoke
3054 Bloor Street West M8X 1C4 Etobicoke, ON Canada
Tel.416-239-8149
www.arthurmurraytoronto.com
Dance School
--------------------------------------------------------------------------------
Carol Manning Dance Studios
ON-Toronto, Canada
Tel. 1(416) 267-2501
Dance School, Dance studio, Dance instruction, Dance classes.
--------------------------------------------------------------------------------
COBA Collective Of Black Artists
610 Queen Street West - 2nd Floor M6J 1E3 Toronto, Ontario Canada
Tel. 416 658 3111, FAX 416 658 9980
www.cobainc.com
Company, School
--------------------------------------------------------------------------------
Coysh School Of Dance
29 Cavendish ON-Toronto, Canada
Tel. 1(416) 694-9083
School, studio, instruction, classes.
--------------------------------------------------------------------------------
Cynthia's Creative Dance Arts
386 Kingston Road ON-Toronto, Canada
Tel. 1(905) 509-5902
School, studio, instruction, classes.
--------------------------------------------------------------------------------
Dance Fuzion
535 Roxton Rd. M6G 3R5 Toronto Ontario Canada
Tel: 416 484 0499; Fax: 416 484 0919
www.dancefuzion.com
Dance School
--------------------------------------------------------------------------------
Dance Teq
470 Queens Quay W. M5V 3K4 Toronto Ontario Canada
Tel: 416 361 9498
www.danceteq.com
Tap Dance School
--------------------------------------------------------------------------------
Dance Vibes
179 Bartley Dr. M4A 1E6 Toronto Ontario Canada
416 385 9481
www.dancevibes.com
Dance School
--------------------------------------------------------------------------------
Dancing at Twilight Inc.
2448 Danforth Ave. M4C 1K9 Toronto Ontario Canada
Tel: 416 406 4222; Fax: 416 406 4672
www.dancingattwilight.com
Dance School
--------------------------------------------------------------------------------
Dancing on King
263 Adelaide W. Toronto, ON Canada
Tel: 416 469 3184
www.dancingonking.com
Dance School
--------------------------------------------------------------------------------
George Brown Dance School
P.O. Box 1015, Station B M5B 2T9 Toronto, Ontario Canada
416 415 5000 xt 2196; Fax: 416 415 2865
www.balletjorgen.ca
Dance School
--------------------------------------------------------------------------------
Interplay School of Dance
19 Thatcher Ave M1M 2M3 Toronto Ontario Canada
Tel: 416 927 1316; Fax: 416 972 1497
www.interplay-dance.ca
Dance School for children and adults teaching ballet, modern, hip hop, jazz, tap, musical theatre, creative movement, moms & tots.
--------------------------------------------------------------------------------
Les amis de Terpsichore
25 Wood St., Suite 1608 Toronto, ON M4Y 2P9 Canada
Tel: (416) 348-0896; Fax: (416) 348-0486
http://terpsichore.sites.toronto.com
Dance School
--------------------------------------------------------------------------------
National Ballet School
105 Maitland St Toronto, ON M4Y 1E4 Canada
Tel: 416 964 3780; Fax: 416 964 5133
www.nbs-enb.on.ca
Ballet School
--------------------------------------------------------------------------------
Neworldance Academy
3368 Yonge St. Toronto, ON M4N 2M7 Canada
Tel:416 322 5438; Fax: 416 322 8345
www.neworldacademy.com
Dance School
--------------------------------------------------------------------------------
Regency School of Dance
42 Edgewood Avenue (Corpus Christi School) ON-Toronto, Ontario Canada
http://www.regencyschoolofdance.com
Dance School, studio, instruction, classes.
--------------------------------------------------------------------------------
Rhythm and Motion
2844 Dundas St W., 2nd Floor Toronto, ON M6P 1Y7 Canada
Tel: 416 240 0808
www.rhythmandmotion.ca
Dance School
--------------------------------------------------------------------------------
Rita Ridaz Dance Academy
147 SpandinaAv Toronto Canada
(416) 464- 0735
www.ritaridazdance.com
Dance School, Dance studio, Dance instruction, Dance classes
--------------------------------------------------------------------------------
Ritmo Flamenco
25 St. Nicolas St. Suite 311 M4Y 1W5 Toronto ON Canada
Tel. 416 435 4223
www.ritmoflamenco.ca
Dance School
--------------------------------------------------------------------------------
Riverdale School of Dance
60 Bowden Avenue Toronto Canada
(416) 466-6452
http://riverdale.ontariodance.com
Dance School
--------------------------------------------------------------------------------
School of Toronto Dance Theatre
80 Winchester ON-Toronto, Ontario Canada
http://www.schooloftat.org
Dance School, studio, instruction, classes.
--------------------------------------------------------------------------------
School Of Toronto Dance Theatre
80 Winchester St. Toronto Ontario M4X 1B2 Canada
Tel. (416) 967-6887; Fax (416) 967-4379
www.schooloftdt.org
Young Dancers Program Summer Dance Camp
--------------------------------------------------------------------------------
Stott Pilates
2200 Yonge Street, Unit 1402 M4S 2C6 Toronto, Ontario Canada
http://www.stottpilates.com
Dance School, Dance studio, Dance instruction, Dance classes.
--------------------------------------------------------------------------------
The Dance Barre
3284 Yonge Street ON-Toronto, Ontario Canada
http://www.newworldacademy.com
School, studio, instruction, classes.
--------------------------------------------------------------------------------
The Granville Ferry Summer Dance Programme
21 Spruce Street Toronto M5A 2H8 Canada Ontario, Toronto Canada
Tel: 416-920-7463
www.granvilleferrystudio.ca
Technical training, dance training, private dance classes, summer dance programs, summer dance schools, Canadian dance institutions, Canadian dance training, private dance coaching, dance programs
--------------------------------------------------------------------------------
The School of Canadian Children's Dance Theatre
509 Parliament Street ON M4X 1P3 Toronto Canada
416.924.5657; Fax 416.924.4141
www.ccdt.org
Founded in 1983 to provide a creative home for young bodies, minds and spirits. The School offers evening and weekend classes in Creative Dance, RAD Ballet, Limon Modern, Jazz, Tap and Hip Hop.
--------------------------------------------------------------------------------
Toronto Dance School
CAN-Toronto Canada
http://www.vladsdance.com/home.html
Vlad's Dance School provides both competitive and recreational dance in Toronto and GTA
--------------------------------------------------------------------------------
Urban Studio Theatre
27A Bloor St. E. ON-Toronto, Ontario Canada
http://www.urbanstudiotheatre.com
Dance School, studio, instruction, classes.
--------------------------------------------------------------------------------
Yavir School of Ukrainian Dance
135 La Rose Avenue M9P 1A6 Toronto, Ontario Canada
Tel: 416.243.3072; Fax: 416.249.5204
www.yavir.ca
Dance School
--------------------------------------------------------------------------------
Peggy Baker
490 Adelaide Street, West, #201, DUO M5V1T2 Toronto, Ontario Canada
Tel. (1.416)504.6429; Fax (1.416)504.8702
www.peggybakerdance.com
Contemporary dancer, choreographer, teacher, Artist-in-Residence at Canada's National Ballet School
--------------------------------------------------------------------------------
Paul - James Dwyer
240, Dovercourt Road M6J3E1 Toronto Canada
Tel. 1.416.423.4472
www.danceoremusdanse.org
A neo-classical modern dance co. with a live music mandate. Technique is Isadora Duncan School. P-J Dwyer is the only professional male Duncan dancer in the world. Choreography for stage/opera
--------------------------------------------------------------------------------
Patricia Fraser
80 Winchester Street M4X 1B2 Toronto Ontario Canada
(416) 967-6887, fax: (416) 967-4379
www.schooloftdt.org
Dancer, Educator
--------------------------------------------------------------------------------
Daniel Gariepy
2502-33 Isabella Street M4Y2P7 Toronto, Ontario Canada
Tel. (1.416)324.9118
www.labelledanse.com
Dance Company, School ; fully staged theatrical performances of 18th century ballets and new works in the baroque style
--------------------------------------------------------------------------------
Alana Hock
263 Adelaide St. W., Unit B10 M5H 1Y3 Toronto Ontario Canada
Tel: 416 975 4746
www.dancewithalana.com
Artistic Director of Dance with Alana Dance School