.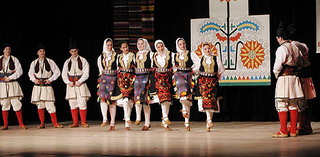 The Serbian national folk dance ensemble, Dancing Association of Bosnia and Herzegovina, are just a few of the Bosnian dance companies, Bosnian dance schools, dancing organizations and dance wear suppliers that that can be found in our comprehensive Directory of Bosnian Dance Companies.
Traditional Bosnian Dance
Bosnia & Herzegovina: Because of the influence of the Austro-Hungarian Empire, Western-style couples dances have become popular in Bosnia as in Hungary.

Silent dance: a tradition in Bosnia and Croatia, in which the only musical accompaniment to the dance is the sounds of the dancers' feet and jingling costume ornaments. Some believe this form arose during the Turkish occupation, when public assembly was restricted and music could have invited attention.
This dance is characteristic of the "silent" dances found in this area of Bosnia. Dancing on the whole foot, strongly, and with jingling jewelry, at the command of the dance leader, the dancers obediently change figures. This dance, like many others, evolved as a reflection of life's needs and relationships, arising out of the stark conditions of existence. In the dance the maen test the strenght and capabilities of their partners for the difficult task which await them in their future life together. This number belongs to the Dinaric type of dance.
Bosnia Dance Video
Featured Bosnia Dance Company
The Serbian national folk dance ensemble SEMBERIJA from Bijeljine
Our aim is preservation of traditional dancing and musical heritage of Serbian nation, as well as other nations that live in Bosnia and Herzegovina and Serbia and Montenegro.
Nowadays oven than 300 active members in several sections take part in our ensemble.
Ensemble of national folk dance consists of four categories: first ensemble, youth ensemble, children ensemble and ensemble of the oldest members veterans.
The Primary ensemble consists of about thirty members. They are able to perform both short forms and full time concerts at any period of time.
The Youth ensemble is also skilled and able to escort Primary ensemble. Members for the primary ensemble are selected from the Youth ensemble.
The most numerous ensemble is the Children ensemble. This is actually school with a defined working plan. In this school children learn basic steps and get elementary knowledge of folk dance. After only few months they are ready to perform choreographies appropriate to their age..
All these ensembles, vocal groups and solo singers are accompanied by the National orchestra. It has its own performances, as well. The main aim of the Orchestra is to popularize national instruments and traditional performances, promote wind and string instruments through schools of saxophone, violin and flute and interest young in traditional music.
Musical section is also consisted of the "Stari Sat" (Old Clock) band that plays evergreen music, female vocal group, children vocal group, several soloists who perform traditional Serbian songs, and traditional vocal groups "Drinski Pomeljari" (who cherish singing style from Macva) and "Semberija" (traditional songs from Semberian villages).
There are art section, tradition weaving section and amateur theatre troupe, as well. This is all part of our standard programme and activites of our ensemble.

If you would like your Bangladesh Dance Company, Dance Organization, Dance School featured here then please email bangkokcompanies@gmail.com
There are many fine dance schools in Bosnia. I know I am in contact with them as we supply a range of high quality dancewear products like leotards, dance pants, dance dresses and other dancing apparel.
Bangkok Companies supplies an amazing range of dancewear from Thailand. I have looked at these dance garments and dance accessories in detail. There is only one word to describe them Superb. For more details click on the pictures or send an email to bangkokcompanies@gmail.com We regret at this time we can only satisfy Bosnian wholesale dancewear requests.
"Dancewear designed by dancers for dancers"
| | | | | |
| --- | --- | --- | --- | --- |
| Dance Dresses | Kids Leotards | Adult Leotards | Dance Bras | |
| | | | | |
| | Dance Pants | Tutu's | Dance Shorts | |
| | | | | |
| Dancewear | Dancewear Organizers | Dance Bags | Dance Backpacks | |
| | | | | |
Bangkok Companies is a full service product sourcing company in Thailand. For All your dancewear needs please email bangkokcompanies@gmail.com with your requests.
---
Dance Schools in Bosnia, Dancewear Suppliers, Dancing Organizations
Uhakud u Bih
Trg hrvatskih velikana bb. BA-88000 Mostar Bosnia and Herzegovina
Tel. (387)363.210.22;(387)633.193.32
www.uhakud.ba
UHAKUD u BiH is association of 84 folklore grups, associations or Edina Papo
Obala Kulina Bana 9 BA- Serajevo Bosnia and Herzegovina
Tel. (387)334.451.38
--------------------------------------------------------------------------------
Ruzica Soldo
Alojza Stepinca 28 BA-88220 Siroki Brijeg Bosnia and Herzegovina
Tel. (387)397.064.01;
(387)633.273.72;
Folklore dances, playing and singing. The group performs the dances from all parts of :
Bosnia-Herzegovina, Croatia, Mazedonia, Kosovo, Serbia etc.
--------------------------------------------------------------------------------
Edina Papo
Marsala Tita 29 BA-71000 Sarajevo Bosnia and Herzegovina
Tel. (38)771665960,
(38)771443030
Choreographer, classical dance
--------------------------------------------------------------------------------
Arts and society Tono Hrovat
bb, Ul Ibrahima Mrzljaka BA-77230 Velika Kladusa Bosnia and Herzegovina
Tel. 00387 37 770 048
www.geocities.com/jagodaramic
The performance is a representation of Bosnian culture and traditional dance.
The group uses traditional costumes, music and dance to educate and entertain its audiences
--------------------------------------------------------------------------------
Dancing Association of Bosnia and Herzegovina
Marsala Tita 9a/I BA-71000 Sarajevo Bosnia and Herzegovina
Tel. & Fax (387.71)663362,
Tel. & Fax (387.71)200545
Organization, dancesport
--------------------------------------------------------------------------------
HKUD ''HERCEGOVAC''
Kralja Tomislava bb BA-88220 Siroki Brijeg Bosnia and Herzegovina
Tel/Fax: 00387 39 704 328
folklore dances, playing and singing. The group performs
the dances from all parts of : Bosnia-Herzegovina, Croatia, Mazedonia, Kosovo, Serbia etc.
--------------------------------------------------------------------------------
HKUD Hercegovac
Kralja Tomislava bb BA-88220 Siroki Brijeg Bosnia and Herzegovina
Tel. & Fax (387).397.04328
--------------------------------------------------------------------------------
KUD 'Lola'
Envera Sehovica 15 BA-71000 Sarajevo Bosnia and Herzegovina
Tel/Fax ++38733640051
http://www.geocities.com/kud_lola
Ensemble, amateur folk dance group.
--------------------------------------------------------------------------------
Semberija
Majevicka 168 Bijeljina Bosnia and Herzegovina
387.55.205.472
www.semberija.org
Serbian National Folk Dance Ensemble
--------------------------------------------------------------------------------
ZKUD Zeljeznicar
Valtera Perica 16 BA-71000 Sarajevo Bosnia and Herzegovina
87.33.217.405;
Fax 387.33.217.405;
Mobile 387.61.510.658
--------------------------------------------------------------------------------
Dance Company
founded in 1945. During the 58 years of Davor Bozic
Marsala Tita 9a BA-71000 Sarajevo Bosnia and Herzegovina
Tel. & Fax 38 733 460 481
Teacher, judge
--------------------------------------------------------------------------------
Nedim Celebic
Husein Kapetan Gradascevic BA-71340 Olovo Bosnia and Herzegovina
Tel: 0038761796049
Fax:0038732826179
www.kud.olovo.net
Folklore dances, music section, drama club
--------------------------------------------------------------------------------
Luka Medar
16, Bana Milosavljevica 78000 Banja Luka Bosnia and Herzegovina
Tel. + 387 51 303 307,
FAX + 387 51 303 307
www.maslesa-folklor.org
--------------------------------------------------------------------------------
Goran Pupac
16, Bana Milosavljevica Street BA-78000 Banja Luka Bosnia and Herzegovina
Tel. + 387 51 303 307,
Fax + 387 51 303 307
www.maslesa-folklor.com
Art director/teacher in in one of the oldest folk groups in Bosnia and Herzegovina
--------------------------------------------------------------------------------
"Veselin Maslesa" Anka Raic
Uhakud Bih, Trg hrvatskih velikana bb. BA 88 000 Mostar Bosnia and Herzegovina
00387 36 321 022;00387 63 319 332
www.uhakud.ba
Folk dance ensemble/group
--------------------------------------------------------------------------------
Ankica Timotijevic
Valtera Perica 16 BA-71000 Sarajevo Bosnia and Herzegovina
Tel/Fax (387)3321.7405; (387)6151.0658 Mobile
Ensemble, Bosnian folk dances
--------------------------------------------------------------------------------
Momcilo Vesovic
Banovic Strahinje br.8 BA-51000 ++387 Banja Luka Bosnia and Herzegovina
Tel. ++397 51 218 057, FAX ++387 51 462 503
www.folklor-cajavec.rs.ba
Folklor Ensemble CAJAVEC
--------------------------------------------------------------------------------
Bosnia and Herzegovina National Commission for UNESCO
Ministry of Foreign Affairs; Musla 2 BA-71000 Sarajevo Bosnia and Herzegovina
Tel. (387.71)71.66.79.77
National organization
--------------------------------------------------------------------------------
K.U.D. Lola
Envera Sehovica 15 BA-71000 Sarajevo Bosnia and Herzegovina
Tel. 387 30 265 403; Fax 387 30 265 703
http://www.geocities.com/kud_lola
Ensemble, Bosnian folk dances
--------------------------------------------------------------------------------
Ismet Bainac
Dom kulture BA-70240 Gornji Vakuf Bosnia and Herzegovina
Tel. (387.66)185 804; (387)30 265 403; Fax 387 30 265 703
Ensemble, Bosnian folk dances
--------------------------------------------------------------------------------
Kemal Borovac
Akcus "Seljo" Mehmeda Spahe 20 BA-71000 Sarajevo Bosnia and Herzegovina
Tel. & Fax 00387.33.442.958
www.seljo.org
Traditional Folk Dance.
--------------------------------------------------------------------------------
Belma Ceco
Semira Fraste 13 BA-71000 Sarajevo Bosnia and Herzegovina
Tel. 387 61 192233
Choreographer, dance theatre
--------------------------------------------------------------------------------
Ismet Gekic
Dom kulture BA-70240 Gornji Vakuf Bosnia and Herzegovina
Tel. (387.66)185 804; (387)30 265 403; Fax 387 30 265 703
Ensemble, Bosnian folk dances
--------------------------------------------------------------------------------
Dzevad Kordic
Akcus "Seljo" Mehmeda Spahe 20 BA-71000 Sarajevo Bosnia and Herzegovina
Tel. & Fax 00387.33.442.958
www.seljo.org
Traditional Folk Dance: Ensemble of traditional folk dances and songs.
--------------------------------------------------------------------------------
Refik Kulic
Akcus "Seljo" Mehmeda Spahe 20 BA-71000 Sarajevo Bosnia and Herzegovina
Tel. & Fax 00387.33.442.958
www.seljo.org
Traditional Folk Dance.
--------------------------------------------------------------------------------
Bajro D. Ljubuncic
Dom kulture BA-70240 Gornji Vakuf Bosnia and Herzegovina
Tel. (387.66)185 804; (387)30 265 403; Fax 387 30 265 703
Ensemble, Bosnian folk dances
--------------------------------------------------------------------------------
Emira Mesanovic
Krestalica 16 BA-71000 Sarajevo Bosnia and Herzegovina
Tel. 387 33 238.109
Dancer, teacher, performer, Oriental, Middle-Eastern dance
--------------------------------------------------------------------------------
Ljubo Milicevic
Kralja Tomislava bb BA-88220 Siroki Brijeg Bosnia and Herzegovina
Tel. & Fax (387).397.04328
--------------------------------------------------------------------------------
Vesna Andree Zaimovic
Zeljeznicka 44 BA-71210 Ilidza, Sarajevo Bosnia and Herzegovina
Tel. (387.33)622 156, 463 948, 283 500; Fax (387.33)282 501, 63 946
Researcher, folk dances
-------------------------------------------------------------------------------
Lynn D. Maners
2242 E. Silver Street AZ 85719-3426 Tucson, Arizona U.S.A.
Tel. (1.520)321.0955
Researcher, ethnochoreology; Bosnian dance & music; amateur folklore ensembles, dance theory