.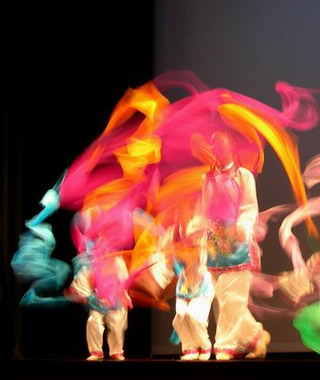 Cloud Gate Dance Theatre of Taiwan, Dance World, Happy Dancer Folk Dance Club, are just a few of the dance companies, Taiwanese dance schools, dancing organizations and dance wear suppliers that that can be found in our comprehensive Directory of Taiwanese Dance Companies.
Dance and music are among the richest legacies of Taiwan's indigenous peoples. Group dances that are performed at a wide variety of ceremonies and rituals consist mostly of simple but harmonious walking and foot-stomping movements. They are usually performed in unison and accompanied by melodic choruses. Indigenous musical instruments include drums, simple stringed instruments, woodwind instruments (such as flutes), and other percussion instruments (rattles, wooden mortars and pestles). Dance in Taiwan has become increasingly diverse since the late 1960s. Early pioneers of modern dance including Cai Ruei-yue and Li Cai-e began performing in the 1940s after studying European-influenced modern dance in Japan.

Other key figures who introduced modern dance to Taiwan include Liu Feng- shueh who formed the Neo=Classic Dance Company, and Lin Hwai-min who founded the Cloud Gate Dance Theatre to express local identity, and which has gained a devoted local audience and deserved international reputation.

A number of smaller dance companies, many founded by former Cloud Gate members, have started up since the 1980's. These include Lin Siou-wei's Taigu Tales Dance Theater (known for its meditative dances based on Asian philosophy), Lious Shao-lu and his Taipei Dance Circle (using innovative choreography to create poetic displays of motion), Dance Forum Taipei founded by Ping Heng (mixing postmodernism with an Asia frame of reference), and the Legend Lin Dance Theater, founded and directed Lin Li-jhen (taking inspiration from Taiwanese folk traditions).
Featured Taiwanese Dance Company
Cloud Gate Dance Theatre of Taiwan
Cloud Gate's rich repertoire has its roots in Asian myths, folklore, and aesthetics, but it brings to these age-old beliefs and stories a contemporary and universal perspective. The company is made up of two-dozen dancers whose training includes Tai Chi Tao Yin (an ancient form of Chi Kung), meditation, martial arts, Chinese Opera movement, modern dance, ballet, and calligraphy.
According to legend, Cloud Gate is the name of the oldest known dance in China, a ritual dance of some 5,000 years ago. In 1973, choreographer Lin Hwai-min adopted this classical name for the first contemporary dance company in any Chinese speaking community: Cloud Gate Dance Theatre of Taiwan.
Cloud Gate has been on extensive overseas tours throughout the continents of Europe, Asia, Australia, North America, and South America, including engagements at New York's Next Wave Festival, the Sydney 2000 Olympic Arts Festival, Lyon Biennale De La Danse, Melbourne International Arts Festival, Adelaide Festival, Berlin Festival, the festival celebrating the 25th Anniversary of Pina Bausch Tanztheatre Wuppertal, Sadler's Wells Theatre and Barbican Centre in London, Deutsche Oper Berlin, and the Kennedy Center.

If you would like your Taiwan Dance Company, Dance Organization, Dance School featured here then please email bangkokcompanies@gmail.com
There are many fine dance schools in Taiwan. I know I am in contact with them as we supply a range of high quality dancewear products like leotards, dance pants, dance dresses and other dancing apparel.
Bangkok Companies supplies an amazing range of dancewear from Thailand. I have looked at these dance garments and dance accessories in detail. There is only one word to describe them Superb. For more details click on the pictures or send an email to bangkokcompanies@gmail.com We regret at this time we can only satisfy Taiwanese wholesale dancewear requests.
"Dancewear designed by dancers for dancers"
| | | | | |
| --- | --- | --- | --- | --- |
| Dance Dresses | Kids Leotards | Adult Leotards | Dance Bras | |
| | | | | |
| | Dance Pants | Tutu's | Dance Shorts | |
| | | | | |
| Dancewear | Dancewear Organizers | Dance Bags | Dance Backpacks | |
| | | | | |
Bangkok Companies is a full service product sourcing company in Thailand. For All your dancewear needs please email bangkokcompanies@gmail.com with your requests.
---
Dance Schools in Taiwan, Dancewear Suppliers, Dancing Organizations
Cloud Gate Dance Theatre of Taiwan
5F, No.19, Lane 231, Fu Hsing N.Rd TW-10542 Taipei Taiwan
(886)227.122.102; Fax(886)227.122.106
www.cloudgate.org.tw
--------------------------------------------------------------------------------
IOV Taiwan
3F-2, Fu-Hsing N. Rd., TW-Taipei 104 Taiwan
(886)225.000.080;Fax(886)225.007.547
www.iov.org.tw
Folk Art Organization
--------------------------------------------------------------------------------
Caroline Kuo
3F-2, 204 Fu-Hsing N. Road TW-104 Taipei Taiwan
886)225.000..080;Fax (886)225.007.547;
Organizer of dance festivals and other cultural events; artistic management.
--------------------------------------------------------------------------------
Chu Mei Ling
4F-1 No.10 Sect.1 Lane 380, Kee-Lung Roa TW-100 Taipei Taiwan
(02)227.221.81 Ext.378; (02)272.999.74, 0921-600-921
--------------------------------------------------------------------------------
Feng-shueh Liu
4F, No. 24-3, Shinsheng S. Road., Sec. 3 TW-10000 Taipei Taiwan
Tel. (886.2)2391.4204; Fax (886.2)2363.2065)
--------------------------------------------------------------------------------
Juan Ann Tai
6-3 Pei-yuan Street, Apt. 15F-1 TW-704 Tainan City Taiwan
(886)627.532.73;Fax(886)627.53270;Mobile(886)927.227.808
Choreographer
--------------------------------------------------------------------------------
Yun-Yu Wang
Tapei National Univ. of Arts, 1 Shun-Yuan Road, Pei-tou TW-Tapei 112 Taiwan
(1.719)389.6637; 389.6460, 886 919 272323; Fax (1.719)389.6145, 886 2 2877 1359
www.coloradocollege.edu
Labanotation teacher, Modern, Taichi
--------------------------------------------------------------------------------
Shih Gee-Tze
6F No. 1 2 lane 262 alley In-Tsai Road TW-Taichung Chinese Taiwan
tel. (886.4)202.4758, Fax (886.4)205.0140
Company
--------------------------------------------------------------------------------
Shaw-lu Liou
3F, No. 62, San-Ho Road., Sec. 3 Sanchung TW-10000 Taipei Chinese Taiwan
TEL:+886-2-89720061, FAX:+886-2-89720062
Company
--------------------------------------------------------------------------------
Heng Ping
50, Lane 120, Tunhua N. Road TW-10000 Taipei Chinese Taiwan
Tel. (8862)3393-9600, FAX (8862)3393-9606
www.ntch.edu.tw
Presenter for international and the most representative local programs for National Theater with 1500 seats, and Experimental Theater with 180 seats. The company Eolipile was founded in 1996 by the French-Taiwanese choreographer, LIN Yuan Shang
--------------------------------------------------------------------------------
Asian Cultural Council - Taipei Office
Floor 10-2, 303 Chung-Hsiao E. Road, Sec. 4 TW-10566 Taipei Taiwan
Tel. (02) 8771-8836; Fax (02) 8771-8844
http://www.asianculturalcouncil.org
Foundation supporting cultural exchange in performing arts between the United States and the countries of Asia. Financial assistance to dancers, fellowships.
--------------------------------------------------------------------------------
Chi-Fang Chao
No.1, Sec. 2, Ta-Hsueh Road TW-974 Shoufeng, Hualien Taiwan
Tel. 886.3.863.5796; Fax 886.3.863.5790
dance scholar interested in dance anthropology
--------------------------------------------------------------------------------
Yun Lu-Fang
Hua Uan Sin Chan , Hua Uan 12 Rd. no.5 -503 Sin Dan, Taipei Taiwan
886-915-895-258 , 886-2-55953905
www.lufangyun.com
Belly Dance is express self consciousness ,blessing , love and power of mother , as a east women , mix my culture and belly dance is the way I express myself.
--------------------------------------------------------------------------------
Chu Meiling
No.59 Sec.1 Da-Kuan Rd. Panchio City, Taipei Taiwan
886-02-22722181Ext2550
www.ntua.edu.tw/~dance/dance
NTUA Dance Department
--------------------------------------------------------------------------------
Wu (Valeria) Meng-chien
No. 101, Fu-shing Rd. Sec.2 260 I-lan Taiwan
Tel. 886-3-9359244, FAX 886-3-9359245
www.folkgame.org.tw
Administrative Secretary and Head of the Reception in I-lan International Children's Foklore & Folkgame Festival
--------------------------------------------------------------------------------
CIOFF Chinese Taipei
186 Chung- Ching Rd, B1 TW-11000 Taipei Chinese Taiwan
Tel. (886)2.2722 3958; Fax (886)2.2722 4045
Festival, folk
--------------------------------------------------------------------------------
Dance World
11F, No.42 Maichin Road TW-Keelung Chinese Taiwan
http://www.dancers.com.tw
Group
--------------------------------------------------------------------------------
Danny & Jenny Dance Studio
Studio 3F No. 41 Sheng Hwa Rd TW-Pei Kang Chang, Yun Lin Hsien Chinese Taiwan
Tel: 886-5-7833265; (886) 0932712090, (886) 0931578301
--------------------------------------------------------------------------------
Happy Dancer Folk Dance Club
Box 19-72, Panchiao TW-10000 Taipei Chinese Taiwan
Tel. (2)257.6288, Fax (2)258.3225
Group, folk
--------------------------------------------------------------------------------
I.O.V. Taiwan Office, International Folklore Festival
Nan Ying & Ping Tung
Sec. 3Min-Sheng E Road TW-10400 Taipei Chinese Taiwan
Tel. (886)2.2500.0080, Fax (886)2.2509.3067
Festival, folk
--------------------------------------------------------------------------------
International Children's Folklore & Folkgame Festival
101 Sec. 2 Fu-hsing Road TW-260 I-Lan Country Chinese Taiwan
Tel. 886.3.932 2440, Fax 886.3.935 9245
Festival, folk
--------------------------------------------------------------------------------
International Exhibition of Folk Arts
23 Chung Cheng Road TW- Hsin Ting City, Tainan County 712 Chinese Taiwan
Tel. 886.6.632 1047; Fax 886.6.635 1846
Festival, folk
--------------------------------------------------------------------------------
Nan Ying International Folklore Festival
23 Chung Cheng Road TW-712 Hsin Ting, Tainan Chinese Taiwan
Tel. (886)6.632 1047; Fax (886)6.635 1846
Festival, folk
--------------------------------------------------------------------------------
National Sun Yet-sen University Ballroom Club
70 Lien-hai Road TW-Kaohsiung Chinese Taiwan
Tel. (886.7)525.2001, Fax (886.7)525.2039
www.nsysu.edu.tw/dancing
Club, ballroom dancing
--------------------------------------------------------------------------------
Republic of China Council of Ballroom Dancing
46 Section 2, San Ming Road TW-10Fl-2 Taichung Chinese Taiwan
Tel: +886 4 221 3939, Fax: +886 4 221 3778
--------------------------------------------------------------------------------
Hsiu-Ping Chang
5, 6 Aly, 421LN, Kung-Fu Road TW-10000 Taipei Chinese Taiwan
Tel. (886.2)2758.4658, Fax (886.2)2758.4658
Company
--------------------------------------------------------------------------------
Chungshiuan Chang
1 Hsueh Yuan Road TW-10000 Peitou, Taipei Chinese Taiwan
Tel. (886)228961000 ext. 3509, Fax (886)228938779
Teacher
--------------------------------------------------------------------------------
Shu-Tzeng Chang
189, 1 Sec. Beicheng Road, Lan Lutong 265 TW-Taipei Chinese Taiwan
Tel. 886.3.951 1161; Fax 886.3.951 1786
Association
--------------------------------------------------------------------------------
Lian-Wen Chen
3rd Floor, No. 96, Szu-Wei 2nd Road TW-Kaohsiung Chinese Taiwan
Tel. (886.7)771.5483, Fax (886.7)715.0460
Company
--------------------------------------------------------------------------------
Nien-chou Chen
13F, No. 368-1, Fuhsing S. Road TW-10640 Taipei Chinese Taiwan
Tel. (886.2)2706.1718, Fax (886.2)2706.1580
Company
--------------------------------------------------------------------------------
Amy Chen
9-1, Lane 8, Yusheng Street TW-10011 Taipei Chinese Taiwan
Tel. (886.2)2835.1491, Fax (886)2361.4014
Company
--------------------------------------------------------------------------------
Vicky Cheng
5F, 2-2, sec 2, Nan- Ya W. R.d Pan-Chiao Park TW-10000 Taipei Chinese Taiwan
Tel. (886.2)2960.0965, Fax (886.2)2965.1400
Company
--------------------------------------------------------------------------------
Fang Chi-Jang
5F, 2-2, sec 2, Nan- Ya W. R.d Pan-Chiao Park TW-10000 Taipei Chinese Taiwan
Tel. (886.2)2960.0965, Fax (886.2)2965.1400
Company
--------------------------------------------------------------------------------
Li-Yeng Chiou
189 Sec. 1, Beicheng Rd, Lotung, I Lan, 256 R.O.C TW-Taipei Chinese Taiwan
Tel. 886.3.951.11.61; Fax 886.3.951.17.86
Dancer
--------------------------------------------------------------------------------
Kent Chou
3/F, No. 20-22 Su-Ping Street TW-10000 Taipei Chinese Taiwan
Tel. (886.2)511.3366, (886.2)536.6118, Fax (886.2)562.7157
School, ballroom dancing
--------------------------------------------------------------------------------
Faidaw Fagod
2F-5, No.94, Baojong Road TW-Hsin-Tien, Taipei Chinese Taiwan
Tel. (886.2)2917.3700, Fax (886.2)2915.8683
Company
--------------------------------------------------------------------------------
Bernhard Helmich
102 Ai-Kuo East Road TW-10000 Taipei Chinese Taiwan
Organizer
--------------------------------------------------------------------------------
Wu Hisu-Lien
5F, 2-2, sec 2, Nan- Ya W. R.d Pan-Chiao Park TW-10000 Taipei Chinese Taiwan
Tel. (886.2)2960.0965, Fax (886.2)2965.1400
Company
--------------------------------------------------------------------------------
Nui-Hui Hong
3rd Floor, No. 96, Szu-Wei 2nd Road TW-Kaohsiung Chinese Taiwan
Tel. (886.7)771.5483, Fax (886.7)715.0460
Company
--------------------------------------------------------------------------------
Chen Hsiu-Chuan
5F, #19, Lane 231, Fu-Hsing North Road TW-10542 Taipei Chinese Taiwan
Tel. (886)2 2712 2102; Fax (886)2 27122106
http://www.cloudgate.org.tw
Dance Theatre
--------------------------------------------------------------------------------
Betty Hsu
6F, 36 Chin Chou Street TW-10000 Taipei Chinese Taiwan
Tel. (886.2)2543.5036, (886.2)25419702
http://www.csie.ntu.edu.tw/~b5506015
School, tuition, ballroom dance, dancesport
--------------------------------------------------------------------------------
Tony Hsu
6F, 36 Chin Chou Street, TW-10000 Taipei Chinese Taiwan
Tel. (886.2)2543.5036, (886.2)25419702
http://www.csie.ntu.edu.tw/~b5506015
School, tuition, ballroom dance, dancesport
--------------------------------------------------------------------------------
Yun-Chin Huang
268 Kuang Fu South Road, 5th Floor TW-10600 Taipei Chinese Taiwan
Tel. (886.2)2773.0223, Fax (886.2)2778.6956
Company
--------------------------------------------------------------------------------
Lee Hung-Fu
71 Tong Li 9th Street TW-973 Chi-An, Hualien Chinese Taiwan
Tel. (886.3)8543513; Fax (886.3)8535181
Researcher, dance anthropology; body movement in ritual context; application of Laban movement analysis, Amis' shamans body movements, Eastern Taiwan
--------------------------------------------------------------------------------
Lin Hwai-min
5F, #19, Lane 231, Fu-Hsing North Road TW-10542 Taipei Chinese Taiwan
Tel. (886)2 2712 2102; Fax (886)2 27122106
http://www.cloudgate.org.tw
Dance Theatre
--------------------------------------------------------------------------------
Daniel Keng
10 F.1.106 Chang An East Road, 2 TW-10000 Taipei Chinese Taiwan
Tel. (02)509.5298, Fax (02)509.5314
Organizer
--------------------------------------------------------------------------------
Ming-Shen Ku
F.11, No 50-19, Chong-Shan Road, Pali TW-10000 Taipei Chinese Taiwan
Tel. (886.2)8630.2632, Fax (886.2)8630.2637
Company
--------------------------------------------------------------------------------
Denise Lee
9-1, Lane 8, Yusheng Street TW-10011 Taipei Chinese Taiwan
Tel. (886.2)2835.1491, Fax (886)2361.4014
Company
--------------------------------------------------------------------------------
Hsiu-wei Lin
3F, No. 222, Chinshan S. Road TW-10000 Taipei Chinese Taiwan
Tel. (886.2)2392.7805, Fax (886.2)2392.7809
Company
--------------------------------------------------------------------------------
Li-chen Lin
13F, No. 368-1, Fuhsing S. Road TW-10640 Taipei Chinese Taiwan
Tel. (886.2)2706.1718, Fax (886.2)2706.1580
Company
--------------------------------------------------------------------------------
(Sandy) Ji-Rue Lin
6F. NO6, Hwah-Chung Street TW- Taichung City Chinese Taiwan
Tel. 886.4.22024759, Fax 886.4.22050140
www.apdt.com.tw
Theatre.
--------------------------------------------------------------------------------
Shu-Yu Lin
5F, No 122, Sect 7 Chung Shan N. Road TW-Taipei Chinese Taiwan
Tel (886) 22 871 5615 Fax (886) 22 874 7783
--------------------------------------------------------------------------------
Mei-Hong Lin
189, 1 Sec. Beicheng Road, Lotung 265 I-Lan TW-Taipei Chinese Taiwan
Tel. 886.3.951 4208; Fax 886.3.951 4243
www.Lycc.org.tw/cioff.htm
Association
--------------------------------------------------------------------------------
Hwai-min Ling
5F, #19, Lane 231, Fu-Hsing North Road TW-105 Taipei Chinese Taiwan
Tel. (886.2)2712.2102, Fax (886.2)2712.2106
www.cloudgate.org.tw
Artistic Director, Company, modern dance
--------------------------------------------------------------------------------
Man-Fei Lo
5F, No. 268, Kuang-Fu S. Road TW-10000 Taipei Chinese Taiwan
Tel. (886.2)2773.0223, Fax (886.2)2778.6956
Company
--------------------------------------------------------------------------------
Lin Mei-Hong
B1, 186, Chuang-Ching Road, 113 Peicheng Street TW-10265
Lotung, Taipei Chinese Taiwan
Tel. (886.2)2722.1216, (886.3)9511.1602, Fax (886.2)2723.7469, (886.3)951.1634
Company
--------------------------------------------------------------------------------
Father Giancarlo Michelini
B1, 186, Chuang-Ching Road, 113 Peicheng Street TW-26500
Lotung, Taipei Chinese Taiwan
Tel. (886.2)2722.1216, (886.3)9511.1602, Fax (886.2)2723.7469, (886.3)951.1634
Company
--------------------------------------------------------------------------------
Liao Mo-Shi
3F, No. 133, Yenchi Street TW-10000 Taipei Chinese Taiwan
Tel. (886.6)236.8596, Fax (886.6)209.2491
Company
--------------------------------------------------------------------------------
Sunny Pang
50, Lane 120, Tunhua N. Road TW-10000 Taipei Chinese Taiwan
Tel. (886.2)2514.8486, Fax (886.2)2514.0923
Company
--------------------------------------------------------------------------------
Snaiyan
2F-5, No.94, Baojong Road TW-Hsin-Tien, Taipei Chinese Taiwan
Tel. (886.2)2917.3700, Fax (886.2)2915.8683
Company
--------------------------------------------------------------------------------
Jean Su-Ju
6F No. 1 2 lane 262 alley In-Tsai Road TW-Taichung Chinese Taiwan
Tel. (886.4)202.4758, Fax (886.4)205.0140
Company
--------------------------------------------------------------------------------
Steven Tan
1st Fl., No. 1, Lane 260, Kwangfu S. Road TW-Taipei Chinese Taiwan
Tel. & Fax (8862) 87714800; (886) 928825088
School, tuition, ballroom dance, dancesport
--------------------------------------------------------------------------------
Hsin-Kuo Tsang
3F 97 Second Section, Chien Kuo North Road TW-10000 Taipei Chinese Taiwan
Tel. (886) 02.2506.6198; Fax (886) 02.2506.6986; (886) 0931.064471
School, tuition, ballroom dance, dancesport, Supplier, dancewear
--------------------------------------------------------------------------------
Ke-Mei Tswei
G8F, 106, Da-Yung Road TW-Koahsiung City Chinese Taiwan
Tel. (886)7.5337888; Fax (886)7.5337880
Company
--------------------------------------------------------------------------------
Hew-Gin Wang
27 Ming Yu Street TW-Kaohsiung Chinese Taiwan
Tel. (7)281.5013
Dance
--------------------------------------------------------------------------------
Su-jen Wang
4F, No. 24-3, Shinsheng S. Road., Sec. 3 TW-10000 Taipei Chinese Taiwan
Tel. (886.2)2391.4204, (886.2)2369.9079, Fax (886.2)2363.2065 Company
--------------------------------------------------------------------------------
Cynthia Wang
3F, No. 222, Chinshan S. Road TW-10000 Taipei Chinese Taiwan
Tel. (886.2)2392.7805, Fax (886.2)2392.7809
Company
--------------------------------------------------------------------------------
Hung Wang
2F, No. 59-2, Chungching S. Road TW-10000 Taipei Chinese Taiwan
Tel. (886.2)2392.6170, Fax (886.2)2391.2225
Company
--------------------------------------------------------------------------------
Ming-chuan Wang
5F, No. 55, Ta-an Rd., Sec. 2 TW-10000 Taipei Chinese Taiwan
Tel. (886.2)2707.8003, (886.2)2704.1300, Fax (886.2)2755.2630
Company
--------------------------------------------------------------------------------
Kate Hueiwen Wen
5F No. 19, Lane 23, Fuhsing N. Road TW-10542 Taipei Chinese Taiwan
Tel. (886.2)2712.2102, Fax (886.2)2712.2106
Company
--------------------------------------------------------------------------------
Su-fen Wu
5F, No. 55, Ta-an Rd., Sec. 2 TW-10000 Taipei Chinese Taiwan
Tel. (886.2)2707.8003, (886.2)2704.1300, Fax (886.2)2755.2630
Company
--------------------------------------------------------------------------------
Pi-Jung Wu
5, 6 Aly, 421LN, Kung-Fu Road TW-10000 Taipei Chinese Taiwan
tel. (886.2)2758.4658, Fax (886.2)2758.4658
Company
--------------------------------------------------------------------------------
Jen-jen Wu
3F, No. 133, Yenchi Street TW-10000 Taipei Chinese Taiwan
Tel. (886.2)2772.0510, (886.2)2740.2297, Fax (886.2)2773.8676
Company
--------------------------------------------------------------------------------
Peggy Wu
3F, No. 133, Yenchi Street TW-10000 Taipei Chinese Taiwan
Tel. (886.2)2772.0510, (886.2)2740.2297, Fax (886.2)2773.8676
Company
--------------------------------------------------------------------------------
Jing-jyi Wu
2F, No. 59-2, Chungching S. Road TW-10000 Taipei Chinese Taiwan
Tel. (886.2)2392.6170, Fax (886.2)2391.2225
Company
--------------------------------------------------------------------------------
Wan-rung Yang
3F, No. 62, San-Ho Road., Sec. 3 Sanchung TW-10000 Taipei Chinese Taiwan
Tel. (886.2)2971.8918, (886.2)2985.4334, Fax (886.2)2985.4334 Company
--------------------------------------------------------------------------------
Kaohsiung Municipal Tsoying High School
55 Hai-kung Road, Tsoying TW-Kaohsiung Taiwan
Tel. 07.5857512; 07.5853083; Fax 07.5853083; 07.5851897
http://www.tyhs.edu.tw/campus/dandiv-e.h
School
--------------------------------------------------------------------------------
The Neo-Classic dance company
4F, No. 24-3 Sec Shing-sheng S. Rd Taipei Taiwan
886-2-2391-4204 ; Fax: 886-2-2363-2065
www.neo.org.tw
Dance company
--------------------------------------------------------------------------------
Ya-Ti Lin
15 Mingfu Street, Sanmin Dist TW-807 Kaohsiung City Taiwan
886 7 7317692; 886 9 56725500
-------------------------------------------------------------------------------
Pei Yun
5F, No.19, Lane 231, Fu Hsing N.Rd TW-105 Taipei Taiwan
Tel. +886 2 2712 2102; Fax +886 2 2712 2106
www.cloudgate.org.tw
Assistant to Executive Director