.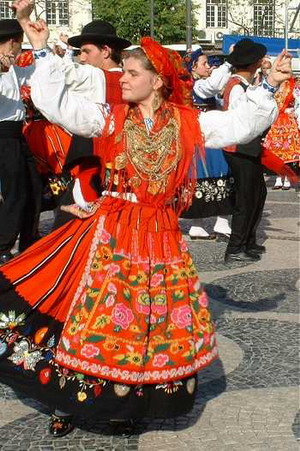 Quorum Ballet, Upper School of Dance, Escola Superior de Danca, are just a few of the dance companies, Portuguese dance schools, dancing organizations and dance wear suppliers that that can be found in our comprehensive Directory of Portuguese Dance Companies.
Traditional Portuguese Dance
Each region of Portugal has its own style of dances and songs and the most traditional songs are of a slower rhythm than those in Spain. Some of the best examples of the regional dances are the vira, chula, corridinho, tirana and fandango, many of which reflect the courting and matrimonial traditions of the area.

The rich province of Ribatejo lies upstream from Lisbon along the Tejo River in the central western part of Portugal. Literally meaning, "banks-of-the-Tejo", Ribatejo, while relatively small, boasts an extraordinary concentration of striking architecture and picturesque towns. It is known for its royal castles, serene monasteries and churches, as well as for its famous wines, foods, cowboys and bull-breeding lands. In fact, many consider Ribatejo to be the heart of the Portuguese bull-fighting tradition.

The hardy inhabitants of Ribatejo work predominantly in agriculture. At the end of a days work, music and dance has become a favorite pastime. The daily life chores of wheat harvesting, cattle herding, and horse training are often depicted in their community dance gatherings. Younger workers show off with quick-footed, improvised rhythms.

Grupo Folclórico Alma Ribatejana celebrates the proud dances of Ribatejo, and was founded as a non-profit organization in 2003. Their mission is to promote awareness of Portuguese culture in California and to strengthen the traditions of the past and forward them into the future.
Featured Portuguese Dance Company
Quorum Ballet is a dance company recently created in Lisbon entirely centered on the Contemporary Dance and its most modern techniques. This company was founded from the initiative and the true passion for dance of a young couple, Daniel Cardoso and Theresa da Silva Cardoso , who have already attained a high level of professionalism and technical and artistic perfection - they were part of such companies as Martha Graham Dance Company, Donald Byrd/The Group, NY, Teatro Municipal do Rio de Janeiro and Peter Schaufuss Ballet, Denmark - which embossed the enormous prestige they have both in Portugal and abroad. Quorum Ballet is nowadays composed by 6 to 8 dancers, some of which have come from the famous but extinct Ballet Gulbenkian.

If you would like your Portugal Dance Company, Dance Organization, Dance School featured here then please email bangkokcompanies@gmail.com
There are many fine dance schools in Portugal. I know I am in contact with them as we supply a range of high quality dancewear products like leotards, dance pants, dance dresses and other dancing apparel.
Bangkok Companies supplies an amazing range of dancewear from Thailand. I have looked at these dance garments and dance accessories in detail. There is only one word to describe them Superb. For more details click on the pictures or send an email to bangkokcompanies@gmail.com We regret at this time we can only satisfy Portugal wholesale dancewear requests.
"Dancewear designed by dancers for dancers"
| | | | | |
| --- | --- | --- | --- | --- |
| Dance Dresses | Kids Leotards | Adult Leotards | Dance Bras | |
| | | | | |
| | Dance Pants | Tutu's | Dance Shorts | |
| | | | | |
| Dancewear | Dancewear Organizers | Dance Bags | Dance Backpacks | |
| | | | | |
Bangkok Companies is a full service product sourcing company in Thailand. For All your dancewear needs please email bangkokcompanies@gmail.com with your requests.
---
Dance Schools in Portugal, Dancewear Suppliers, Dancing Organizations
Portuguese Dance Council
73 rua do Arco do Cego, 2o dto PT-1000.020 Lisboa Portugal
Dance Organization, National Committee
--------------------------------------------------------------------------------
Pedro Carneiro
Rua Sousa Lopes Lote MNO Apart 1211 PT-1600-203 Lisboa Portugal
Escola de Danca do Conservatorio Nacional
--------------------------------------------------------------------------------
Luis Damas
R. Antonio Pedro, 19, 1o esq. PT-1150.044 Lisboa Portugal
(351)213.521.222 (home); (351)966.424.440 (mobile); Fax (351)213.521.222
http://luisdamas.cjb.net
Danced in the Gulbenkian Ballet from 82 to 2001 where it was first dancer.1st awards in interpretation, choreography and video. Choreographed for Dutch National Ballet, Gulbenkian Ballet among others.
--------------------------------------------------------------------------------
Keyla Ferrari-Lopez
Rua Dom Luis Coutinho 79 PT-1900-199 Madre Deus Lisboa Portugal
Tel. (55)193.273.08.92
Dance for deaf child and handicaps
--------------------------------------------------------------------------------
Ana Rodrigues Kohler
Rua Alfredo Ferraz, R5 Pt-1600-003 Lisboa (telheiras) Portugal
Tel:(351)961.268.279
www.escoladancaanakohler.com
classical ballet (Vaganova Method) from 3 years old, adult ballet, yoga, pilates, fusion dance, hip hop, spanish dances, samba, PetitArt (dance, music and theater in one format for children from 8 to
--------------------------------------------------------------------------------
Antonio Laginha
R. Manuel Ferreira Andrade, No 11, 3-Esq PT-1500 - 416 Lisboa Portugal
21 411 79 69
www.cdo.pt.vu
--------------------------------------------------------------------------------
Ana Macara
Estrada da Costa PT-1499 Lisboa Portugal
Tel. (351)214.196.777;Fax. (351)214.144.736
--------------------------------------------------------------------------------
Ana Mascolo
73 rua Arco do Cego, 2o dto PT-1000.020 Lisboa Portugal
Tel. (35)919.710.77
Dance Teacher, dance
--------------------------------------------------------------------------------
Wanda Ribeiro da Silva
ua Dos Caetanos 29 PT-1200 Lisboa Portugal
Tel. 3425355, 3468036, Fax 342.0271
Dance School
--------------------------------------------------------------------------------
Aiga
Espaco Sou, Rua Maria Andrade loja 9a PT-1170 Lisboa Portugal
00351 96 514 3973;fax 00351 21 437 13 91
www.aiga.pt
Classical Oriental Dance
--------------------------------------------------------------------------------
Alkantara
Rua Forno do Tijolo, 54 55 Esq PT-1170-138 Lisboa Portugal
+ 351 213 152 267 ; +351 213 151 368
www.alkantara.pt
Alkantara focuses on research and development, experimenting with new formats and developing a more profound exchange between artists from different cultures and backgrounds.
--------------------------------------------------------------------------------
Bomba Suicida
n67 - 1posterior, Rua Luz Soriano PT-1200-246 Lisboa Portugal
Tel. 00351213427605, FAX 00351213427605
www.bombasuicida.org
Choreography/Performance/Video/Photography, Cultural Promotion Association
--------------------------------------------------------------------------------
Dancas na Cidade
R. Camilo Castelo Branco, 33, 3 PT-1150-083 Lisboa Portugal
351 21 315 22 67; Fax 351.213.151368
www.dancasnacidade.pt
Contemporary dance company
--------------------------------------------------------------------------------
Escola Danca Conservatorio Nacional
22, R. Joao Pereira Rosa PT-1200-236 Lisbon Portugal
Tel. (351)213.40.80.30/32/33, FAX (351)213.40.80.39
www.edcn.pt
Dance School, classical ballet technique, pointe, modern, adagio, pas de deux
--------------------------------------------------------------------------------
Escola Superior de Danca
Rua da Academia das Ciencias 5 PT-1200 Lisboa Portugal
Tel. 342.5355, Fax 342.0271
Dance School, ballet, classical, modern, jazz
--------------------------------------------------------------------------------
Escola Superior de Danca
Centro de Documentacao e Informacao
Rua de O Seculo, 89/93 PT-1200 Lisboa 433 Lisbon Portugal
Tel. (1) 343 33 51, 347 76 42, 346 80 36, 343 33 72; Fax 342 02 71
Dance School
--------------------------------------------------------------------------------
Fundacao Calouste Gulbenkian
Avenida de Berna, 45-A PT-1067.001 Lisbon Portugal
(351)21.782.3125; Fax (351)21.782.3267
www.musica.gulbenkian.pt/ballet
Contemporary Dance Company
--------------------------------------------------------------------------------
Upper School of Dance
5, Rua da Academia das Ciencias PT-1200-003 Lisboa Lisboa Portugal
+ 351 21 324 47 70, FAX + 351 21 324 02 71
As a part of the Lisbon Polytechnical Institute the Escola Superior de Danza founded in 1986 is an Artistic Graduate School of Dance which offers two distinct courses: Teachers Dance Course and Perfo
--------------------------------------------------------------------------------
Paula Alvarez
Rua Sousa Lopes Lote MNO Apt. 1211 PT-1600-207 Lisboa Portugal
(35)1914558680; (35)1962869593; Fax (35)1217974793
www.cursosdanca.pt
Organizauao de Cursos de Danca e Espectaculos
--------------------------------------------------------------------------------
Maria Joeo Alves
2141491, Estrada Costa - Ed. Esteiros PT-1495-688 Cruz Quebrada Lisbon Portugal
Tel. +351.214149189/214144736, FAX +351.214144736
--------------------------------------------------------------------------------
Mehmet Balkan
20 Rua Vitor Cordon PT-1200.484 Lisboa Portugal
(351)21.347.4048; Fax (351)21.342.5790
www.cnb.pt
Dance Company, Classical and Contemporary Dance
--------------------------------------------------------------------------------
Ana Pereira Caldas
Rua Vitor Cordon, 20 PT-1200.484 Lisboa Portugal
(21)347.4048/ 9; Fax (21)42.5790
www.cnb.pt
Dance School.
--------------------------------------------------------------------------------
Francisco Camacho
Rua da Horta 44 0 4 Esq. PT-1200 Lisboa Portugal
Tel. (351)21.343.2663, Fax (351)21.343.1788
Dance School, dance tuition
--------------------------------------------------------------------------------
Francisco Camacho
44 - 2'e Esq., Rua da Horta Seca PT-1200-221 Lisboa Portugal
Tel. +351213530931, FAX +351213530932
Contemporary Performance Arts - artistic director, choreographer, performer, producer
--------------------------------------------------------------------------------
Elsa Costa
Estrada da Costa Cruz Quebrada PT-1499 Lisboa Portugal
Tel. (1)419.6777, Fax (1)415.1248
Dance Historian, Technical University, Division for Human Motricity, Dance Department
--------------------------------------------------------------------------------
Fernando Crespo
Rua de O Seculo 89/93 PT-1200-433 Lisboa Portugal
351.213.244.770; Fax 351.213.420.271
Higher School of Dance - State Polytechnical school - 2 branches:
--------------------------------------------------------------------------------
Mark Deputter
R. Camilo Castelo Branco, 33, 3? PT-1150.083 Lisboa Portugal
Tel. (351)21.315.2267, Fax (351)21.315.1368
www.alkantara.pt
Contemporary dance, artistic exchange with Portuguese-spoken countries, Festival Dancas na Cidade
--------------------------------------------------------------------------------
Iris-Andreia-Claudia dos-Santos-Garcia
Escolas gerais no 24 2o andar PT-1100-001 Lisboa Portugal
96 514 39 73
Egyptian dance
--------------------------------------------------------------------------------
Joao Fiadeiro
Rua Campo De Ourique No 120 PT-1250062 Lisboa Portugal
351.21.381.5923
www.re-al.org
Producao Dos Coreografos: Joao Fiadeiro; Tiago Guedes E Claudia Dias
--------------------------------------------------------------------------------
Carolina morais Fonseca
rua carvalhao duarte numero 8, 1 piso PT-1600-lisboa Portugal
tel - 00351 916958660
www.as-zambra.com ; www.danzaduende.rg
--------------------------------------------------------------------------------
Joao Hydalgo
Rua Professor Simoes Raposo, 8A pt-1600 - 000 LISBOA Portugal
Tel. (351)217.14 7.244;
--------------------------------------------------------------------------------
Gagik Ismailian
7 Dto, Estrada Da Luz, No.62 PT-1600-159 Lisbon Portugal
Tel. (351) 21-727-5668, FAX (351) 21-727-5668
www.gagikismailian.com
Activities in dance: Dancer, Teacher & Choreographer
--------------------------------------------------------------------------------
Ana Kohler
ua Alfredo Ferraz, R5 PT 1600-003 Lisboa (Telheiras) Portugal
351 96 126 72 89
www.escoladancaanakohler.com
Hip Hop, Fusion Dance, PetitArt (course of music, dance and theater), Samba, Axe, Yoga (Ashtanga/Power Yoga) for adults and children and Ballet from 3 years on.
--------------------------------------------------------------------------------
Diana Mira
R. Camilo Castelo Branco, 33, 3???? PT-1150.083 Lisboa Portugal
Tel. (351)21.315.2267, Fax (351)21.315.1368
Contemporary dance, artistic exchange with Portuguese-spoken countries, Festival Dance as na Cidade
--------------------------------------------------------------------------------
Jose Manuel Oliveira
Rua Costa do Castelo 23 PT-1100.176 Lisboa Portugal
(35)121.882.4820; 121.882.4829
www.cidadevirtual.pt/cdl
divulge of dance, and has regular activity, since that year, the formation of interpreters and public, as well as the creation and production of choreographies, presented in about 1500 performances
--------------------------------------------------------------------------------
Alma-Lea Pace
Alma-Lea's Dance Studio, 28 Moody Road ME 04250 Lisbon Portugal
Tel. 207-353-2274
www.almaleasdancestudio.com
Dance Teacher
--------------------------------------------------------------------------------
Maria-Luisa Roubaud
R. Coronel Pereira da Silva no 7 1? esq PT-1300-146 Lisboa, Cruz Qubrada Portugal
Tel. (00 351)91 722 80 97
www.fmh.utl.pt
Teacher of Psychology of Art and Dance, Dance for People with Special Needs, Dance Critic
--------------------------------------------------------------------------------
Maria-Luisa Roubaud
Rua Joao Chagas 139, 1/o dt/o PT-2795 Linda-a-Velha, Lisboa Portugal
Fax 4151248
Dance Researcher
--------------------------------------------------------------------------------
Jorge Salavisa
Rua Vitor Cordon 20 PT-1200.484 Lisboa Portugal
Tel. (351.21)347.4048, (351.21)347.4049, Fax ((351.21)342.5970
www.cnb.pt
Choreographer, company
--------------------------------------------------------------------------------
Luisa Taveira
Rua Vitor Cordon 20 PT-1200.484 Lisboa Portugal
Tel. (351.21)347.4048, (351.21)347.4049, Fax ((351.21)342.5970
www.cnb.pt
Choreographer, company, classical dance
--------------------------------------------------------------------------------
Daniel Tircio
R. Eduardo A. Coelho,3 - 1?esq PT-1600-614 Lisbon Portugal
Tel. +351217590434
teacher of dance history and aesthetics; dance critic
--------------------------------------------------------------------------------
Paula Varanda
2 - 1dt, Av. Conde de Valbom PT-1050-068 LISBOA Portugal
0-351- 96 9062926 / FAX: 00-351-21-3557966
www.iartes.pt
She works in different areas like choreography (contemporary dance and technology), performance, teaching (community dance) production (dance festivals; publications; networks) cultural policies and
--------------------------------------------------------------------------------
Vasco Wellenkmp
R. Sao Bento, 326 2o 1200-822 Lisboa Portugal
213.941.000;Fax 213.951.428
Danza Contemporeneo
-------------------------------------------------------------------------------
Comara Municipal de Montijo
Avenida dos Pescadores, n? 33 PO 2870 Montijo, Lisbon Portugal
Telf - +351 21 232 78 78; Fax - +351 21 232 78 85
--------------------------------------------------------------------------------
Conservatorio Nacional, Library
Rua dos Caetanos 29 PT-1200 Lisboa Portugal
Tel. (1) 342 59 22, 346 38 01; Fax 342 36 05
Association, Library
--------------------------------------------------------------------------------
Escola da Danca Classica
Avenida Infante Santo 48, 1 esq. PT-1300 Lisboa Portugal
Tel. (1)396.0816
Dance School, ballet, classical
--------------------------------------------------------------------------------
Palacio Nacional da Ajuda
Direccao de Servicos de Relacoes Publicas e Documentacao
PT-1300-018 Lisboa Portugal Tel. 213624021; Fax 213621832
Administration
--------------------------------------------------------------------------------
Portuguese National Commission for UNESCO
Rua Latino Coelho 1, Edificio Aviz, Bloco A1 - 10? PT-1050-132 Lisboa Portugal
Tel. (351.1)396.90.61/62, 392.08.30, Fax (351.1)392.08.39
http://www.unesco.pt
National organization
--------------------------------------------------------------------------------
Rui Mota-Inatel
Cal?ada de Sant'ana, 180 PT-1150 Lisboa Portugal
Tel. (35.12)18852275; Fax (35.12)18851561
Association, Folk
--------------------------------------------------------------------------------
Mario Alves
Caleada do Marques de Abrantes, 10/3o esq. PT-1200 Lisboa Portugal
Tel. (35.1)13961355, (35.1)13951415, Fax (35.1)13961355
www.terravista.pt/enseada/1465
Dance Researcher
--------------------------------------------------------------------------------
Joao Carlos Andrade
Rua de O Seculo 89/93 PT-1200 Lisboa Portugal
Tel. (35.1)343.33.51
Archives, video
--------------------------------------------------------------------------------
Luisa Baeta
R. Camilo Castelo Branco, 33, 3? PT-1150-083 Lisboa Portugal
Tel. (351)21.315.2267, Fax (351)21.315.1368
Contemporary dance, artistic exchange with Portuguese-spoken countries, Festival Dancas na Cidade
--------------------------------------------------------------------------------
Ana Rita Mourao Barata
Rua Presidente Arriaga no 29 - 1e Esq. PT-1200.771 Lisboa Portugal
Tel. (351)213932410; Fax (351)213932415
Choreographer / Dancer Contemporary Dance
--------------------------------------------------------------------------------
Ana Rita Barata
Rua Presidente Arriaga 29/1 PT-1200-771 Lisbon Portugal
Tel. 351 21 393 24 10; fax 21 393 24 15
www.voarte.com
International Dance Festival Lugar A Danca - Architecture / Dance in Site Specific; International Exibition - Arte Non Stop; Several Productions of Performances, Other Areas: cinema / video / music
--------------------------------------------------------------------------------
Bojana Bauer
rua do Forno do Tijoeo 54, 5? esq PT-1170-138 Lisboa Portugal
Tel. 351 213 152 267; fax +351 213 151 368
Choreographer, company, modern dance
--------------------------------------------------------------------------------
Sandro Benros
R. Camilo Castelo Branco, 33, 3? PT-1150-083 Lisboa Portugal
Tel. (351)21.315.2267, Fax (351)21.315.1368
Contemporary dance, artistic exchange with Portuguese-spoken countries, Festival Dancas na Cidade
--------------------------------------------------------------------------------
Iracity Cardoso
Avenida de Berna 45A PT-1067.001 Lisboa Portugal
Tel. (35.1)793.51.31; Fax 793.51.39
www.lp.pt/musica-fcg
--------------------------------------------------------------------------------
Salwa El-Shawan Castelo-Branco
Avenida de Berna 26C PT-106961 Lisboa Portugal
Tel. (351)1.793.3913, Fax (351)1.797.7759
Researcher, Portugal
--------------------------------------------------------------------------------
Fereira de Castro
R. Serpa Pinto 9 PT-1200 Lisboa Portugal
Tel. (35.1)342.9402, (35.1)343.0613, Fax (35.1)347.1738
Theatre, documentation on dance
--------------------------------------------------------------------------------
Ivette Centeno
Ballet Gulbenkian
Avenida de Berna 45 PT-1093 Lisboa Portugal
Tel. (35.1)793.51.31; Fax 793.51.39
Ballet
--------------------------------------------------------------------------------
Isabel-Leal De-Faria
Calcada de Sant' Ana 180 PT-1169-062 Lisboa Portugal
www.inatel.pt
Folk festival organizer
--------------------------------------------------------------------------------
Victor Esteves
Calcada de Sant' Ana 180 PT-1169.062 Lisboa Portugal
Tel. 351.21.885 2275, 2277, 2278; Fax 351.21.887 4026
--------------------------------------------------------------------------------
Margarida Sa Fialho
138 CVesq, PT-1000 Lisboa Portugal
Tel/Fax (351) 21 383 1849
Dance
--------------------------------------------------------------------------------
Jose Afonso Furtado
Ballet Gulbenkian
Avenida de Berna 45 PT-1093 Lisboa Portugal
Tel. (35.1)793.51.31; Fax 793.51.39
Ballet
--------------------------------------------------------------------------------
Ana Marques Gastao
Avenida de la Liberdade 266 PT-1200 Lisboa Portugal
Tel. (1) 356 11 51, Fax 355 84 31
Dance Researcher
--------------------------------------------------------------------------------
Nelson Gomes
caloada do Marquis de Abrantes 10/3 esq PT-1200 Lisboa Portugal
www.terravista.pt/enseada/1465
Dance Centre
--------------------------------------------------------------------------------
Daniel Tercio Ramos Guimaraes
Edificio Esteiros, Cruz Quebrada 1495-688 PT-1499 Lisboa, Estrada da Costa Portugal
Tel. (351.1)419.6777, Fax (351.1)414.4736, (351.1)415.1248
www.fmh.utl.pt/danca
Dance Researcher, dance history; iconography; aesthetics, history of dance in Portugal
--------------------------------------------------------------------------------
Pollyanna Jazzmine
Rua de St Amaro 34 - 1? PT-1200-803 Lisboa Portugal
Tel. & Fax 1.3979561
Dance School
--------------------------------------------------------------------------------
Antonio Laginha
Avenida Joao Crisostomo 72 PT-1050 Lisboa Portugal
Tel. (1) 318 52 00; Fax 354 03 82
Dance Researcher, Dance Critic
--------------------------------------------------------------------------------
Sonia Lourenco
R. Camilo Castelo Branco, 33, 3? PT-1150.083 Lisboa Portugal
Tel. (351)21.315.2267, Fax (351)21.315.1368
Contemporary dance, artistic exchange with Portuguese-spoken countries, Festival Danzas na Cidade
--------------------------------------------------------------------------------
Vera Mantero
Avenida da Liberdade, no 177, 4ffl Esq. PT-1250-141 Lisboa Portugal
Tel. 21-314 0608; Fax 21-354 3545
www.rumo-fumo.pt
Dance Company
--------------------------------------------------------------------------------
Rui Mota
180 Calcada de Sant' Ana PT-1150 Lisboa Portugal
Tel. (3512)18852275; Fax (3512)18852561
www.inatel.pt
Folk dance groups, Organization, folk, Portuguese dance
--------------------------------------------------------------------------------
Vasco Graca Moura
Avenida de Berna 45 PT-1093 Lisboa Portugal
Tel. (35.1)793.51.31; Fax 793.51.39
Ballet Gulbenkian
--------------------------------------------------------------------------------
Ana Cristina Pereira
R. Joao Pereira da Rosas 22 PT-1200 Lisboa Portugal
Tel. 351 21 346 1747; Fax 351 21 342 6029
www.ed-conservatorio-nacional.rcts.pt
Dance School, ballet
--------------------------------------------------------------------------------
Cristina Peres
Rua Duque Palmela 37 PT-1200 Lisboa Portugal
Tel. (35.1)311.40.00; Fax 354.38.58
Dance Critic
--------------------------------------------------------------------------------
Dusan Ramljak
1 ISR-IST Torre Norte piso 7 Av. PT-1049-001 Lisboa Portugal
Tel. 00351964347382
www.geocities.com/Dusan_Ramljak_Dule
Dance Teacher, choreographer, dancer, Ballroom (Latin American, Standard) dancing
--------------------------------------------------------------------------------
Carolina Ramos
no 68 3? FTE, Caloada de s. vicente 1100-571 Lisbon Portugal
choreographer, modern dancer, Dance teacher
--------------------------------------------------------------------------------
Silvia Real
R. de Metade 14, 3 Esq. PT-1150 Lisboa Portugal
Tel. & Fax (351)21.314.8050
Dance Association, school
--------------------------------------------------------------------------------
Campos Reis
Campo Grande 83 PT-1700 Lisboa Portugal
Tel. (1) 798 2000; Fax 798 2138
Library
--------------------------------------------------------------------------------
Paulo Ribeiro
Teatro CineArte, Largo de Santos 2 PT-1200 Lisbon Portugal
Tel. & Fax (1)397.09.65
Dance Company
--------------------------------------------------------------------------------
Carlos A. A. Rodrigues
Rua Silva Carvalho, 225 PT-1200 Lisboa Portugal
Tel. (35.1)1388.5366, Fax (35.1)1387.9571
Dance Organization, dancesport
--------------------------------------------------------------------------------
Filipa Rola
Rua Vitor Cordon 20 PT-1200 484 Lisboa Portugal
Tel. (+351) 21 347 40 48/9 ; fax (+351) 21 342 5790
--------------------------------------------------------------------------------
Michel de Roubaix
Rua Saraiva de Carvalbo 105 PT-1200 Lisboa Portugal
Tel. 351213963004
Dancer
--------------------------------------------------------------------------------
Catarina Saraiva
R. Camilo Castelo Branco, 33, 3? PT-1150.083 Lisboa Portugal
Tel. (351)21.315.2267, Fax (351)21.315.1368
Contemporary dance, artistic exchange with Portuguese-spoken countries, Festival Danzas na Cidade
--------------------------------------------------------------------------------
Jose Seabra
Rua da Adica, 16 - 2? Dt? PT-1100-008 Lisboa Portugal
Tel. & Fax (35)1 218884913
http://sites.netscape.net/arquitactil
Contemporary dance company
--------------------------------------------------------------------------------
Carlos Valador
Rua Vitor Cordon 20 PT-1200 Lisbon Portugal
Tel. (1)3474048, 3474049, 3465970, Fax (1)3425790
Dance Company, classical ballet, modern, contemporary Dance
--------------------------------------------------------------------------------
Carlos Vargas
20 Rua Vitor Cordon PT-1200.484 Lisboa Portugal
Tel. (351)21 347 40 48, 9; Fax (351)21 342 59 70
www.cnb.pt
Dance Company, Classical and Contemporary Dance.
--------------------------------------------------------------------------------
Jasper Walgrave
R. Camilo Castelo Branco, 33, 3? PT-1150.083 Lisboa Portugal
Tel. (351)21.315.2267, Fax (351)21.315.1368
Contemporary dance, artistic exchange with Portuguese-spoken countries, Festival Danzas na Cidade
--------------------------------------------------------------------------------
Luis Damas
R. Antonio Pedro, 19, 1o esq. PT-1150.044 Lisboa Portugal
(351)213.521.222 (home); (351)966.424.440 (mobile); Fax (351)213.521.222
http://luisdamas.cjb.net
Danced in the Gulbenkian Ballet from 82 to 2001 where it was first dancer.1st awards in interpretation, choreography and video. Choreographed for Dutch National Ballet, Gulbenkian Ballet among others.
--------------------------------------------------------------------------------
Escola Danca Conservatorio Nacional
22, R. Joao Pereira Rosa PT-1200-236 Lisbon Portugal
Tel. (351)213.40.80.30/32/33, FAX (351)213.40.80.39
www.edcn.pt
Dance School, classical ballet technique, pointe, modern, adagio, pas de deux
--------------------------------------------------------------------------------
Escola Superior de Danca
Rua da Academia das Ciencias 5 PT-1200 Lisboa Portugal
Tel. 342.5355, Fax 342.0271
Dance School, ballet, classical, modern, jazz
--------------------------------------------------------------------------------
Fundacao Calouste Gulbenkian
Avenida de Berna, 45-A PT-1067.001 Lisbon Portugal
(351)21.782.3125; Fax (351)21.782.3267
www.musica.gulbenkian.pt/ballet
Contemporary Dance Company
--------------------------------------------------------------------------------
Ana Kohler
Rua Alfredo Ferraz, R5 PT 1600-003 Lisboa (Telheiras) Portugal
351 96 126 72 89
www.escoladancaanakohler.com
Hip Hop, Fusion Dance, PetitArt (course of music, dance and theater), Samba, Axe, Yoga (Ashtanga/Power Yoga) for adults and children and Ballet from 3 years on.
--------------------------------------------------------------------------------
Tatiana Pimenta
av. Juscalino Kubistcheck, 1854 clube CANADA BR-86020-000 Clube Canada - Centro Portugal
43 3336-0776, FAX 43 3357-3123
no.comunidades.net/gestosballet
Sou Teacher and choreographer, and dancer . My School Gestos Ballet - Tatiana Pimenta.
--------------------------------------------------------------------------------
Azores International Festival Folk Dance
Apartado 192 PT-9700 Angra Heroismo Portugal
Tel. & Fax 351.295.216 933
Ballet
--------------------------------------------------------------------------------
Escola da Danca Classica
Avenida Infante Santo 48, 1 esq. PT-1300 Lisboa Portugal
Tel. (1)396.0816
Dance School, ballet, classical Dance
--------------------------------------------------------------------------------
Festimaiorca Festival intern.
Rua de Mocambique 9r/c. Esq PT-3080-134 Figueira da Foz Portugal
Tel. & Fax 351.23.3.424 638
Ballet
--------------------------------------------------------------------------------
Festival de Folclore International - Alto Minho
Rua Manuel Espregueira 27 PT-4900-318 Viana do Castelo Portugal
Tel. 351.258.800 170; Fax 351.258.800 179
Ballet
--------------------------------------------------------------------------------
Festival Internacional de Folclore da Cidade do Porto
Tv. Areosa 75 PT-4200-087 Porto Portugal
Tel. & Fax 351.22.540 2138
Ballet
--------------------------------------------------------------------------------
Festival Internacional de Folclore nas Terras da Feira
Rua da Casa da Gaia 273 PT-4505-041 Argoncilhe Portugal
Tel. 351.22.7645 097; Fax 351.22.7457 304
Ballet
--------------------------------------------------------------------------------
Festival Internacional de Folklore Cantareu
Rua Stuart Carvalhais 50 PT-5000-444 Vila Real Portugal
Tel. 351.25.9.323 409; Fax 351.25.9.327 898
Ballet
--------------------------------------------------------------------------------
Festival Internacional Folkore Rio
Largo Guilherme Gomes Fernandes PT-4750-060 Barcelos Portugal
Tel. & Fax 351.25 3.833 838
Ballet
--------------------------------------------------------------------------------
Ivette Centeno
Avenida de Berna 45 PT-1093 Lisboa Portugal
Tel. (35.1)793.51.31; Fax 793.51.39
Ballet Gulbenkian
--------------------------------------------------------------------------------
Jose Afonso Furtado
venida de Berna 45 PT-1093 Lisboa Portugal
Tel. (35.1)793.51.31; Fax 793.51.39
Ballet Gulbenkian
--------------------------------------------------------------------------------
Vasco Graca Moura
Avenida de Berna 45 PT-1093 Lisboa Portugal
Tel. (35.1)793.51.31; Fax 793.51.39
Ballet Gulbenkian
--------------------------------------------------------------------------------
Ana Cristina Pereira
R. Joao Pereira da Rosas 22 PT-1200 Lisboa Portugal
Tel. 351 21 346 1747; Fax 351 21 342 6029
www.ed-conservatorio-nacional.rcts.pt
Dance School, ballet
--------------------------------------------------------------------------------
Carlos Valador
Rua Vitor Cordon 20 PT-1200 Lisbon Portugal
Tel. (1)3474048, 3474049, 3465970, Fax (1)3425790
Dance Company, classical ballet, modern, contemporary
--------------------------------------------------------------------------------
Festival Internacional de Folklore de Portugalete
Maria Diaz de Haro 7 A-2 ES-48920 Portugalete, Bizkaia Spain
Tel. 34.949.723.419; Fax 34.944.723.542
Ballet
--------------------------------------------------------------------------------
Ana Rodrigues Kohler
Rua Alfredo Ferraz, R5 Pt-1600-003 Lisboa (telheiras) Portugal
Tel:(351)961.268.279
www.escoladancaanakohler.com
Classical ballet (Vaganova Method) from 3 years old, adult ballet, yoga, pilates, fusion dance, hip hop, spanish dances, samba, PetitArt (dance, music and theater in one format for children)