.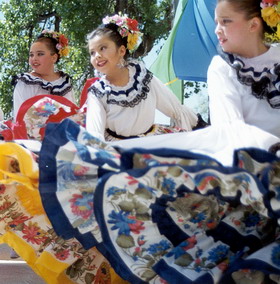 The Folklore Dance Company Guenda Nabani, National Folk Group of Mexico, Ballet Independiente, are just a few of the Mexican dance companies, Mexican dance schools, dancing organizations and dance wear suppliers that that can be found in our comprehensive Directory of Mexican Dance Companies.
Traditional Mexican Dance

For Mexicans, dance is a force that evokes emotions, which in turn create ideas and recapture the country's historical past. Dance, therefore, is a rapid and direct way to reach the heart and soul of the individual. Mexican dance is another way to express the ancestral heritage that has been maintained by some native groups. Dancing is a fundamental element of traditional folk holidays. In addition to its regional and folkloric expressions, the great energy and creativity of Mexican dance has cultivated the contemporary genres of ballet and dance.

The Spanish presence in Mexico had an influence on dance. Some Mexican dances and costumes appear similar to flamenco, the traditional Spanish dance. In this dance, a story is told through dramatic marked steps and movements.

These dances were introduced in the form of Zapateados called Jarabes, which means syrup or sweet drink in Spanish. These dances usually are performed by small groups of men and women. They never touch one another. The woman always dance slowly and modestly, with their eyes looking to the ground and lifting their skirts slightly but never flirtatiously. The men dance faster, doing a greater variety of steps but always holding themselves stiff above the waist.
Featured Mexican Dance Company
The Folklore Dance Company Guenda Nabani
Guenda Nabani Established by its present director Mario Rangel Rangel in 1990, GUENDA NABANI was born as a result of a group of young and enthusiast people who have dedicated their life to study and preservation of the traditional dance, considering the need of doing a job that is strongly linked to the artistic feelings of our people through the musical and choreographic investigation.
Guenda Nabani finds Mexico in our popular and artistic works, in our music and dances, and we show with this, more than with a thousand words, what we are in reality as a nation and as human beings, a country full of traditions, with happy people who preserve the millenary riches as a symbol of identity and spiritual strength.
Guenda Nabani represents the most popular traditional Mexican music and dances, taking in consideration the dancing techniques which purpose is to spread the wide variety and the different kind of dances.
The dance program shows great magic power of the folk culture and such its elements as indian and mixed dances. In this way, we are confident that our audience is familiar with our traditions and finds our folklore valuable, as well as our dancing and music expressions.
Through the years the group has growing in artistic expression and choreographic development. The repertoire of Guenda Nabani plays on Mexican folklore diversity. It includes melodies, music. songs and dances from almost all regions in Mexico, North and South, East and West, as well as indigenous costumes and popular culture.


If you would like your Mexico Dance Company, Dance Organization, Dance School featured here then please email bangkokcompanies@gmail.com
There are many fine dance schools in Mexico. I know I am in contact with them as we supply a range of high quality dancewear products like leotards, dance pants, dance dresses and other dancing apparel.
Bangkok Companies supplies an amazing range of dancewear from Thailand. I have looked at these dance garments and dance accessories in detail. There is only one word to describe them Superb. For more details click on the pictures or send an email to bangkokcompanies@gmail.com We regret at this time we can only satisfy Mexico wholesale dancewear requests.
"Dancewear designed by dancers for dancers"
| | | | | |
| --- | --- | --- | --- | --- |
| Dance Dresses | Kids Leotards | Adult Leotards | Dance Bras | |
| | | | | |
| | Dance Pants | Tutu's | Dance Shorts | |
| | | | | |
| Dancewear | Dancewear Organizers | Dance Bags | Dance Backpacks | |
| | | | | |
Bangkok Companies is a full service product sourcing company in Thailand. For All your dancewear needs please email bangkokcompanies@gmail.com with your requests.
---
Dance Schools in Mexico, Dancewear Suppliers, Dancing Organizations
Mr. Fernando Mier Y Teran-Garza
22 Allende s/n, co. Victoria, Tamps MX- C.P.87000 Mexico
Tel. 52 131 5 29 77; Fax 52 131 2 62 63
fermyt@tamps1.telmex.net.mx
Researcher
--------------------------------------------------------------------------------
Companoa Danza de la Universidad Autonoma de Juorez
Av. Adolfo Lopez Mateos No. 20 MX- Joerez, Chihuahua Mexico
Tel. (52.16)165.772, (52.16)165732
www.uacj.mx
Group, folk, Mexican dances
--------------------------------------------------------------------------------
Ms. Alejandra Herrera
Premio INBA-UAM, Instituto Nacional de Bellas Artes Coordinacion Nacional de Danza Competition
Reforma y Campo Marte s/n. Modulo A, 2o Piso MX- Mexico Chapultepec Polanco, C.P. 11580 Mexico
Tel. & Fax (52.5)280.3607, (52.5)280.5974
coordinacion.danza@correo.inba.gob.mx
www.conaculta.gob.mx
--------------------------------------------------------------------------------
Ms. Alma Rosa Moreno Monroy
Selva 53-103, Col. Insurgentes Cuicuilco MX- Mexico, D.F. Mexico
Group, Polynesian dances, Hula
--------------------------------------------------------------------------------
Ms. Ildana Contreras
Rio Mississippi 116 Valle, San Pedro Garza Garcia MX- Monterrey, Nuevo Leon Mexico
Tel. 356.6770, 335.4784
Teacher, ballet
--------------------------------------------------------------------------------
Grupo de Danza Nemilitzi, Universidad Autonoma de Nuevo Leon
Preparatoria 15 MX- Monterrey, Nuevo Leon, Mexico Mexico
www.uanl.mx/rnnmsu/prepa15/danza.htm
Group, folk, Mexican dances
--------------------------------------------------------------------------------
Grupo Folklorico, Universidad del Valle de Atemajac
Av. Tepeyac No. 4800 MX- Prados Tepeyac Mexico
http://america.univa.mx/ballet.html
Group, folk, Mexican dances
--------------------------------------------------------------------------------
Ms. Lisette Awad Abed
Risco 447-1 Pedregal MX-01900 Ciudad Mexico, D.F. Mexico
Tel. (525.5)958109; Fax (525.5)448.192
lisetteawad@hotmail.com
CID member, dance researcher, teacher
--------------------------------------------------------------------------------
Sociedad Mexicana de Maestros de Danza (SMMD)
Agua No. 533 Jardines del Pedregal MX-01900 Mexico, D.F. Mexico
Tel. & Fax (5)568.4826
Organization, teachers
--------------------------------------------------------------------------------
Ms. Maria De Lourdes Soto Silis
Unidad Cuitlahuac, Edificio 98-A-401 MX-02500 Mexico, D.F. Mexico
Group, Polynesian dances, Hula
--------------------------------------------------------------------------------
Mr. Alejandro Martinez Peralta, Director
National Folk Group of Mexico, A. C.
Ajusco 40, Colonia Portales MX-03300 Delegacion Benito Juorez Mexico
Tel. (52)55328923; Fax (52)56792234
cofonamex@mexico.com
Folk, Mexican Folk Dance, Research, Teaching
--------------------------------------------------------------------------------
Ms. Prof. Alejandra G. Laorrabaquio Saad, Director
National Folk Group of Mexico, A. C.
Ajusco 40, Colonia Portales MX-03300 Delegacin Benito Juorez Mexico
Tel. (52)55328923; Fax (52)56792234
cofonamex@mexico.com
Folk, Mexican Folk Dance, Research, Teaching
--------------------------------------------------------------------------------
Mr. Roberto Aguilar Morales, Director
Danzaria, Revista de Danza
Vista Hermosa # 65, Portales MX-03300, Benito Juerez, D.F. Mexico
Publication, magazine, bi-monthly
--------------------------------------------------------------------------------
Ms. Miriam Novelo Gallegos
Halau Leilani
Emma #87 Colonia Nativitas MX-03500 Mexico, D.F. Mexico
Tel. 525.794.913
Group, Polynesian dances, Hula
--------------------------------------------------------------------------------
Mr. Alberto Gonzalez Castillo
Calle 24 # 4 Altos MX-03800 Col. San Pedro de los Pinos Mexico
Tel. (52)56115196
-------------------------------------------------------------------------------
Ms. Isabel Beteta, Artistic Director
Nemian (Life's Duration)
Centro Cultural Los Talleres, Francisco Sosa 29 MX-04000 Coyoacan, DF Mexico
Tel. 52 5 658 7288, 658 8639
Modern Dance Company
--------------------------------------------------------------------------------
Ms. Isabel Beteta, Artistic Director
Centro Cultural Los Talleres
Francisco sosa 29, coyoacen MX-04000 Mexico, D.F. Mexico
Tel. (5)658.72.88, fax (5)658.86.39
i_beteta@yahoo.com.mx
School, folk, flamenco, Spanish dance instruction
--------------------------------------------------------------------------------
Ms. Cecilia Lugo, Artistic Director
Contempodanza
Callejon Chilpa # 23-3 MX-04020 Coyoacan, DF Mexico
Tel. 52 5 658 8701
Modern Dance Company
--------------------------------------------------------------------------------
Ms. Mabel Diana, Director
Zona de Danza
Cerro de las Torres # 307, Campestre Churubusco MX-04200 Coyoacan, D.F. Mexico
Tel. & Fax (5)544.2401, (5)544.7953, 549.7621, (5)549.4683
zonadedanza@yahoo.com
Publication, magazine, bi-monthly
--------------------------------------------------------------------------------
Academia de la Danza Mexicana
Prolongacion Xicotincatl 24, Col. Churubusco, MX-04210 Mexico, D.F. Mexico
Tel. 688 8256
www.cnca.gob.mx/cnca/buena/inba/subeduart/adm.html
Group, folk, Mexican dances
--------------------------------------------------------------------------------
Ms. Maya Ramos Smith
Torre Investigacion, CP 04220, Col. Country Club MX-04220 Country Club Mexico
Tel. 5420.4413, 5420.4400; Fax 5420.4452
CID member, researcher
--------------------------------------------------------------------------------
Ms. Rocio C. Barraza Rivacoba
Escuela Nacional de Danza Clasica y Contemporanea, Instituto Nacional de Bellas Artes
Av. Rio Churubusco Esq. Calz. de Tlalpan S/N MX-04220 Mexico Mexico
Tel. (52) 5420 4400; Fax (52) 5420 4461
rocibarr@iserve.net.mx
www.geocities.com/Vienna/1854/index.html
Teacher, classical, ballet, dance composition, improvisation, repertory
--------------------------------------------------------------------------------
Taller De Danza Folklorica "Ricardo Flores Magon", Instituto Politicnico Nacional
Av. Taxque?a # 1620, Col. Paseos de Taxque?a MX-04250 Ciudad de Mexico, D.F. Mexico
Tel. (52.5)624.2000, (52.5)613.7351
Group, folk, Mexican dances
--------------------------------------------------------------------------------
Ms. Patricia Aulestia (de Alba), President
Sociedad Mexicana de Coreografos (Mexican Society of Choreographers)
Pipizahua 74. Pedregal de Santo Domingo MX-04369 Mexico, DF, Deleg. Coyoacan, Mexico
Tel. & Fax 5619 9020, 56ll 3994, 5512 0647; Tel. (1.212)586.6113
aulestia@Prodigy.Net.mx ; aulestia@inch.net
http://www.geocities.com/Vienna/1854/coreografos_somec.html
Organizer, choreographer, researcher
--------------------------------------------------------------------------------
Mr. Francisco Javier Bejarano Martinez
Grupo Artistico Mexicano Macuilxochitl
Apartado Postal 80008 MX-06000 C.P. Mexico
Tel. (52)7375164, 56506576
macuil_xochitl@latinmail.com
Festival, Folk
--------------------------------------------------------------------------------
Barro Rojo
Apartado Postal 179, Admin. de Correos No. 1 MX-060000 M?xico Mexico
Teacher
--------------------------------------------------------------------------------
Comision Nacional para la UNESCO, Secretaria de Educacion Publica
Donceles 100 (piso 1), Colonia Centro MX-06029 Mexico D.F. Mexico
Tel. (52.5)329.69.40, 329.69.48; Fax (52.5)329.69.47, 329.69.52
patyper@triptico.sep.gob.mx
Organization
--------------------------------------------------------------------------------
Ms. Gabriele Stoltenberg
Ballet Independiente
Vizcainas Pte. 13 4.piso, Col. Centro MX-06070 Delegacion Cuauhtemoc, Mexico D. F. Mexico
Tel. & Fax (52) 55 12 43 32, 55 12 06 47
gabriele@prodigy.net.mx
CID member, ballet company
--------------------------------------------------------------------------------
Instituto de Danza Mizoc
Calle Heroes # 239 Col. Guerrero MX-06300 Mexico
Tel. 597.0015, 597.8097, Fax 782.3170
mizocinst@hotmail.com
www.lanzadera.com/mizoc
Group, folk, Mexican dances
--------------------------------------------------------------------------------
Ballet Folklorico de Mexico de Amalia Hernandez
Violeta # 31 esquina Riva Palacio, Col. Guerrero MX-06300 Mexico, D.F
Tel. (52.5)529.9329, (52.5)529.0509, (52.5)529.7805, Fax (52.5)529.1701
slopez@mail.internet.com.mx
www.intelnet.com.mx/ballet
Group, folk, Mexican dances
--------------------------------------------------------------------------------
Ms. Gladiola Orozco, Artistic Director
Ballet Teatro del Espacio
Hamburgo 218, Col. Juarez MX-06600 Mexico, DF Mexico
Tel. (5)207.3729, Fax (5)525.0332
Company
--------------------------------------------------------------------------------
Mr. Carlos Solorzano, President
Mexican Centre of the ITI
Coahuila # 118 Colonia Roma, Delegacion Guauhtemoc MX-06700 Mexico DF
Tel. 52 5 584 9961; Tel. & Fax 52 5 564 3680; Fax 52 5 280 55 98
Organisation
--------------------------------------------------------------------------------
Ms. Ana Marie Lopez Serrano
Salavesny 834-301, Colonia Lindavista MX-07300 Mexico, D.F.
Group, Polynesian dances, Hula
--------------------------------------------------------------------------------
Grupo Cultural Tonalli Ambar
Prosperidad A No. 22, Col. Campestre Aragon MX-07530 Mexico D.F. Mexico
Tel. & Fax 5767.9915
http://users.pandora.be/1step2theweb/tonalli/index.html
Group, folk, Mexican dances
--------------------------------------------------------------------------------
Mr. Pedro Alonso Palacio Vargas
CIOFF Mexico
Av. Inguaran 6420, Col. 3 Estrellas MX-07820 Mexico DF
Tel. 52.5.750 1370; Fax 52.5.781 8626
cioffmex@att.net.mx
Festival, folk, organizer
-------------------------------------------------------------------------------
Prof. Mr. Mario Rangel, Director
"Guenda Nabani" Companoa de Danza Folklorica
259 Mz.5 No.114 Col. Agricola Oriental MX-08500 Mexico
Tel. & Fax: (52)5558.2182, 044 21 15 20 56
guendafolk@hotmail.com ; broman@df1.telmex.net.mx
http://travel.to/guenda-nabani
Group, folk, Mexican dances
--------------------------------------------------------------------------------
Ms. Rosa Elena Lopez Arriaga, Director
Ka Pa Hula Ke Ona Ona o Lokelani
Sur 113B #2,170-F Col. Juventino Rosas MX-08700 Mexico
Tel. (5)654.64.93
Hula and Tahitian Dances
--------------------------------------------------------------------------------
Ms. Monica (Monna) Blanco
Avenida San Jeronimo 1491, San Jeronimo Lidice MX-110200 Mexico DF Mexico
Tel. (52)683.4714, 622.1797
School, ballroom, tango, club
--------------------------------------------------------------------------------
Ms. Gloria Campobello
Escuela Nacional de Danza
Campos Eleseos 480, Col. Polanco MX-11560 Mexico, D.F. Mexico
Tel. 280.4361, 280.7346
www.cnca.gob.mx/cnca/buena/inba/subeduart/enellie.html
Group, folk, Mexican dances
--------------------------------------------------------------------------------
Mr. Hectory Garay, Coordinator
Instituto Nacional de Bellas Artes. Coordinacion Nacional de Danza, Reforma y Campo Marte s/n
reforma y Campo Marte s/n, Atras del Auditorio Nac MX-11580 Chapultepec Polanco, M?xico, D.F. Mexico
Tel. (52)5280.5974, 5280.2867, Fax (52)5280.3607
hlecona@correo.inba.gob.mx
Organization and coordination of all type of dance activities
--------------------------------------------------------------------------------
Escuela Nacional de Danza Folklorica
Plaza ngel Salas s/n, Col. Polanco Chapultepec, MX-11580 M?xico, D.F. Mexico
Tel. 280.5866, 280.8771
www.cnca.gob.mx/cnca/buena/inba/subeduart/endf.html
Group, folk, Mexican dances
--------------------------------------------------------------------------------
Mr. Rodrigo K. Villarreal Micarray
Grupo Andromeda and Escuela de Danzas Griegas Andromeda
Cerrada de la Paz 10 MX-11800 C.P. Col. Escandon Mexico
Tel. (5)2 76 43 38; Fax (5)5 86 14 64
grupoandromeda@aol.com
http://www.geocities.com/grupoandromeda
Greek folk, pop
--------------------------------------------------------------------------------
Ms. Monika Arzamendi Hernandez
Cerrada La Paz 10-2 MX-11800 Col. Escandon Mexico
Tel. (52)52737158
--------------------------------------------------------------------------------
Ms. Isabel Romero, Director
Proyecto Finisterra Dance-Theater
Once Martires No. 6-12a MX-14269 Colonia La Fama, Mexico D.F. Mexico
Tel. (1.525)528.51 51, Fax (1.525)554.83 47
hcop@hotmail.com
Group
--------------------------------------------------------------------------------
Mr. Jose Alfredo Pulido
Premio INBA-UAM, Universidad Autonoma Metropolitana
Canal de Miramontes 3855, esq. Calle del Puente
MX-14387 M?xico Ex-Hac. San Juan Dios, Tlalpan Mexico
Tel. (52.5)483.4089, (52.5)483.4091
alf@correo.uam.mx
www.uam.mx/servicios/eventos
Competition
--------------------------------------------------------------------------------
Prof. Mr. Carlo Bonfiglioli
Apartado Postal 22-760 MX-14400 Tlalpan, D.F. Mexico
Tel. & Fax (52.5)849.0283; Tel. (52.7)329.7082
carlobon@servidor.unam.mx
Researcher, folk, dance-drama; dance-prayer, ritual processes, cosmology; aesthetics & anthropology; structural analysis; dance typology, Mexican Indians
--------------------------------------------------------------------------------
Prof. Mr. Abel Corpus Santillan, General Director
Mariachi Calafia
Avenida del Ejercito Nacional 1017 MX-21370 Mexicali, Baja California Mexico
mariachicalafia@hotmail.com
Interpretation of Mariachi Music, Mexican Music, Mexican Dance
--------------------------------------------------------------------------------
Mr. Cecilio Cordero, Director
610 Rosas de Beraud 610, Col. del Rio p/a MX-22350 Tijuana, Baja California Mexico
Tel. & Fax (52.66)46.0633, Tel. & Fax (52.66)21.8425
ticuan@rocketmail.com
http://members.tripod.com/~ticuan/old_ind.html
Ballet Folklorico Ticuan, Group, folk, Mexican dances
--------------------------------------------------------------------------------
Ms. Patricia Hernandez, Public Relations
610 Rosas de Beraud 610, Col. del Rio p/a MX-22350 Tijuana, Baja California Mexico
Tel. & Fax (52.66)46.0633, Tel. & Fax (52.66)21.8425
ticuan@rocketmail.com
http://members.tripod.com/~ticuan/old_ind.html
Ballet Folklorico Ticuan, Group, folk, Mexican dances
--------------------------------------------------------------------------------
Mr. Rogelio Castorena Arellano, Director General
Grupo Folklorico Telpochcalli
Ave. Matamoros #49 Fracc. Bahia MX-22880 Ensenada, Baja California Mexico
Tel. (52.61)762253, Fax (52.61)765391
telpochcalli@hotmail.com
www.geocities.com/Nashville/Rodeo/2126/index.html
Group, folk, Mexican dances
-------------------------------------------------------------------------------
Mr. Alejandro Coronado
Grupo Folklorico de Mexico Alianza
Baldo Cortez # 6 Col.Saltillo 400 MX-25290 Saltillo Coahuila Mexico
Tel. & Fax (52)8.415 0775
coral2@prodigy.net.mx ; al263354@mail.mty.itesm.mx
http://www.assocmondiofolk/wanadoo.fr
Folkloric music and dance
--------------------------------------------------------------------------------
Mr. Anibal Morones Ruelas, Director
Grupo Folklorico de Mexico Alianza
Baldo Cort?z # 6 Col.Saltillo 400 MX-25290 Saltillo Coahuila
Tel. & Fax (52)8.415 0775
coral2@prodigy.net.mx ; al263354@mail.mty.itesm.mx
http://www.assocmondiofolk/wanadoo.fr
Folkloric music and dance
--------------------------------------------------------------------------------
Mr. Moises Cadena y Cuellar
Grupo Folklorico de Mexico Alianza
Baldo Cortez # 6 Col.Saltillo 400 MX-25290 Saltillo Coahuila Mexico
Tel. & Fax (52)8.415 0775
coral2@prodigy.net.mx ; al263354@mail.mty.itesm.mx
http://www.assocmondiofolk/wanadoo.fr
Teacher, folkloric music and dance
--------------------------------------------------------------------------------
Ms. Mirand Nadel
Baile Folklorico Internacional
Umaran 122, San Miguel de Allende MX-37700 Guanajuato
Tel. (52)41522659, Fax (52)41521687
School, folk, international dances
--------------------------------------------------------------------------------
Ms. Doris Topete
Agustin de la Rosa # 342, Col. Ladron de Guevara MX-44650 Guadalajara, Jalisco
Tel. (3)615.1084
Teacher, ballet
--------------------------------------------------------------------------------
Ms. Alicia Iturria
Av. Central 1081, Andalucia 83, Jard. Universidad MX-45000 Guadalajara, Jalisco Mexico
Tel. (3)629.1130
Teacher, ballet
--------------------------------------------------------------------------------
Mr. Alek Zybine, Artistic Director
Ballet Guadalajara
Avenue San Francisco 3388, Col. Chapalita MX-45000 Guadalajara, Jalisco Mexico
Tel. (3)121.96.64, (6)84.35.96, Fax (3)121.06.65
Company
--------------------------------------------------------------------------------
Dr. Mr. Hector Ramon Martinez
Decanos de la Universidad de Guadalajara
Calzada Olimpica # 985, Colonia Universitaria MX-45000 Guadalajara, Jalisco Mexico
Group, folk, Mexican dances
--------------------------------------------------------------------------------
Ms. Lizzette Donath de la Pera, Director
Ballet Folklorico de la Universidad de Guadalajara
Casa Vallarta, Av. Vallarta # 1668 MX-45000 Guadalajara, Jalisco Mexico
Tel. & Fax. (52.616)4991
http://Mexico.udg.mx/Ballet
Group, folk, Mexican dances
--------------------------------------------------------------------------------
Mr. Sergio Valle, Director
Decanos de la Universidad de Guadalajara
Carnero # 3749, fracc. Residencial La Calma MX-45070 Zapopan, Jalisco Mexico
Tel. (52.11)523.631.2523
Group, folk, Mexican dances
--------------------------------------------------------------------------------
Ms. Georgina Islas Velasco
Victoriano Pimentel #16-A MX-53100, Edo. Mexico Mexico
Tel. 525.562.12.67
Group, Polynesian dances, Hula
--------------------------------------------------------------------------------
Ms. Bettina Ebert
Ave. Fuentes de Satelite 138 Planta Baja MX-53119 Jardines de Satelite, Mexico Mexico
Tel. 344.0834
Teacher, ballet
--------------------------------------------------------------------------------
Ms. Leticia Davalos
Gonzalez Boca Negra # 27 Santa Ma. de Guido MX-58090 Morelia, Michoacan Mexico
Tel. 142.302, 235.259
Teacher, ballet
--------------------------------------------------------------------------------
Mr. Diego Jose Reyes Quezada, Director
Ballet Folklorico Cadan Amistad
Apartado Postal 132 MX-60980 La Mira, Michoacan Mexico
Tel. (52.753)50458
Group, folk, Mexican dances
--------------------------------------------------------------------------------
Mr. Arturo H. Cueto Juerez, Events Director
Fiestas de Santa Lucia
Avenue Churubusco # 495 Nte. MX-64590 Monterrey, N.L. Mexico
Tel. (528)150.6927, Fax (528)150.6928
acueto@mail.nl.gob.mx
www.santalucia.org.mx
Festival, international folk dances