.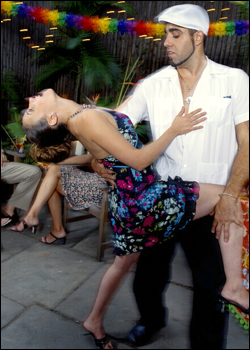 Guateque The Folkloric Ballet of Puerto Rico, Mambo P.R. Dancesport Center, these are just a few of the dance companies, Puerto Rican dance schools, dancing organizations and dance wear suppliers that that can be found in our comprehensive Directory of Puerto Rico Dance Companies.
Traditional Puerto Rican Dance
There are many different kinds of dance on Puerto Rico, and the following are some of the most popular styles.
Merengue: Adapted from a genre of dance on the Dominican Republic, the style of merengue that is popular on Puerto Rico has two variations. The choreography of the ballroom merengue is a basic two-step, but with a contrary twist of the hip to the right, which makes it somewhat difficult to perform. The two dance partners get into a vals, or waltz-like position. The couple then side steps, which is known as paso de la empalizada or "stick-fence step," followed by either a clockwise or counter-clockwise turn. During all of the dance steps of the ballroom merengue, the couple never separates. The second kind of merengue is called the Figure Merengue or Merengue de Figura, and the performing couple makes individual turns without letting go of each other's hands.
Plena: Couples dance the simple choreography of the plena, though there is evidence it was originally danced apart. Some plena dances are performed at a blistering pace, accompanying vivacious drum beats.
Bomba: The bomba dance is vital to the bomba genre of music and provides the foundation for the rhythm. The history of bomba can be traced back to the end of the 17th century, when the dance was developed along the coast of Puerto Rico. The West African slaves and their descendants used the bomba dances to celebrate baptisms, marriages, and even to plan rebellions. For this reason, the slaves were only allowed to hold these ceremonies on Sundays and feast days. The bomba is danced in pairs, but there is no contact. The dancers each challenge the drums and musicians with their movements by approaching them and performing a series of fast steps called floretea piquetes, creating a rhythmic discourse.
Salsa: The word salsa simply refers to a fusion of different rhythms and is a mixture of many Latin and Afro-Caribbean dances. Salsa music was first created in the 1960s, and since then its popularity has extended to the non-Latino world. Similar to the mambo, salsa dancing has a pattern of six steps danced over eight counts of music. Salsa has a side-to-side feel, and turns are an important part of the dance.
Cha-Cha: Named for the scraping sounds of the dancers feet, the cha-cha-cha is a spin-off of the mambo. Dancing the cha-cha consists of three quick steps called the triple step or cha-cha-cha, followed by two slower steps on the one beat and two beat.
Featured Puerto Rican Dance Company
Guateque - The Folkloric Ballet of Puerto Rico
For many, the words "Puerto Rican dance" immediately conjure the image of sinuous salsa moves. How many know, however, that the traditions of Puerto Rican dance are as rich and varied as the island's population itself, with elements drawn from its earliest indigenous ancestors, as well as from its European colonizers and early African inhabitants? For the past 22 years, the Guateque Folkloric Ballet of Puerto Rico has been a "living museum," developing, preserving, and displaying the diverse origins of the island's traditional music and dance. This October, Guateque will be presenting this colorful legacy-complete with more than 30 dancers and a dozen musicians-during a two-week tour of the Eastern United States.
His dancers and students call him teacher, choreographer, artistic director, even costume designer. Others have called him a cultural historian, a visionary. And all of these words, indeed, describe Joaquín Nieves Caldero, founder and director of the Guateque Folkloric Ballet of Puerto Rico. Mr. Nieves founded Guateque in 1976, in his home town of Corozal, Puerto Rico, while pursuing a bachelor's degree in Anthropology at the University of Puerto Rico and, later, his Master's degree.

If you would like your Puerto Rico Dance Company, Dance Organization, Dance School featured here then please email bangkokcompanies@gmail.com
There are many fine dance schools in Puerto Rico. I know I am in contact with them as we supply a range of high quality dancewear products like leotards, dance pants, dance dresses and other dancing apparel.
Bangkok Companies supplies an amazing range of dancewear from Thailand. I have looked at these dance garments and dance accessories in detail. There is only one word to describe them Superb. For more details click on the pictures or send an email to bangkokcompanies@gmail.com We regret at this time we can only satisfy Puerto Rico wholesale dancewear requests.
"Dancewear designed by dancers for dancers"
| | | | | |
| --- | --- | --- | --- | --- |
| Dance Dresses | Kids Leotards | Adult Leotards | Dance Bras | |
| | | | | |
| | Dance Pants | Tutu's | Dance Shorts | |
| | | | | |
| Dancewear | Dancewear Organizers | Dance Bags | Dance Backpacks | |
| | | | | |
Bangkok Companies is a full service product sourcing company in Thailand. For All your dancewear needs please email bangkokcompanies@gmail.com with your requests.
---
Dance Schools in Puerto Rico, Dancewear Suppliers, Dancing Organizations
Rafael Cepeda-Atiles
P.O. Box 7625, Barrio Obrero Station PR 00916 San Juan, Puerto Rico U.S.A.
1-787-728-1096 ; 787-728-6969
www.prfdance.org/escueladebombayplena/EB
Dance school
--------------------------------------------------------------------------------
Jose-Julio Diaz
P.O. BOX 4708 PR-00984, Carolina U.S.A.
Tel/Fax 01-787-646-1650
Square Dance, Puerto Rico, Dance, Dancing; Square Dance Club since 1975.
--------------------------------------------------------------------------------
Esther Requi Gonzalez-Martinez
Carr. 193, Km 1.1, Local 5 PA 00773, Luquillo, Puerto Rico U.S.A.
787/889/0225 787/638/7043
www.festivaldanzaqui.org
Festival Internacional DANZ'AQUI is an educative, cultural and artistic event by the beach and rainforest that offers classes, workshops, and performances by local and international teachers and artists
--------------------------------------------------------------------------------
Eli Irizarry
380, Holly Cross 00926 Rio Piedras U.S.A.
787-470-8888, FAX 787-740-8355
www.puertoricosalsacongress.com
Organizer of the biggest salsa convention in the world
--------------------------------------------------------------------------------
Nequi Gonzalez Martinez
Calle B E-6 Costa Azul PR 00773 Luquillo, Puerto Rico (U.S.A.) U.S.A.
787-638-7043
www.festivaldanzaqui.org
The International Festival -DANZ'AQUI- is an artistic, educative and cultural encounter celebrated annually that offers workshops and performances of diverse disciplines to promote multidisciplinary performances.
--------------------------------------------------------------------------------
Sabu Rosado
D-16 urb. Cana, 29 Street PR 00957 Bayamon, Puerto Rico U.S.A.
Tel. (1.787)797-4361; 636-1979 ; Fax (1.787)797-4361
www.yashira.com
Company, Sabu and Arabian Fantasy, Arabian Fantasy Dance Studio, Belly Dance, Middle Eastern Dance Review featuring Belly Dancers and live musicians, Trips to Egypt, Arabian Fantasy Dance Studio
--------------------------------------------------------------------------------
Olvin Valentin
P.O. Box 1656 PR 00674 Manati, Puerto Rico U.S.A.
(1)787.884.7232; Fax (1)775.263.9632
www.guamanique.net
Group, folk dance, performing, school, educational; IOV Puerto Rico
--------------------------------------------------------------------------------
Helena
Doctor Francisco Oller Street 5th section PR 00949 Levittown, Toa Baja, Puerto Rico U.S.A.
Tel. (1.787)759.1255; (1.787)482.6289
Company
--------------------------------------------------------------------------------
Mambo P.R. Dancesport Center
5 Infanteria Avenue, Marginal 25 San Juan Puerto Rico U.S.A.
Tel. 759-5065
School, studio, ballroom dance
--------------------------------------------------------------------------------
Rosita y Mariano Dance Studio
Oasis Shopping Center, Guaynabo San Juan Puerto Rico U.S.A.
Tel. 787-720-7676
School, studio, ballroom dance
--------------------------------------------------------------------------------
Zeina
PO Box 366348 PR 00936-6348 San Juan, Puerto Rico U.S.A.
Tel. (1.787)759.1255; (1.787)203.3202
Company
--------------------------------------------------------------------------------
Estela Ortiz Aguilu
Ave. La Marina MG 22 PR 00962 Catano Marina Bahia, Puerto Rico U.S.A.
Tel. & Fax (1.787)767.3804; (1.787)788.4059
Festival, folk, organizer
--------------------------------------------------------------------------------
Eduardo Calderon
Nuevas Villas del Manati 133 ave. Las Palmas PR 00674 Manati, Puerto Rico U.S.A.
Tel. (1.787)884.7232; Fax (1.787)884.5223
http://guamanique.com
Group, folk dance, performing
--------------------------------------------------------------------------------
Ana Garcia
PO Box S-5713 PR 00901 San Juan, Puerto Rico U.S.A.
Tel. & Fax (1.787)725.9140
Company, ballet
--------------------------------------------------------------------------------
Dahlena Khalil
Via del Bosque BG-3 Encantada PR 00976 Trujillo Alto, Puerto Rico U.S.A.
Tel. (1.787)748.3286
Dancer, teacher, performer, Oriental, Middle-Eastern dance
--------------------------------------------------------------------------------
Lolita San-miguel
P.o. Box 13245 Pr 00908-3245 San Juan, Puerto Rico U.S.A.
Tel. (787) 724-7032 Fax (787) 725-5642
www.home.coqui.net/balletpr/index_main.htm
Artistic Director
--------------------------------------------------------------------------------
Alisa Schlesinger
53 calle cruz 1c PR 00901 San Juan, Puerto Rico U.S.A.
--------------------------------------------------------------------------------
Leyla Zahar
400 Cesar Gonzalez, Suite 155, Hato Rey PR 00918 San Juan, Puerto Rico U.S.A.
Tel. (1.787)274.0521