.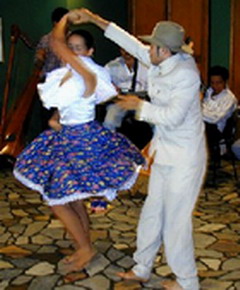 Ballet de las Americas, Venezuelan Folklore Dance Group Churun-Meru, are just a few of the dance companies, Venezuelan dance schools, dancing organizations and dance wear suppliers that that can be found in our comprehensive Directory of Venezuelan Dance Companies.
Traditional Venezuelan Dance

Joropo is the national Venezuelan dance. Joropo originated in the llanos region (the plains) in central Venezuela and is traditionally accompanied by gaita, which incorporates maracas, harps, four-stringed guitars and improvised vocals. Today, however, merengue and salsa, with their Caribbean rhythms, are the predominant dances styles in Venezuela.

The word Joropo encompasses a tradition which includes village fiestas, poetry, singing, music and dance in a form of popular expression which is constantly evolving. Improvised creativity flourish on existing structures and defined patterns of style. Its origins date from ancient Iberian music from the XVII and XVIII Centuries, such as the multiple fandango, the folias, peteneras, jotas and Andalusian malagueñas.

The roots of joropo include music from sailors and troubadors who came in the galleons from Spain, taking root in South American soil and developing into a powerful and vigorous tradition. Over time joropo even became a symbol of national identity in Venezuela where it is considered the national dance, but only attained that status in eastern Colombia.
Featured Venezuelan Dance Company
Catalina del-Castillo Performer and dance maker. Coordinator of the Iudanza program for the rescue and intervention of public spaces through dance actions and in artistic-social work for poor communities.
If you would like your Venezuala Dance Company, Dance Organization, Dance School featured here then please email bangkokcompanies@gmail.com
There are many fine dance schools in Venezuela. I know I am in contact with them as we supply a range of high quality dancewear products like leotards, dance pants, dance dresses and other dancing apparel.
Bangkok Companies supplies an amazing range of dancewear from Thailand. I have looked at these dance garments and dance accessories in detail. There is only one word to describe them Superb. For more details click on the pictures or send an email to bangkokcompanies@gmail.com We regret at this time we can only satisfy Venezuela wholesale dancewear requests.
"Dancewear designed by dancers for dancers"
| | | | | |
| --- | --- | --- | --- | --- |
| Dance Dresses | Kids Leotards | Adult Leotards | Dance Bras | |
| | | | | |
| | Dance Pants | Tutu's | Dance Shorts | |
| | | | | |
| Dancewear | Dancewear Organizers | Dance Bags | Dance Backpacks | |
| | | | | |
Bangkok Companies is a full service product sourcing company in Thailand. For All your dancewear needs please email bangkokcompanies@gmail.com with your requests.
---
Dance Schools in Venezuela, Dancewear Suppliers, Dancing Organizations
Fundacion Coreoarte
Apartado de Correos 17408 VE-1010 Caracas Venezuela
Tel. & Fax 00212.574.13.73, 00212.693.87.91
--------------------------------------------------------------------------------
Julie Barnsley
Apartado 17444 Parque Central VE-1010 Caracas Venezuela
Tel. & fax: 577.59.93
choreographer, teacher, interpreter, investigator of dance/physical theatre, dance video.
--------------------------------------------------------------------------------
Hercilia Lopez
Calle Gil Fortoul, Quinta Sabina, Santa Monica VE-1040 Caracas Venezuela
(58)212.416.2044; Fax (58)212.690.3025
CONTRADANZA (fundado en 1973) ha mantenido un permanente contacto con las tradiciones artisticas de su pais, con las distintas culturas del mundo y con las mas novedosas busquedas del arte contemporan
--------------------------------------------------------------------------------
Noris Ugueto
Correo 17.408 VE-1010 Caracas Venezuela
Tel (58)261.8052; Fax. (58)574.1373;
Classical ballet
--------------------------------------------------------------------------------
Pedro Diaz
Venezuelan Folklore Dance Group 'Churun-Meru''
1300 Pinecrest Rd. Apt 104 K2C 3M5 Ottawa, Ontario Canada
(613) 829-9020;Fax(613) 225-0461
www.Churun-meru.com
Churun meru is a Venezuelan Folklore Dance Group that promotes the Venezuelan Culture in Canada. Churun meru was formed since 1993 by a group of young Venezuelans, who were living in Ottawa.
--------------------------------------------------------------------------------
A.C. Danzas -Juvenes de Aragua
Calle 5 No. 41. Urbanizacion Simon Bolivar El Macaro VE 2115 Municipio Santiago Mario, Turmero Estado Aragu Venezuela
0416-745.4858
se realiza la danza Folklorica en lo popular tradicional, sin obviar la danza nacionalista, ademos de estar preparando a los nios con clases de Ballet. Espero que con estos datos tengan una vision de
--------------------------------------------------------------------------------
Ballet de las Americas
Calle Monsenor Grillc, entre Av. Guaicaipuro y San Igna VE-1060 Venezuela, Caracas, Edo. Miranda, Chacao, Qta C Venezuela 2645403 / 2654732 (Telefax)
Dance Institute
--------------------------------------------------------------------------------
Coppelia Compania Nacional y Escuela Superior de Danza
local S-21, Avenida Las Americas,Centro Comercial Mayey VE Merida Estado Merida
Centro de formacion integral. Especialidad ballet
--------------------------------------------------------------------------------
Instituto Universitario de Teatro
Apartado 107. San Antonio de los Altos Miranda 1204 Venezuela
Tel. (589 (212) 4815074. or 3722076
Theatre director and teacher on acting and speech, educated on Grotoswky
--------------------------------------------------------------------------------
IUDET (Instituto Universitario de Teatro, Caracas Venezuela)
Apartado 107, San Antonio de los Altos VE-1204 Miranda Venezuela
(212) 4815074; 3722076; Celular 4142388575
Theatre director and teacher on acting and speech, educated on Grotoswky's seminars at CUIFERD. Nancy. Lorraine, France, also studies on Barba,s Ista. Bonn. Books: Poetica del Movimiento.
--------------------------------------------------------------------------------
Rio Teatro Caribe
Av. Adolfo Erns No 16 VE-San Bernardino. Caracas Venezuela
0058-212-5513609;0058-212-5501863
WWW.rioteatrocaribe.cjb.net
Rio Teatro Caribe it's been known for the research in gesture, poetic images and contemporary dance. Since 1994, moment which the company started to work in Venezuela, they have made theater.
--------------------------------------------------------------------------------
Shabanna
Av Prolongacion Paseo Colon-Casa 140 VE- 6023 Lecheria-Estado Anzoategui Venezuela
58 414 8199326
WWW.shabannabellydancer1974.spaces.msn.com
Professional Dancer and Teacher, Latin rhythms, and specially belly dance. Performances, shows, seminaries, workshops.
--------------------------------------------------------------------------------
Jairo Acosta
Calle 3 de Urbanizacion Bella Vista Casa No2 VE 10 10 Caracas Venezuela
041.438.001.43
Agrupacion multidisciplinarea de Investigacion artistica. Realizamos, investigaciones, desarrollo, difusion y montajes de Danza aorea con tecnicas de Circo, como trapecio y telas con Danza contemporon
--------------------------------------------------------------------------------
Jose Antonio Blasco-Colina
Centro Simon Bolivar, Torre Norte, piso 16 El Silencio, Caracas Venezuela
58 4166344493
investigador, critico de danza, programador, gestor cultural y asesor artistico.
--------------------------------------------------------------------------------
Carmen Andreina B Cabrera
Urbanizacion Paulo VI, Edificio Altair, PB 7, Municipio VE 1070 Estado Miranda Venezuela
(58)0212.258.06.12;(58)0414.308.44.81
www.danzarabe.com
Any kind of dance is my passion, I dancing almost all my life here in my country but I am not an specialist or have a degree about. At this moment I am doing belly dance and built this site as a reference
--------------------------------------------------------------------------------
Delbis Cardona
"Frutas Condominios" Edf. Semeruco, Apto 1-2 detras del VE-1050 Centro Comercial "Vista Place" y "Buenaventura" Venezuela 584168278659
escenadecaracas@cantv.net
Director e Interprete de Danza y Teatro
--------------------------------------------------------------------------------
Martha Carvajal
Edif San Miguel, Piso 2, apto 22. VE-1060 Sur.Caracas Venezuela
Tel. 0212-265-87-84 Fax. 0412-981-76-34
Compania de Danza Contemporanea que se desempena en el area de creacion coreografica y docencia.
--------------------------------------------------------------------------------
Javier Ceballos
34-175, Santa Inus-El Llano VE-5124 Murida Venezuela
Tel. +58 0416 2738837
www.danzadata.com.ve
Promotor de la danza en Venezuela
--------------------------------------------------------------------------------
Nela Cote
1050 Caracas Venezuela
58+212-5776945 oficina; 58+416-2179900 movil
Periodista Audiovisual egresada de la Universidad del Zulia LUZ. Actualmente periodista del Instituto Universitario de Danza Iudanza. He realizado estudios de danza en escuelas de ballet, danza modern
--------------------------------------------------------------------------------
Catalina del-Castillo
Bulevar Amador Bendayan, Quebrada Honda al lado del Met Caracas- Venezuela
58-212-577.6945. Celular: 58 412 6106546
www.iudanza.arts.ve
Performer and dance maker. Coordinator of the Iudanza program for the rescue and intervention of public spaces through dance actions and in artistic-social work for poor communities.
--------------------------------------------------------------------------------
Alice Maria Luisa Dotta-Botto
Centro Simon Bolivar, piso 15 VE-1016 Caracas Venezuela
(0058)212.482.8481; (0058)212.991.6981 Home; Fax (0058)212.482.8481; 0414.255.0926 cel.
www.danza.conac.gob.ve
I have the responsibility of coordinate the dance`s national politics, activity of promotion and formation in dance, for the all Country.
--------------------------------------------------------------------------------
Angelica S. Escalona-Acosta
Av. Andres Bello Prolongacion Los Manolos La Florida VE-1050 Caracas Venezuela
Telefax 58-2-78216217 /7933869
Teatro Alberto De Paz Y Mateos/Grupo Theja/ Conac..
--------------------------------------------------------------------------------
Trina Frcmeta
1050-A Urb. las Palmas Los Teques Venezuela
Tel. 212 7821051, FAX 416 6207432
--------------------------------------------------------------------------------
Iris Fuentes
Av. 13a Con Calle 75-17 Edif. VE 4002 3B Y 4B First Piso Maracaibo Venezuela
0058-414-630.8577;0058-261-7512026;0058-261-5110810;FAX 0058-261-7833263
The Activities Of This School And Company Are To Give
--------------------------------------------------------------------------------
Eduardo Gil
Aptdo postal 107. San Antonio de los Altos VE-1204 Miranda Venezuela
0582123722076
education and creation, movement research
--------------------------------------------------------------------------------
Maria Fernanda Grisel
URB DONA BARBARA, BLOQUE, 07 PLANTA BAJA, NUMERO 0005, ESTADO BOLIVAR Venezuela
Tradicional
--------------------------------------------------------------------------------
Fabiana Iraci
El llanito, Av Guaicaipuro, Res Maria Elena, piso o1, a VE-1073 Caracas Venezuela
00584127108990
Contemporary dance, teacher, dancer of several companies in Venezuela and other countries like Mexico
--------------------------------------------------------------------------------
Nena Kerr
19, Calle Comercio, La Floresta Ma Edo. AraguaEdo. Aragua Venezuela
Tel. 02432415847, Fax 02432415847
www.nenakerrhotmail.com
danza contemporane, danza folkloricas, tap, flamenco, m?sica aplicada a la danza e historia de la danza
--------------------------------------------------------------------------------
Maria-Leticia Lopez-Ramos
Av. Lara 1-71 entre calles 1 y 2 Urbanizacion VE- 3001 Barquisimeto Venezuela Venezuela
0251 2528376; 02512522372; 04145132919
Academia de Danzas Internacionales, Bailes Clasicos Espanoles y Flamenco
--------------------------------------------------------------------------------
Edwin Linarez
Calle 8 entre carreras 21 y 22 VE-Edo Lara Venezuela
416.354.6545; 251.259.1426; Fax 251.245.9140; 251.259.1409
danzaucla Danza de la universidad centroccidental Lisandro Alvarado Taluli
--------------------------------------------------------------------------------
Pereira Mendez
Urb. La Soledad, Calle 12, Quinta Los Sauces, N. 27 VE-2101 Municipio Girardot, Maracay Estado Venezuela
0058-416-641.6314; 0058-416-646.3779; 0058-243-232.6206
www.usuarios.lycos.es/venezuelaim
Interactives activities and productions the Folkloric and traditional dance from Venezuela.
--------------------------------------------------------------------------------
Daniela Munoz
Calle Equador,Edif. No 12, piso 1, apto. 2 VN-Caracas Venezuela
contemporary ballet dancer
--------------------------------------------------------------------------------
Anubis-de-Anthony Nirvana
Urb.Valle Arriba, Ginebra Oeste, Calle 3, # 3-2, 1221Quinta Anubisis, Guatire, Estado Miranda Venezuela
58-212-4160159 and 58-416-7208925.
Anubis Nirvana Bellydance Danza Arabe
--------------------------------------------------------------------------------
Felix Alberto Oropeza
Av. Cajigal Edf Titania Piso 1 VE-1011 Caracas Venezuela
(5812)552.07.81; Fax ( 5812)552.07.81;
www.agentelibre.org
To choose and to take on consequences with responsibility and enjoyment, saving us that right it s a legacy of our particular way to call our selves, this fact not only alludes to liberty as a human.
--------------------------------------------------------------------------------
Maria Luisa Parada
Calle Bolivia, Terraza C, Urb. Terrazas de Club Hipico, VE-Caracas Venezuela
Tele-fax: (0212) 978.2403 Celulares: (0412) 7170308, (0416)4040754
-------------------------------------------------------------------------------
Cecilia del Carmen Parra-Quintero
Edif. Villaflores 'O piso 5 apar VE-1010 Caracas Venezuela
Tel. 0058-0212-8649412, FAX 0058-0212-4828481
Centro de formacion para docentes de danza
--------------------------------------------------------------------------------
Rummie Quintero
Calle Colombia Edificfio Etna piso 1 VZ-1010,Catia, Caracas-Venezuela Venezuela
Tel. 58/02123346777
Academia de Danza y Bailes Populares, especialista en Danza Jazz
--------------------------------------------------------------------------------
Marielly Ramirez
- Venezuela/USA Miami/ValenciaMiami/Valencia Venezuela
Tel. 3052229396
http://www.geocities.com/mariellyramirez
Currently teaching ballet and flamenco in Miami, Florida, USA.19 years of experience in Venezuelan Danza Nacionalista, Bachelor in Dance with a Masters in Latin American and Caribbean Studies
--------------------------------------------------------------------------------
Bernardette Rodriguez
1760, Urb. Morro 2, calle 139 VE-2001 Valencia Venezuela
tel. (58)412-8859481
I'm a ballet dancer and started teaching about 3 years ago. Ballet is my real passion, but also i've been dancing tango for 6 months.
--------------------------------------------------------------------------------
Mariana Rodriguez-Ramirez
Parque Residencial Los Caobos VE- 1010 Torre C. La Candelaria. Caracas. Venezuela
mob: 0412-5833285
www.marianabellydancer.blogspot.com
Bellydance
--------------------------------------------------------------------------------
Ledelmira Serrano
Calle 5 No. 41. Urbanizacion Simon Bolivar El Mucaro VE 2115 Municipio Santiago Mariio-Turmero Estado Aragua Venezuela (0416)745.48.58
Danza Folklorica porpular y tradicional, ya tenemos mos de veintiocho aeos de esperiencia en el area.
--------------------------------------------------------------------------------
Paola Tamayo
calle 72 con avenida 5 de julio, montielco piso 1 local VE-4002 Maracaibo Venezuela
Tel. 0058 261 7618837 Fax. 0058 261 7618991
BAILE FLAMENCO
--------------------------------------------------------------------------------
Luz Urdaneta
No. 3-28 Los Palos Grandes, Quinta avenida con calle die VE-1062 Caracas South America Venezuela
Tel. 0058 212 2867747/ 0058 212 2867747, FAX 00 58 212 2867747
www.danzahoy.org
Teacher, Choreographer, dancer and company
--------------------------------------------------------------------------------
Claudia Urdaneta
Teatro Teresa Carreno. Satano 1.Oficina 3. Paseo Col?n. VE-1050 Caracas Venezuela
(58-212) 5776710 / (58-212) 5775954
www.danzahoy.org
Contemporary Dance company based in Caracas, Venezuela.
--------------------------------------------------------------------------------
Rita Vaamonde
832 Castillejo VE-1221 Guatire Venezuela
584.168.352.387
www.fundacionbigott.com
Dancer and Dance teacher
--------------------------------------------------------------------------------
SERGIO VAZQUEZ
5ta. Transversal con Zambrano, Qta. Los Viejos Apto.2 VE-1060 Los Palos Grandes, Chacao Caracas Venezuela
058 412 596 8952
www.sergiotango.com
Clases, espectoculos, shows, eventos relacionados con Tango Argentino. Musicos, Cantantes, Bailarines
--------------------------------------------------------------------------------
Ballet Contemporaneo de Caracas
Avenida La Colina Prolongacion Los Manolos VE-1050 La Florida, Caracas Venezuela
Tel. 58 212.793.91.39; Fax 58 212 793.67.91
Ballet, contemporary Dance
--------------------------------------------------------------------------------
Ballet Contemporaneo de Caracas, Teatro Alberto de Paz y Mateos
Avenida La Colina, Prolongacion Los Manolos VE-La Florida, Caracas Venezuela
Tel. 58 2 793.91.39; Fax 58 2 793.67.91
http://www.caracasballet.org.ve/english
Ballet
--------------------------------------------------------------------------------
Centro Internacional de Danza y Ballet Sacromonte
Av. Lara entre Calles 1 y 2 # 1-71. Nueva Segovia VE-Barquisimeto, Lara Venezuela
Tel. +058 - 051 - 51.13.76
Dance Company, classical ballet
--------------------------------------------------------------------------------
Escuela de baile Tatiana Reyna
Salida autopista Prados del Este VE-Caracas Venezuela
tel. (02)978.02.67
Dance School
--------------------------------------------------------------------------------
Fundacion para el Desarrollo de la Danza Folklorica
Complejo Alberto de Paz y Mateo
Avenida Andres Bello, la Colina, los Manolos VE-1050 La Florica, Caracas Venezuela
Tel. (02)793.54.66, (02)793.86.93
Dance Organization, folk dance
--------------------------------------------------------------------------------
Keyla Ermecheo School of Ballet
Avenida Romulo Gallegos, CC Luvebras, Piso 2 VE-1000 Caracas Venezuela
Tel. & Fax (582)2561662
Dance School, Ballet
--------------------------------------------------------------------------------
Venezuelan National Commission for UNESCO
(Comision Nacional Venezolana de Cooperacion con la UNESCO
Ministerio de Relaciones Exteriores, Torre La Noria, Pa VE-1060 Las Mercedes Venezuela
Tel. (58.2)862.54.70, 862.94.10, Fax(58.2)864.23.19
National organization
--------------------------------------------------------------------------------
Zoraya Academia de Baile
-- VE- Caracas Venezuela
Tel. (58) (212) 2666145 ; (58) (414) 2366517
http://www.zorayadancing.com/Menuprincip
Dance school
--------------------------------------------------------------------------------
Cecilia Acosta
Centro Profesional Santa Paula VE-Santa Paula, Caracas Venezuela
Telefax: (02) 985.09.93 y 951.20.67
Dance School
--------------------------------------------------------------------------------
Silvia Aray
Av. Araura, Centro Comercial Chuao, piso 3, Chuao VE-Caracas Venezuela
tel. (02)91.99.80
Dance School
--------------------------------------------------------------------------------
Mercedes Baldo
Calle Cecilio Acosta y calle Miranda 7 VE-Caracas El Paraiso Venezuela
Tel.: 793.58.02 y 794.17.48; Fax:793.11.90
Dance Company, Dance school
--------------------------------------------------------------------------------
Maria Eugenia Barrios
Av. La Colina.Prolongacion L.Manolos.La Florida VE-Caracas Venezuela
Tel. 58 2 793.91.39; Fax 58 2 793.6791
http://www.caracasballet.com/Ballet
Contemporary Dance
--------------------------------------------------------------------------------
Maria T. Castillo
Apartado 51-440 VE-1050 Caracas Venezuela
Tel. 58/2/76 199 13; Fax 58/2/761 99 13 or 7635723
Dance Institute
--------------------------------------------------------------------------------
Evelyn Chapellin
Urb. Santa Rosa de Lima VE-Caracas Centro Integral Santa Rosa Venezuela
Tel. (02) 92.69.15
Dance School
--------------------------------------------------------------------------------
Segundo Colina
Remedios a Brisas 116, Av. Panteon VE-San Jose Venezuela
Tel. (02) 862.96.43
Dance Company
--------------------------------------------------------------------------------
Jose Antonio Blasco Colina
Edif. Ulimar, Torre B, apto. 21 VE-1010 Caracas, Distrito Capital Venezuela
tel. (58 212 7536458; 4828481; 4166344493
Coordinador de Area, Direccion General Sectorial de Danza Consejo Nacional de la Cultura CONAC, Viceministerio de Cultura, Ministerio de Educacion, Cultura y Deporte.
--------------------------------------------------------------------------------
Josefina Conde de Concheso
Complejo Cultural Teresa Carreno, sotano 1 VE-Caracas Venezuela
Tel. (02) 574.91.22; Fax: 574.97.01
Dance School
--------------------------------------------------------------------------------
Rosa Lopez de D'Amico
A. Las Delicias VE-2101 Maracay Venezuela
Tel. (58 243) 2837420, Fax (58 243) 2474607
Dance Researcher in Physical Education and Dance
--------------------------------------------------------------------------------
Julio Esteves
Casa del Artista, 1er piso VE-Quebrada Honda, Caracas Venezuela
Tel. (02) 577.29.23 y 578.39.65; Fax: 576.22.97
Dance School, graduate
--------------------------------------------------------------------------------
Isabel Franklin
P.H. Edif. Tajamar, Parque Central VE-Caracas, Av. Lecuna Venezuela
Tel, & fax (02) 576. 03.15
Dance School
--------------------------------------------------------------------------------
Abelardo Gameche
Calle Rafael Arvelo, Edif. Sirio, piso 5 N? 5B VE-Santa Monica, Caracas Venezuela
Tel. (02) 662.68.20
Dance Company
--------------------------------------------------------------------------------
Jesus Garcia
Apartado 6139 Carmelita VE-1010 Caracas Venezuela
Dance Organizer
--------------------------------------------------------------------------------
Nelly Garzon
Apartado 51-440 VE-1050 Caracas Venezuela
Tel. 58 2 76 199 13; Fax 58 2 761 99 13, 763 57 23
Dance Organisation
--------------------------------------------------------------------------------
Miguel Issa
Caracas, apartado postal 50152 VE-1050 Caracas Venezuela
Tel. 58 212 6317315; Fax 58 212 6317315
www.dramo.org
Teaching Contemporary dance and Masters in Cultural Gestion
--------------------------------------------------------------------------------
Fanny Montiel
Colinas de Los Ruices, Av. Los Ruisenores, VE-Caracas Venezuela
Tel. (02) 257.46.45
Dance School
--------------------------------------------------------------------------------
Yolanda Moreno
C.Caroni, qta. El Colmenar,Colinas de Bello Monte VE-Caracas Venezuela
Tel. (02) 751.42.85 y 793.50.80
Dance Company, Dance school
--------------------------------------------------------------------------------
Carolina Ocando
Avenida La Hoyada, Teatro Enma Soler, Los Teques VE-Caracas Venezuela
Tel. 31.15.78; Fax 31.53.35
Dance Company
--------------------------------------------------------------------------------
Oglis Olivero
Calle Real de Quebrada Honda VE-Caracas Venezuela
Tel. (02) 751.17.54
Dance Ensemble
--------------------------------------------------------------------------------
Carlos Orta
Avenida Zuloaga, Qta., Micomicna VE-Caracas Los Rosales (FUNDEF) Venezuela
Tel. 574.13.73
Dance Company, Dance school
--------------------------------------------------------------------------------
Carlos Paolillo
Casa del Artista, 1er piso VE-Quebrada Honda, Caracas Venezuela
Tel. (02) 577.29.23; 578.39.65; Fax 576.22.97
Dance Festival, young choreographers
--------------------------------------------------------------------------------
Evelyn Perez
venida Uslar, cruce con calle 4A, Vista Alegre VE-Caracas Venezuela
Tel. (02) 472.21.54
Dance School
--------------------------------------------------------------------------------
Leyson Ponce
Caracas, apartado postal 50152 VE-1050 Caracas Venezuela
Tel. 58 212 6317315; Fax 58 212 6317315
www.dramo.org
Teaching Contemporary dance and Masters in Cultural Gestion
--------------------------------------------------------------------------------
Ignacio Porras
Direccion de Cultura VE-Caracas Venezuela
Tel. (02) 662.69.49; Fax: 662.24.67
Dance Ensemble
--------------------------------------------------------------------------------
Zhandra Rodriguez
Avenida Lecuna - Caracas VE-Caracas Venezuela
Tel. (02) 576. 28.97 - 578.16.98; Fax: 577.16.16
Dance Company
--------------------------------------------------------------------------------
Luis Rodriguez
Street 11 5001 Venezuela Venezuela
Tel. 0276-3443529
formacion, promocion y difusion de danza nacionalista, a nivel regional y nacional
--------------------------------------------------------------------------------
Ines Rojas
Avenida Principal, El Pedregal VE-Caracas La Castellana - Caracas Venezuela
Tel. (02)261.09.35
Dance School
--------------------------------------------------------------------------------
Briseida Salazar
Carretera Panamericana Km.8, Apartado 40347, VE-1040 Caracas -A, Instituto Venezuela
Historian, dance
--------------------------------------------------------------------------------
Sonia Sanoja
Casa del Artista,Piso 1,Quebrada Honda VE-1000 Caracas Venezuela
Tel. (58.2)577.29.23; (58.2) 578.39.65; Fax (58.2)576.22.97
http://www.iudanza.arts.ve
Dance School, graduate
--------------------------------------------------------------------------------
Gustavo Silva
Avenida La Colina, Prolongacion Los Manolos VE-La Florida, Caracas Venezuela
Tel. (02) 793.54.66; Fax 793.86.93
Dancer
--------------------------------------------------------------------------------
Macarena Solorzano
Avenida Avila, Altamira Sur, Edif. Sanya Rosa VE-Caracas piso 7,apto. 25 Venezuela
Tel. (02) 261.79.36
Dance Company
--------------------------------------------------------------------------------
Claudia Urdaneta
Paseo Colon, Conplejo Cultural Teresa Carreno VE-Caracas Venezuela
Tel. (02) 577.67.10; Fax: 577.59.54
Dance Company, Dance school
--------------------------------------------------------------------------------
Adriana Urdaneta
5ta. Ave. con calle 10 No. 3-28 VE-1060 Los Palos Grandes, Caracas Venezuela
Tel. (58-414) 304-4446
http://www.danzahoy.Choreographer
Artistic director Dance Company
--------------------------------------------------------------------------------
van Valderrama
Ciudad Guayana VE- Venezuela
http://danzasyacambu.8m.com/danzasyacamb
Dance Ensemble
--------------------------------------------------------------------------------
Luis Viana
apartado postal 5832 VE-1010 Caracas, Carmelitas Venezuela
Dance Company
--------------------------------------------------------------------------------
Offer Zaks
Caracas Ballet
Avenida La Colina. Prolongacion Los Manolos VE-1010 La Florida, Caracas Venezuela
Tel. +58 2 793.91.39; Fax +58 2 793.67.91
www.caracasballet.com
Dance Company, classical ballet, Dance School