.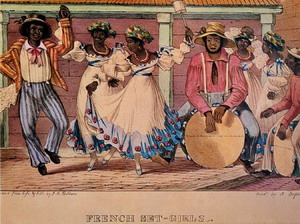 In Motion Dance & Fitness Centre, Bob Marley School for the Arts Institute, Edna Manley College of the Visual & Performing Arts, are just a few of the dance companies, dance schools, dancing organizations and dance wear suppliers that that can be found in our comprehensive Directory of Jamaican Dance Companies.
Jamaican Dance
There is a well-known adage asserting proudly that the heart of the Jamaican people has never ceased to dance. It's true – dancing is an integral part of everyday Jamaican life. We dance everywhere and for all occasions – for worship, cultural celebrations, formal events and social gatherings. Once there's music, hips gyrate, hands start to clap while round buttocks roll, and everyone – old and young alike – finds himself or herself moving to the infectious rhythmic beat.

Shaped by a mixture of European and African influences, Jamaican dance forms have evolved. From the 'jonkonnu' steps practiced by slaves at Christmas time, to the post-Emancipation 'bruckins', the liberating 'ska' of a newly independent nation to the vibrant, sometimes challenging choreography of the dancehall – our heritage in dance reflects the evolution of our cultural identity.

We have 'Jamaicanized' traditional European dances, such as maypole and quadrille, performing them to the sounds of our homegrown 'mento' music. Similarly, dances such as the 'gerreh', the 'dinki-mini' and 'ettu' reflect our African heritage, but are also satirical commentaries of plantation life. These dances form the backbone of modern Jamaican dance forms.

Today, our people use everything – comedy, tragedy, or social and political scenarios at home and abroad, to create new dance moves. Some of the more recent dances include the butterfly, log-on, Jerry Springer, Steve Urkel and the talaban. Jamaicans and visitors alike are barely able to keep track of the many new dances that surface at a rapid pace. Local clubs and HQs, reverberating with pounding beats of dancehall music, are breeding grounds for new dance moves. You can bet that almost every month there will be a new style, with an equally amusing name to learn, no less exciting, entertaining or exhilarating than the previous.

From the dancehall to the stage, hip street styles give way to elaborate contortions and clever choreography. The Edna Manley School of Dance, the National Dance Theatre Company and other recognized groups also keep Jamaica's dance tradition alive with regular shows. The themes of these performances sometimes explore the issues facing the nation, or reflect the artistic expressions of the performers with well-rehearsed and synchronized formations. These Jamaican ensembles have received both local and international acclaim, exposing our dance forms to our people and the world.

Dancing is a vital part of the Jamaican lifestyle. Whether as a means of enjoyment, entertainment or expression, the ability to move the body freely is essential to our identity as a people. As effortlessly as we breathe, so do we dance…spinning, twisting, shaking… To experience Jamaica is to dance with us. Leave your inhibitions and let the music set you free. May we have this dance?
JamaicaHomecoming.com
Jamaican Dance Video
Featured Jamaican Dance Company
In Motion Dance & Fitness Centre
In Motion's primary goal is to teach children to love and appreciate the art of dance. We strive to motivate our students to express themselves through movement, encouraging and fostering their own individuality and creativity.
Once this is achieved, we teach technique.
Our ballet technique, Cechetti, is the Italian style, and one of the most difficult and renowned schools of ballet worldwide. We teach alignment, positions of the body and movement technique, from pre -ballet and locomotor steps to advanced barre, center floor and pointe work. We include vocabulary and terminology, history, and discipline, while still fostering the love of dance.
We also provide a wide range of movement styles including tap (New York Based), jazz (Luigi), salsa, afro-caribbean, and modern (Graham, Duncan, Limon , Dunham and Horton) to give students a strong technical foundation from which their talents grow.
We also offer the very popular Hip Hop Dance for both children and adults, as well as Latin Dance and Choreography and Repertoire.
Our main goal is to build strong foundations in each of our dancers and then build upon that base and cultivate well rounded confident dancers.


If you would like your Jamaica Dance Company, Dance Organization, Dance School featured here then please email bangkokcompanies@gmail.com
There are many fine dance schools in Jamaica. I know I am in contact with them as we supply a range of high quality dancewear products like leotards, dance pants, dance dresses and other dancing apparel.
Bangkok Companies supplies an amazing range of dancewear from Thailand. I have looked at these dance garments and dance accessories in detail. There is only one word to describe them Superb. For more details click on the pictures or send an email to bangkokcompanies@gmail.com We regret at this time we can only satisfy Jamaica wholesale dancewear requests.
"Dancewear designed by dancers for dancers"
| | | | | |
| --- | --- | --- | --- | --- |
| Dance Dresses | Kids Leotards | Adult Leotards | Dance Bras | |
| | | | | |
| | Dance Pants | Tutu's | Dance Shorts | |
| | | | | |
| Dancewear | Dancewear Organizers | Dance Bags | Dance Backpacks | |
| | | | | |
Bangkok Companies is a full service product sourcing company in Thailand. For All your dancewear needs please email bangkokcompanies@gmail.com with your requests.
---
Dance Schools in Jamaica, Dancewear Suppliers, Dancing Organizations
Lisa Dobson
Lot 34 St John's Garden JM-Spanish Town Jamaica
1(876) 981 2173; 1(876) 851 8764
Dancer, teacher ( jazz, ballet, modern, African, composition, Afro-Caribbean), choreographer, dance consultant,
Pilates tutor. An independent artist. A BA Degree in Dance from Sydney, Australia
--------------------------------------------------------------------------------
Edna Manley College of the Visual & Performing Arts
1 Arthur Wint Drive JM-Kingston Jamaica
Tel. 876-920-4051;876-968-0027;Fax 876-968-0779
http://www.ednamanleycollege.edu.jm
--------------------------------------------------------------------------------
Monika Angella Lawrence
54 forsythe Drive, Kingston 6, - Jamaica
876 927 2437 and 876 9787668
specialty in dance, keywords for computer search (describe your work in detail):
--------------------------------------------------------------------------------
Olive Lewin
73-75 Harbour Street JM-Kingston Jamaica
Tel. (1.809)927.9884; Fax (1.809)967.2112
Researcher, folk dances
--------------------------------------------------------------------------------
Black Ras-Astor
Bob Marley School for the Arts Institute
Flamingo Beach, Falmouth P.O., JM- Trelawny Jamaica Jamaica
Tel. 876-421-4189
http://www.bobartsinstitute.edu
Founder, Bob Marley School for the Arts Institute is in Jamaica teaching Rastafari Nyah Binghi Dance Lain MacPhail
--------------------------------------------------------------------------------
Bettina Habekost
In der Zeil 1 DE-67125 Darmstadt Germany
Fax 6231 98539
Teacher, Caribbean Folk Dance & Street Crossover (Jamaica, Trinidad)
--------------------------------------------------------------------------------
Ballet Centre
62 Three Views Avenue Jm-20 Kingston Jamaica
Tel. (876) 924.5587
School, ballet classes
--------------------------------------------------------------------------------
Bloco Cyanide
Box 868 JM-8 Kingston Jamaica
Tel. (876)978.2903
Group, folk, samba school, recreational
--------------------------------------------------------------------------------
In Motion Dance & Fitness Centre
Shop 8, Village Plaza JM-10 Kingston Jamaica
Tel. (876) 906.4612
http://www.inmotionja.com/dance/index.htm
School
--------------------------------------------------------------------------------
Jamaica National Commission for UNESCO
PO Box 202 JM-5 Kingston Jamaica
Tel. & Fax (1876)929.4022
National organization
--------------------------------------------------------------------------------
Diane Bernard
6 Gwendon Park Avenue JM-Norbrook, Kingston 8 Jamaica
Tel/Fax (001 (876925 6558
--------------------------------------------------------------------------------
Clyve BOWEN
37 Arnold Road KINGSTON 4 Jamaica
-------------------------------------------------------------------------------
Simone Daley
9 William Street, P.O. St. Catherine JM-Spanish Town Jamaica
Tel. (876) 984.2551
Christian sacred dance ministry
--------------------------------------------------------------------------------
Kenesha Delatibudair
36 Valdez Road JM-Spanish Town, St. Catherine Jamaica
Tel. (876) 748.1558
Christian sacred dance ministry
--------------------------------------------------------------------------------
David Heron
The Barn Theatre, 5 Ripon Road JM-5 Kingston Jamaica
Organisation
--------------------------------------------------------------------------------
Rex Nettleford
Mona JM-7 Kingston Jamaica
Company, ballet, Dance-theatre
--------------------------------------------------------------------------------
Barbara Requa
1 Arthur Wint Drive JM-5 Kingston Jamaica
School, dance, performing arts