.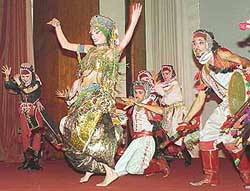 Syrian Dance Theatre Group Enana is just oneof the dance companies, Syrian dance schools, dancing organizations and dance wear suppliers that that can be found in our Directory of Syrian Dance Companies.
Traditional Syrian Dance
Syria has known, through its long history, most of the kinds of folklore dances, but unfortunately those who wrote about folklore dance couldn't write in details about this art. "The Heritage of Dabka" a book written by the late writer "Adnan Bin Zurail" is considered one of the most important refernces about the art of dance. Bin Zurail gives detailed information about the traditions and development of Dabka. He also shows special interest in the dance of "Samah " as one of the old inherited kinds of body expressions, very popular in all the Syrian regions. Samah was taught as a respectable and bashful kind of dance , with deep rules, special wording of songs and ballads, tunes and rhythms.

Folklore dance in Syria was not merely a Dabka (beating the ground with feet in regular steps), but rather it was accompanied by rhythmic movements with men carrying swords or canes. Some kinds of dance were expressionist, while others were social or valorous.

The present generation of dancers of Aleppo, learnt the Samah from Omar alBatsh, Abdulwahab Seifi, Saleh alBoshi, Adnan Mnini, Omar Aqqad and others. It has been said that men in Aleppo used to dance this kind of group dance and still do so until now. They attributed it to Sheikh Aqil of Munboj, one of the Sufis who inherited it from the ancestors and developed it, devising new movements of feet, which the dancer, whether male or female, should follow and sing while moving his /her hands. Sheikh Aqil used to call his followers who used to dance Samah "sons of art "A "son of art" should usually learn many tunes so that he can join the group any time, any where, and follow their steps harmoniously.

Of the most famous dances in Syria is the Dabka, a dance of several light coordinated steps with movements of the body that express vivacity of the males and tenderness of the females, accompanied by frequent organized movements of feet, beating the ground in harmony with a drum, a flute or any other country musical instrument.

Usually Dabka is danced on songs, ballads or lyrics, any poetical sentences inherited from the predecessors heritage, usually composed by anonymous people who didn't study at any institute or conservatory . Dabka is famous in Syria due to the lightness of movements, diversity of tunes and the joy it gives during performance. Hence every region of Syria has its own type of Dabka; Hawran, Deir Ezzor, Khan Sheikhoun, Salamieh, Hama, Qalamoun, and the Syrian coast.
Featured Syrian Dance Company
Syrian Dance Theatre Group Enana
Enana is the only professional dance theatre group in Syria. "The group was formed about 13 years ago and it's the only one of its kind," says Ms Belova, recalling how none had come forward to learn dance in Syria when she first landed there. "A professional school came up only eight years ago and still is the only one in the entire nation," she adds. "But we are trying our best to train young persons and because of our endeavours a number of people are becoming interested in theatre and dance," says Ghied. Ghied and Albina, besides being the major driving force behind the group, also acted in the plays as Raslan and Badrieh.

If you would like your Syria Dance Company, Dance Organization, Dance School featured here then please email bangkokcompanies@gmail.com
There are many fine dance schools in Syria. I know I am in contact with them as we supply a range of high quality dancewear products like leotards, dance pants, dance dresses and other dancing apparel.
Bangkok Companies supplies an amazing range of dancewear from Thailand. I have looked at these dance garments and dance accessories in detail. There is only one word to describe them Superb. For more details click on the pictures or send an email to bangkokcompanies@gmail.com We regret at this time we can only satisfy Syria wholesale dancewear requests.
"Dancewear designed by dancers for dancers"
| | | | | |
| --- | --- | --- | --- | --- |
| Dance Dresses | Kids Leotards | Adult Leotards | Dance Bras | |
| | | | | |
| | Dance Pants | Tutu's | Dance Shorts | |
| | | | | |
| Dancewear | Dancewear Organizers | Dance Bags | Dance Backpacks | |
| | | | | |
Bangkok Companies is a full service product sourcing company in Thailand. For All your dancewear needs please email bangkokcompanies@gmail.com with your requests.
---
Dance Schools in Syria, Dancewear Suppliers, Dancing Organizations
Carolina Varga Dinicu
6 West 20th Street, 2nd floor NY 10011 New York U.S.A.
+1 (212) 727.8326; Fax +1 (212) 463.7116
www.casbahdance.org
Performer/master teacher/choreographer/writer/lecturer/researcher of Oriental dance, Mid-eastern dance, Raks, Sharki, belly dance/Moroccan/Tunisian,/Egyptian/Saudi/Turkish/Gypsy/Roma/Lebanese/Syrian - Sc
--------------------------------------------------------------------------------
Tasha Banat
1216-J Nakomis Drive NE, Albuquerque NM 87112 New Mexico Mexico
(505)299.7000; (505)299.2200; (505)291.6714 work; Fax (505)291.6617
www.TashaBanat.com
Arabic Style (Lebanese) Belly Dance Cabaret and Debke (Region dances from B'Lad E'Shaam (Lebanon, Palestine, Jordan, Syria and Parts of Iraq.
--------------------------------------------------------------------------------
Tatyana Vorobyova
Suite "J" 1216 Nakomis Drive NE MX-87112 Albuquerque Mexico
(505) 299-7000 Phone (no Fax)
www.wwdir.com/bellydance
Dances from Balad E'Shaam (Lebanon, Palestine, Jordan, Syria, Iraq) as well as Iran, Turkey, Greece, Armenia and Cabaret Belly Dance.
--------------------------------------------------------------------------------
Shamira Nawal-Beauregard-Axelson
1-1131 Kaileolea Drive, 3C2 Ewa Beach HI 96706 Hawaii U.S.A.
(808) 753-2440
www.mapuana.com/amara_kismet.htm
Near & Middle Eastern Dance performing group utilizing the Shamira Technique via Egyptian, Syrian, Armenian, Lebanese, Greek, Turkish, Moroccan, Tunisian, and ethno-fusion dance. Specialty is in theatre
--------------------------------------------------------------------------------
Raisa Kadirova
Pablo Nerudo Str., 9/1, 26 UZ-705024 Bukhara city Uzbekistan
Tel. (+998 65) 222 99 36, FAX (+998 65) 224 22 46
www.bukhara.net/craft/kraisa/index.htmI
performer of East folklore dances, especially Central Asian dances (Tajik, Uzbek, Syrian, etc.). I am also a teacher of choreographic school.
--------------------------------------------------------------------------------
Syrian National Commission for UNESCO
(Commission Nationale Syrienne pour l'UNESCO)
inistere de l'Education; Place Al-Shahbander SY- Damascus Syria
Tel. (963.11)4444.703/705; Fax (963.11)3315.526
National organization
--------------------------------------------------------------------------------
Assad Fedda
PO Box 2891; Ministere de la Culture SY-Damas Syria
Tel. (963)11.2212.606, Fax (963)11.2212.952
Festival, folk
--------------------------------------------------------------------------------
Richard Unciano
1161 East Baywood Drive #104 CA 92881 Corona, California U.S.A.
Tel. (1.909)736 9608; Fax (1.909)272 8448
Teacher, authentic folk dances of the Pontian Greeks, Assyrian minority of Iran, Albanian minorities