.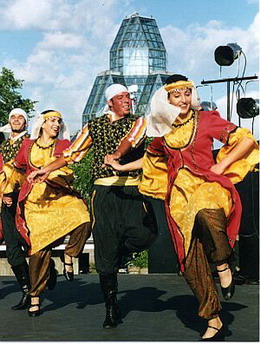 Khanito Dance Academy, City Center Ballet Inc, Attitudes Dance Center, are just some of the Lebanese dance companies, Lebanese dance schools, dancing organizations and dance wear suppliers that that can be found in our comprehensive Directory of Lebanese Dance Companies.
Traditional Lebanese Dance


Lebanese Belly Dancing. The main differences between Lebanese style dance and Egyptian or Turkish dance is that in Lebanon, the dance is performed for huge stadiums or concert halls packed with people; therefore the movements are more dramatic and exaggerated. It is also more energetic and theatrical than other styles of dance; however, it is as refined and controlled as Egyptian and often uses gestures taken from classic ballet. A unique characteristic of Lebanese dance is that the dancers often wear dangerously high heels when they dance.

High heels or not - The debate continues...

I come from an older branch of Lebanese dance that is very soft and feminine. The modern Lebanese dance and music scene has become vulgar and ostentatious in its 'sexiness' - is it authentic? Of course not; one only has to understand that Lebanon is a Middle-Eastern country afterall meaning that it is ultimately quite conservative (at least it used to be before the war), so wearing four-inch heels and snapping one's bottom back and forth isn't exactly a traditional aspect of our dancing. But now, anything goes really - heels, pelvic thrusting, furiously shaking the breasts, etc. Do dancers of Lebanese nationality do these things? Yes. Is it authentic Lebanese dancing? No.

So to answer your initial question, which was - is there a Lebanese style without heels? Of course. At least, that's how it used to be.
Lebanese Dance Video
Featured Lebanese Dance Company
Khanito Dance Academy
Khanito Is the Owner and President of Khanito Dance Academy, President of the Lebanese Dance & DanceSport Council, President of the Lebanese Artistic DanceSport Association.
He was born on the 14th of February 1960 in Beirut, Lebanon, with a long line of Armenian and Greek origin. He started painting at a very young age, and this love he had for art carried him through all the stages of his life. In 1974 he discovered his passion for music and studied Flamenco guitar.

Three years later he moved to France to further more his love of art and music. There he learned all dance disciplines and graduated in 1980. In 1983 he made London his home for one year to expand his dancing skills into Tap, Jazz, Ballroom and Latin. He traveled to Italy, Germany, Greece and New York to broaden his dance expertise. Then he came back to Lebanon and worked on reviving dancing among all generations. He met his wife Mirella, who is also his dance partner and who graduated from the Professional school of Arts Choreography Ballet Cluj Napoca Romania. Mirella is currently teaching ballet and stretching at Khanito Dance Academy. Now he has twenty-two years of dancing and teaching experience spread over several countries like England, Italy, Greece, Jordan, Cyprus, Dubai, Germany etc…

At his dance academy he teaches and prepares Instructors, Competitors, and Show makers. Latin Dancing: Samba, Cha Cha, Rumba, Passodoble, Jive, Salsa, Rock 'n' Roll, Mambo, Ballroom Dancing, Tango, Waltz, Quickstep, Foxtrot, Viennese Waltz

If you would like your Lebanon Dance Company, Dance Organization, Dance School featured here then please email bangkokcompanies@gmail.com
There are many fine dance schools in Lebanon. I know I am in contact with them as we supply a range of high quality dancewear products like leotards, dance pants, dance dresses and other dancing apparel.
Bangkok Companies supplies an amazing range of dancewear from Thailand. I have looked at these dance garments and dance accessories in detail. There is only one word to describe them Superb. For more details click on the pictures or send an email to bangkokcompanies@gmail.com We regret at this time we can only satisfy Lebanon wholesale dancewear requests.
"Dancewear designed by dancers for dancers"
| | | | | |
| --- | --- | --- | --- | --- |
| Dance Dresses | Kids Leotards | Adult Leotards | Dance Bras | |
| | | | | |
| | Dance Pants | Tutu's | Dance Shorts | |
| | | | | |
| Dancewear | Dancewear Organizers | Dance Bags | Dance Backpacks | |
| | | | | |
Bangkok Companies is a full service product sourcing company in Thailand. For All your dancewear needs please email bangkokcompanies@gmail.com with your requests.
---
Dance Schools in Lebanon, Dancewear Suppliers, Dancing Organizations
Nada Kano
30 rue Rabieh, immeuble 9 LB-Beyrouth Lebanon
Tel. (961)452.2232; (961)442.6070;
--------------------------------------------------------------------------------
Khagic Torkomian
10th Floor Bloc A, Zalka Highway up of Seasweet 70 LB-1152 Beirut Antelias Lebanon
Tel. (961)322.4150; (961)187.8584; Fax. (961)440.4113;
www.khanito.com
We graduate trainers, competitors, Adjudicators, Show makers & we teach Latin & Ballroom Dancing, Jazz, Tap, Greek dance, Oriental dance. Hip Hop, Modeling, Classical Ballet, Tango Arjantine, since 1980.
--------------------------------------------------------------------------------
Academy Khanito Dance Center
PO Box 70/1152 LB-Antelias Lebanon
00961 3 224150; 00961-1- 878584 ; Fax OO961 4 404113
www.khanito.com
School ,dance tuition, classes, Latin & Ballroom Dancing, American & Dance Sport Stile, Oriental Dance, Classical Ballet, Jazz, Tap, Argentinean Tango, Greek Dance, Hip Hop, Salsa, Mambo, Rock'n'roll, Folkloric
--------------------------------------------------------------------------------
ARTHUR MURRAY FRANCHISED DANCE STUDIO
ZALKA , MAIN ROAD ,AL PLAZA 323 CENTER, STARBUCKS BUILD LB- Lebanon :
(961) -1-888662
www.arthurmurraylebanon.com
TEACHING ALL KINDS OF BALLROOM AND LATIN DANCES: TANGO
--------------------------------------------------------------------------------
Habib Atallah
Jdeideh Highway LB-1557-jounieh Beirut Lebanon
Tel. 00961 1 25 25 25, FAX 00961 1 253912
www.dancenameless.com
Teaching all kind of dancing teacher, choreographer, dancer, group, school,
--------------------------------------------------------------------------------
Linda G. Copp
City Center Ballet, Inc
P.O. Box 66 NH 03766 Lebanon
603-448-5404; 603-448-9710
www.Citycenterballet.com
City Center Ballet, Inc. (CCBI) was established in 1999 to provide performing opportunities for students at the Lebanon Ballet School, Since 1999, City Center Ballet has been the Upper Valley's premiere non-profit student Ballet company performing classical ballets to the amazement and delight of audiences both young and old throughout the region.
--------------------------------------------------------------------------------
Pierre Dib
Bauchrieh LB-1557 jounieh Beirut Lebanon
Tel. 00961 3 668 658, FAX 00961 1 253911
www.idolb.org
All kind of dance except dancesport :teacher, choreographer, dancer, group, school, club,
--------------------------------------------------------------------------------
Daniel Haddad
Zalka Main Road Al-Plaza 323 center, 3rd floor LB-BEIRUT-ZALKABEIRUT-ZALKA Lebanon
Tel. 961-1-888662/ 961-3-663318, FAX 961-1-888662
www.arthurmurraylebanon.com
--------------------------------------------------------------------------------
Ziad Kassis
Mtayleb LB MTAYLEB Lebanon
Tel. +961 3 45 00 27, FAX +961 1 691158 mobile : +961 3 450027
WWW.SALSA-LEBANON.COM
www.salsa.meetup.com/8
Member of WSF, DANCE SCHOOL
--------------------------------------------------------------------------------
Alice Massabki
1, Laplaza center LE-9614 Beirut, jal el dib Lebanon
Tel 00961 4 711536 Fax 00961 4 711536 Mob. 00961 3 662600
www.alicemassabki.com
Ballet School, Contemporary, Choreography And Performances, Oriental Egyptian Technique Jazz, Lebanon
--------------------------------------------------------------------------------
Nancy Naous
P.O.BOX 13-6554 Beyrouth-Chouran Lebanon
(009613)017 623
Notre travail essaie de joindre la danse contemporaine et la parole, croisant ainsi le thatre(en tant que texte) et le travail physique qui se base sur differentes techniques de la danse contemporain
--------------------------------------------------------------------------------
Omar Rajeh
Rue de L'Universite St. Joseph P.O.Box: 175 - 208, Beirut Lebanon
961 3 344 068
www.maqamat.org
--------------------------------------------------------------------------------
Ali Reda
Hospital Pasteur st., Kaady bldg, 2nd floor LB-Jounieh, Lebanon Lebanon
00961 3 265903 ( Mobile) / 00961 9 938 755
www.amanorientalfestival.com
Oriental dance, Belly Dance, Ballet dance, Middle Eastern dance, Yoga, amani
--------------------------------------------------------------------------------
Katia Souan
PO Box 11-1680 LB-Riad el Solh, Beirut Lebanon
Tel. 01 305 161 / 01 347645
Graham Based Technique
--------------------------------------------------------------------------------
Nicoli Torkomian
P.O.Box ; 70 LB-1152 ANTELIAS Lebanon
00961- 3-224150, & 00961-1- 878584 ,
www.khanito.com
We teach , Latin & Ballroom Dancing American & DanceSport Stile, Oriental Dance,
--------------------------------------------------------------------------------
Tasha Banat
1216-J Nakomis Drive NE, Albuquerque NM 87112 New Mexico Mexico
(505)299.7000; (505)299.2200; (505)291.6714 work; Fax (505)291.6617
www.TashaBanat.com
Arabic Style (Lebanese) Belly Dance Cabaret and Debke (Region dances from B'Lad E'Shaam (Lebanon, Palestine, Jordan, Syria and Parts of Iraq.
--------------------------------------------------------------------------------
Fadi Tayar
P.O. Box: 1471 Jounieh, Lebanon
+961 3 097272 Fax: +961 9 919600
www.moonliteentertainment.com
Moonlite Entertainment, Agent/Promoter
--------------------------------------------------------------------------------
Khagic
Zalka Highway Kouyoumji Center, 10th floor LB-701152 Antelias (Beirut) Lebanon
096.132.24150
www.khanito.com
Teacher, ballroom dances
--------------------------------------------------------------------------------
Attitudes Dance Center
rue Adonis LB-Beyrouth ville Lebanon
Tel. (961.1)740.539
School, dance tuition, classes
--------------------------------------------------------------------------------
Body Wave
Aeen Mreisse LB-Beyrouth ville Lebanon
Tel. (961.1)363.490
School, dance tuition, classes
--------------------------------------------------------------------------------
Ecole Libanaise de Ballet
rue de Lyon LB-Beyrouth ville Lebanon
Tel. (961.1)350.554
School, ballet, classical dance
--------------------------------------------------------------------------------
Ecole Libanaise de Ballet Danse
Zouk Mosbeh LB-Zouk Mikayel Lebanon
Tel. (961.9)218.477
School, ballet, classical dance
--------------------------------------------------------------------------------
Lebanese National Commission for UNESCO
Ministere de la Culture LB- Hamra, Beyrouth Lebanon
Tel. (961.1)786.682, 790.491; Fax (961.1)786.656
http://www.lncu.org
National organization
--------------------------------------------------------------------------------
Ministere de la Culture
Immeuble Starco, Batiment B, Rue Omar Daouk LB-Beyrouth Lebanon
Tel. 961 1 379861; Fax (961)1 379863
http://www.culture.gov.lb/contact.htm
--------------------------------------------------------------------------------
Roueida Ghali
Immeuble Mrouee, Rue Yazbeck, Corniche Mazraa LB-Beirut Lebanon
Tel. 961.3.621187
Company
--------------------------------------------------------------------------------
Ivan Caracalla
Theatre Caracalla (aka Theatre Ivoire) LB-Sin El Fil - Horsh Tabet, Beirut Lebanon
Tel. 961 1 490 860, mob 961 3 233 744; Fax 961 1 494 34
www.caracalladance.com
Speciality in dance
--------------------------------------------------------------------------------
Alissar Caracalla
Theatre Caracalla (aka Theatre Ivoire) LB-Sin El Fil - Horsh Tabet, Beirut Lebanon
Tel. 961 1 490 860, mob 961 3 422 545; Fax 961 1 494 347
Studio
--------------------------------------------------------------------------------
Abdel-Halim Caracalla
Theatre Caracalla (aka Theatre Ivoire) LB-Sin El Fil - Horsh Tabet, Beirut Lebanon
Tel. 961 1 490 860, mob 961 3 233 744; Fax961 1 494 347
www.caracalladance.com
Speciality in dance
--------------------------------------------------------------------------------
Georgette Gebara
PO Box 337, Hazmieh LB-Beirut Lebanon
Tel. (961.9)218.577; Fax (961.9)218.477
Classical ballet, modern, ballroom, oriental dance and certain types of folklore
--------------------------------------------------------------------------------
Georgette Gebara
B.P. 293 Ain Arr 1207 LB-Beyrouth Lebanon
tel. 961/1/218 577; Fax 961/9/218 477
Teacher, Oriental dance
--------------------------------------------------------------------------------
Roueida Ghali
Immeuble Mrouee 5eme etage, Rue Yazbeck LB-Corniche Mazraa, Beirut Lebanon
Tel. 961.3.621187
Dancer, teacher, performer, Oriental, Middle-Eastern dance
--------------------------------------------------------------------------------
Bob Hasbani
Box 80133 LB-Bourj Mammoud, Beirut Lebanon
Teacher, ballroom and Latin dance
--------------------------------------------------------------------------------
Chakib Khoury
B.P. 293 LB-Beyrouth Lebanon
Tel. 961/1/218 577; Fax 961/9/218 477
Institute
--------------------------------------------------------------------------------
Elie Lahoud
B.P. 293 Ain Arr 1207 LB-Beyrouth Lebanon
Tel. 961/1/218 577; Fax 961/9/218 477
Institute
--------------------------------------------------------------------------------
Saadeddine Mokhalalaty
B.P. 293 Ain Arr 1207 LB-Beyrouth Lebanon
Tel. 961/1/218 577; Fax 961/9/218 477
Institute