.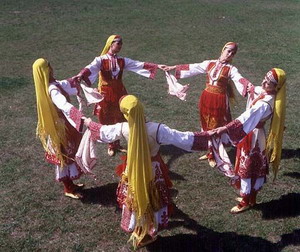 These are just a few of the Bulgarian dance companies, Bulgarian dance schools, dancing organizations and dance wear suppliers that that can be found in our comprehensive Directory of Bulgarian Dance Companies.
Traditional Bulgarian Dance
Mostly simple Bulgarian folk dances, to beautiful and/or lively music. Most of these dances are commonly done in recreational folk dancing. All the dances we will do are line dances. No partner is necessary.

Some of the dances possible (but please note: we can't possibly get to all of them): Baldazka, Brestacka Rucenica, Cekurjankino, Daicovo, Dospatsko, Eleno Mome, Gankino, Ivanice, Liliano Mome, Karamfil, Katushe Mome, Maricensko, Narodno, Neda Voda, Oo Nasheto Selo, Paidusko, Postupano, Pravo, Rusi Kosi, Petrinino, Radomirsko, Racenica, Sedi Donka, Trgnala Rumjano, Triti Pati, Tropanka*2, Vrapceto, Zalna Majka, and Zn Zn Ganke Le. Which ones we do will depend on the temperament of the people who come. I'll ask, "Now, what would you like, a fast or slow dance?"

Bulgarian folk dances are normally line dances, with hands joined either in low "V" hold, belt hold (na pojas), crossed in front or "W" hold. Footwork can vary from fast intricate steps (as in the Šop Region) to slow sustained cat-like movements (as in some of the dances from the Pirin region). Dances from the north have some of the characteristics of dances from southern Romania, just across the Danube, i.e. fast crossing steps, dances from the Pirin Region in the West have much in common with dances from Yugoslav Macedonia, and dances from the Šop region round Sofia have similar characteristics to those from eastern Serbia. This illustrates how boundaries of dance styles do not necessarily conform with politically imposed nationally.
Bulgaria Dance Video
Featured Bulgarian Dance Company
Folk Ensemble Bistritsa
The Bistritsa Ensemble with leader Dina Ancheva exists since 1939. Its goal is to study, recreate and extend the inherited folk's art of the village of Bistritsa. The Ensemble comprises singers, dancers and musicians.
Its core performers are the famous group of polyphonic singers called "The Old Women from Bistritsa". Its repertoire consists of remnants of ancient songs taken from the local folklore and comprising about 300 rituals, work song and horo-leading songs.
Talented young dancers perform original dances of Bistritsa, as well as dances from other ethnographic regions. The main effort of the artistic leader is to keep the style and the nature of the local dances; to capture the original movements and their corresponding musical expression. The main goal of the Ensemble is: to show the art created by the folk's genius throughout the ages in its purest form as far as the scenic rules would allow it.
The Bistritsa Ensemble has had performance tours in Hungary, Germany, England, France and in the U.S.A.

If you would like your Bulgaria Dance Company, Dance Organization, Dance School featured here then please email bangkokcompanies@gmail.com
There are many fine dance schools in Bulgaria. I know I am in contact with them as we supply a range of high quality dancewear products like leotards, dance pants, dance dresses and other dancing apparel.
Bangkok Companies supplies an amazing range of dancewear from Thailand. I have looked at these dance garments and dance accessories in detail. There is only one word to describe them Superb. For more details click on the pictures or send an email to bangkokcompanies@gmail.com We regret at this time we can only satisfy Bulgarian wholesale dancewear requests.
"Dancewear designed by dancers for dancers"
| | | | | |
| --- | --- | --- | --- | --- |
| Dance Dresses | Kids Leotards | Adult Leotards | Dance Bras | |
| | | | | |
| | Dance Pants | Tutu's | Dance Shorts | |
| | | | | |
| Dancewear | Dancewear Organizers | Dance Bags | Dance Backpacks | |
| | | | | |
Bangkok Companies is a full service product sourcing company in Thailand. For All your dancewear needs please email bangkokcompanies@gmail.com with your requests.
---
Dance Schools in Bulgaria, Dancewear Suppliers, Dancing Organizations
Festival "Friendship without borders"
1 Tzar Psvpbpdotel blvd BG-8800 Sliven Bulgaria
(359)44.611.102; (359)44.611.220; Fax (359) 44.663.177; (359)44.662.086
www.sliven.bg
Folk Dance Group
--------------------------------------------------------------------------------
Vakali Group
P.O.Box 228 BG-1113 Sofia Bulgaria
Tel. (35)988.889.9293;Fax. (35)929.806.306
Traditional Bulgarian rhythms through modern means of expression of music and dance; music and dance drum show.
--------------------------------------------------------------------------------
Smilen Savov
JK "Lulin", Bl. 414, Entr. "G", Apt. 69 BG-1359 Sofia Bulgaria
Tel. (359)089.621.0468;
www.asegadream.com
Character Dance, Folk Dance, Teaching Dance, Choreography, Directing, Multimedia, Film
--------------------------------------------------------------------------------
Zornitsa Students'' Folk Dance Ensemble, Balkanfolk
74 Opaltchenska Street BG-1303 Sofia Bulgaria
Tel. (359.2)322.010, (359.2)334.150, Fax (359.2)9311.346, (359.2)333.2
www.balkanfolk.com
Workshop, folk dance and music, performing group
--------------------------------------------------------------------------------
Julian Stanev
62 Cherny Vrah Street BG-9000 Varna Bulgaria
Tel. (359.2)322.010, (359.52)232.478, (359.52)238.595
Group, folk dance and music, performing
--------------------------------------------------------------------------------
Academy of Music and Dance Art
Todor Samodumov 2 BG-4025 Plovdiv Bulgaria
http://amti.hit.bg/pmdaa.htm
--------------------------------------------------------------------------------
Chitalishte ''Saznanie''
1, Central street BG-4224 Brestovitza Bulgaria
Tel. ++359 3142 23 63
Folklore Bulgarian national dances and songs
--------------------------------------------------------------------------------
Folk Ensemble Bistritsa
1 Shopsko horo Street BG-1444 Sofia Bulgaria
359.888.494.618
www.bistritsa.hit.bg
Performance, Research, Preservation of Authentic Bulgarian Songs, Dances, Music, Rituals.
--------------------------------------------------------------------------------
Dora Bareva
Str."Gurko"59 BG-00359 Burgas Bulgaria
Tel. +35956820696 fax.+35956810914, FAX +35956810914
www.veleka-folk.com
Bulgarian folklore dance group
--------------------------------------------------------------------------------
Sammy Bidjarano
j.k. Ljulin bl.229 entr.A app.3 BG 1336, Sofia Bulgaria
359.888.980.422;fax:359.295.888.17
Dancesport club "GARDENIA" - dancesport teaching, treining, performance
--------------------------------------------------------------------------------
Galina Borissova
13a, entr.B-27 BL-1172 Sofia Diana bad Bulgaria
359 2 68 29 81/ cell:+359 (0)886 78 12 16
Experimental performances, dance-theatre group projects, solo works, teaching experience for more than 10 years
--------------------------------------------------------------------------------
Damian Damianov
10 Cherno more Street BG-8260 Tsarevo Bulgaria
+00359 550 54416
Choreographer Folk Dance Ensemble Iglika, folk dances, Bulgarian folk dance ensembles, ensembles, Bulgaria
--------------------------------------------------------------------------------
Anna Dimitrova
dist. Orphey bl.1 entr. A fl.2 apt.12 BG-6300 Haskovo Bulgaria
(359)898.334.010; FAX (359)3866.3030
It is an amateur folk dance ensemble, with children's and youth's formations.
--------------------------------------------------------------------------------
Boris Ganchev
3, Bratia Georgievi str. BG-4400 Pazardzhik Bulgaria
00359 34 82510, 00359 34 82038
Bulgarian folk dances
--------------------------------------------------------------------------------
Vasil Gerlimov
3A, Armeiska BG-6000 Stara Zagora Bulgaria
04124223
www.danceofthewind.com
Dance group
--------------------------------------------------------------------------------
Antonia Ivanova
20-B-5"Slivnitsa"st BG-6400 Dimitrovgrad Bulgaria
00359 /0/391 54677
Teaching Bulgarian folk dances and performing Dances of "Zvezditza" are from all the Bulgarian
--------------------------------------------------------------------------------
Daniela Koleva
P.O. Box 210, Vasil Aprilov BG-5100 Gorna Oryahovitsa Bulgaria
(359)899.831.999; (359)6184.1279; Fax (359)6184.2203; (359)8783.8421
http://sidervoivoda.com
Bulgarian amateur folk dance group, Festival
--------------------------------------------------------------------------------
Iliya Lukov
5, Muglen st. BL-1612 Sofia Bulgaria
(+ 359) 2 952 47 80, FAX (+359) 2 952 18 36
Choreographer: Hristo Stankov - Folk centre NESTIA; Dancers: Dance formation PIRINA; Type of dance: Traditional Bulgarian Folklore Dances
--------------------------------------------------------------------------------
Iliyan Nikolov
19 Hristo Botev Street, c. 4 BG-5000, PB 27, Veliko Tarnovo Bulgaria
359)6262.1541; Fax (359)6262.3464
www.eurofolk.com
Dance groups, Festival
--------------------------------------------------------------------------------
Velichka Nikolova
Mladost 3 Budnina str. BG-1712 Sofia Bulgaria
00 359 277 01 73; 00 359 277 40 52
www.144sou@hit.bg
Choreographer; Bulgarian and international folklore dances
--------------------------------------------------------------------------------
Petar Petrov
39 A, Nikola Gabrovski BG-5000 Veliko Turnovo Bulgaria
359 62 648887; mob 359 889223492; fax 359 62 623938
www.bulgarche.com
Choreographer, folk dances, music and dance; children's ensemble, aged 7-18
--------------------------------------------------------------------------------
Teodora Petrova
41 Nikola Slavkov St, apt 23 BG-1463 Sofia Bulgaria
Tel. 3592.953.1828
Society particularly interested in Authentic Movement, dance movement therapy, creative dance, dance anthropology, etc.
--------------------------------------------------------------------------------
Boriana Setchanova
3, P. Volov Str. BG-1504 Sofia Bulgaria
tel: +359-2-988 61 15; fax: +359-2-988 61 16
www.sofiamusicmark.com/arabesque
Researcher, contemporary dance
--------------------------------------------------------------------------------
Violeta Spirova
Serdika bl. 3 Ap.60 BG-1379 Sofia Bulgaria
Tel. /+359 2 / 8298316 8572207, FAX /+359 2 / 8298316
Folklore Groups, choirs, orchestras, folk dances tuitions, Koprivshtitsa festival.
--------------------------------------------------------------------------------
Adelina Stoicheva
General Gurko str.59 BG-8000 Bulgaria
Tel. 00359-889 616 871 (Mob)
http://www.velekafolk.de
Folk, musical and dance performances
--------------------------------------------------------------------------------
Petya Stoykova
47, "Gladston" BL-8000 Burgas Bulgaria
00359/898/912545
www.dancebg.org
Association for contemporary dance
--------------------------------------------------------------------------------
Gergana Panova Tekath
Krakra 21 BG-1105 Sofia Bulgaria
0049-1782184423
Specialty in dance : Teacher for Bulgarian Folk dances
--------------------------------------------------------------------------------
Natalia Tomova
11 "Okolchitsa" str., bl.83, ent.2 BG-7005 Rousse Bulgaria
+359-82/84-52-38, fax +359-82/ 845-471
Our formation consists of 100 children at the age from 5 to 20. We are performing in different styles(hip- hop, disco dance, folklore, modern, jazz, etc.). The formation has been to many cities in Bulgaria
--------------------------------------------------------------------------------
Vessela Yordanova
P.O Box 95 BG-5400 Sevlievo Bulgaria
(359)675.4330; (359)675.2046; Fax (359)675.5583
Folk Dances of Bulgaria
--------------------------------------------------------------------------------
Nina Kavardjikova
Marne 34 NL-1186 PB Amstelveen Netherlands
Tel. +31-6-2878-4821;FAX +31-20-647-6713
Bulgarian folklore and traditional dance instructor, choreographer and researcher. Native of Bulgaria, worked in Bulgaria, USA, The Netherlands, Germany, UK, Canada. Performed worldwide as a professional dancer.
--------------------------------------------------------------------------------
Eliznik
Herts U.K.
01923 249704
www.eliznik.org.uk
Large & expanding web site on Romanian and Bulgarian folk dance, music, costume Romanian and Bulgarian folkdance teachers.
--------------------------------------------------------------------------------
Elaine Sohn
101 Clark St. Apt 30H NY 11201 Brooklyn U.S.A.
718-522-5349
www.brooklynheightsfolkdancers.org
international; Brooklyn, folk dancing; Balkan, Bulgarian
--------------------------------------------------------------------------------
Jatila van der Veen-Davis
4521 Vieja Drive CA 93110 Santa Barbara, California U.S.A.
Tel. 011-805-964-5591
www.jatiladance.com
Izvor Performing Ensemble of Santa Barbara is dedicated to the preservation and presentation of the dance and music of Bulgaria,
--------------------------------------------------------------------------------
Balkanton
6 Haidhoushka Polyana Street BG-1612 Sofia Bulgaria
Tel. (359 (2) 52.54.51; Fax 54.27.44
Vendor, music, Bulgarian folk dance music records & CDs
--------------------------------------------------------------------------------
Dobrudza Dance Ensemble
21 Simeon Veliki Str. entr. A ap.6 BG-7500 Silistra Bulgaria
Tel. (359.86)28821; Fax (359.86)28821
Folk, Ensemble
--------------------------------------------------------------------------------
Muncipality of Sliven "Belite Kaynatsi"
5 Tzar Osvoboditel BG-8800 Sliven Bulgaria
Tel. 359.442.4848, Fax359.442.2847
Folk dance festival for Children
--------------------------------------------------------------------------------
Pazardjik Ensemble for Folk Songs and Dances
4 Ekzarh Josif Street BG-4400 Pazardjik Bulgaria
Tel. (359.34)24237; Fax (359.34)442.495
Folk, Ensemble
--------------------------------------------------------------------------------
Zagore
Box 237 BG-6000 Stara Zagora Bulgaria
Tel. (359.42)23958
Company, folk, song and dance, professional
--------------------------------------------------------------------------------
Maria Bandjakova
1 rue de Centre BG-4224 Brestovitza, region Plovdiv Bulgaria
Tel. 359/ 03142 2362; Fax /359/ 03142 3229
Folk dances ensemble
--------------------------------------------------------------------------------
Elena Barenska
Vasil Petleshkov 47 BG-4550 Peshtera Bulgaria
Tel. (359)350 4653; Fax (359)350 4165
www.angelfire.com/folk/zdravez
National folk dances
--------------------------------------------------------------------------------
Kalina Bogoeva
bul. "G.M.Dimitrov" 38 vh. 5 BG-1172 Sofia Bulgaria
Tel. (359.2) 68.40.98, (359.4) 8935 739, (359.8)8524 515
Reader, teacher and researcher in methodology of classical dance
--------------------------------------------------------------------------------
A. Bojilova
Bul. ?Vasil Levski" 75 BG-1000 Sofia Bulgaria
Tel. (359)56.39522, Fax (359.2)981.5728, (359.56)30056
Organization, dancesport
--------------------------------------------------------------------------------
Siyka Bratoeva
27 Khan Asparoukh Street BG-7000 Rousse Bulgaria
Tel. (359)82225515, (359)82483621, Fax (359)82276150
Group, folk dance, Bulgarian arranged folklore dances
--------------------------------------------------------------------------------
Mihail Damyanov
Tzar Osvoboditel 5 BG-8800 Sliven Bulgaria
Tel. 3594424848; Fax 3594423006
Organization, folk dance groups, organizer
--------------------------------------------------------------------------------
Emile Dimitov
6 Serdika BG-1000 Sofia Bulgaria
Tel. (359)2.833.377; 9 877 608; Fax 359 / 2 801 802
www.bulgarianspace.com/music/varna_ibc
International dance competition, classical ballet
--------------------------------------------------------------------------------
Maria Drazheva
14a, R. Dimitriev St. BG-9000 Varma Bulgaria
Tel. 00359 88 90 88 59, Fax 00359 52 238 246
www.folkxplorer.com
Teacher, choreographer, dancer, dance academy, folk club. Four Seasons Folk Music and Dance Academy.
--------------------------------------------------------------------------------
Maria Genova
2, Pliska Street, P.O. 7057, Nikolovo Rousse District Bulgaria
Tel. & Fax 00359 81118 2412
Children Folklore Dance Group
--------------------------------------------------------------------------------
Petar Georgiev
39a Nikola Gabrovski Street BG-5000 Veliko Tarnovo Bulgaria
Tel. 359 62 488 87
www.bulgarche.com
Ensemble, Bulgarian Folk dances and songs
--------------------------------------------------------------------------------
Alexander Htistov
Box 104 BG-7200 Razgrad Bulgaria
Tel. (359.84)33081, Fax (359.84)284458
Company, folk music, songs and dances from North-East Bulgaria and other folk regions in the country
--------------------------------------------------------------------------------
Sofka Ignatova
Orfei 22 BG-4002 Plovdiv Bulgaria
Tel. +088-260-496
Teacher, ballroom dances
--------------------------------------------------------------------------------
Anna Ilieva
Hadji Dimitar 19B BG-1000 Sofia Bulgaria
Researcher, ethnochoreologist, folk dance
--------------------------------------------------------------------------------
Krasimira Koldamova
Gurguliat 17 BG-1436 Sofia Bulgaria
Tel. & Fax 952 50 60
Ballet dancer
--------------------------------------------------------------------------------
Nikos Mertzimekis
Segmi Juli 2 BG-5000 V. Tarnovo Bulgaria
Student, dance study
--------------------------------------------------------------------------------
Stefan Moutafchiev
1 Dame Gruev Street BG-4000 Plovdiv Bulgaria
Tel. (359.32)773876, 260161, 773876
Company, folk, music, songs and dances group, performing, adults
--------------------------------------------------------------------------------
Milena Nenkova
Bulgaria
359 887 246 943
www.folkbulcamp.com
Bulgarian Folk dances and singing
--------------------------------------------------------------------------------
Gergana Panova
Mladost 3/344-4-7 BG-1712 Sofia Bulgaria
Tel. & Fax (359.2)757.395
Music, Ethnochoreology, Bulgarian folk dance and music, workshops
--------------------------------------------------------------------------------
Emil Boianov Pavlov
PO Box 131 BG-1700 Sofia Bulgaria
Tel. 359.2.951 5038; 359.2.963 1013
www.cioff-bulgaria.com
Organizer, folk dance festivals
--------------------------------------------------------------------------------
Benio Penev
PO Box 119 BG-5400 Sevlievo Bulgaria
Tel. & Fax (359.675)3228
Organizer, festivals, exchanges, folk dance
--------------------------------------------------------------------------------
Peter Georgiev Petrov
24 Bulgaria Street BG-5000 Veliko Tarnovo Bulgaria
Tel. (359.62)629083, 24074, 28022
Ensemble for children and adolescents, Bulgarian folk dances
--------------------------------------------------------------------------------
Angel Pilipov
3 Slaveikov Square BG-1000 Sofia Bulgaria
Tel. (359.2)879.965, (359.2)882.180
Company, folk, Bulgarian music and dances ensemble
--------------------------------------------------------------------------------
Rouslan Raichev
58 Doundounkov Street BG-1000 Sofia Bulgaria
Tel. (359.2)877.011, Fax (359.2)877.998
Company, ballet, classical repertoire, emphasis on modern dance
--------------------------------------------------------------------------------
Anna Starbanova
Hadji Dimitar 19 B BG-1000 Sofia Bulgaria
Researcher, folk dance, sound archives, ethnochoreologist, ritual, encyclopedia of Bulgarian folklore
--------------------------------------------------------------------------------
Magdalena Videva
Bulgaria
359 887 246 943,
contact Milena Nenkova
www.folkbulcamp.com
Bulgarian Folk dances and singing
--------------------------------------------------------------------------------
Vancouver International Folk Dancers, Bulgarian Festival
PO Box 2452 V6B3W7 Vancouver, BC Canada
Tel. (1.604)922.4656
www.vcn.bc.ca./vifd
Festival, workshop, folk dance
--------------------------------------------------------------------------------
Jaap Leegwater
Zwanenwater 8 NL-1187 LB Amstelveen Netherlands
Tel. 31.2025024416 31.20.3471261
Teacher, Bulgarian & Dutch folk dances
--------------------------------------------------------------------------------
Moni Sheehan
7 Pangbourne, William Road NW1 3LE London U.K.
Tel. (44.20)7387.8645
Bulgarian folklore, story, music and dance performance and workshop company
--------------------------------------------------------------------------------
Mark Levy
225 University of Oregon OR 97403 Eugene, Oregon U.S.A.
Tel. (1.541)346.2852
Researcher, dance, Bulgaria, Macedonia
--------------------------------------------------------------------------------
Carol Silverman
OR 97403-1218 Eugene, Oregon U.S.A.
Tel. (1.541)346.0668; Fax (1.541)346.0668
Balkan dance and music, Macedonia, Bulgaria, Romani, Gypsy
--------------------------------------------------------------------------------
144 Secondary School ''Narodni Buditeli''
Mladost 3 Budnina str. BG-1712 Sofia Bulgaria
Tel. (35)927.701.73; (35)927.740.52;
Choreographer; Bulgarian Dance and international folklore dances