.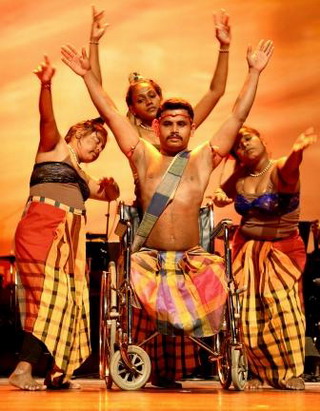 The Ranranga Dancing Academy, Chitrasena School of Dance, Gramodaya Folk Art Centre, are just a few of the dance companies, Sri Lankan dance schools, dancing organizations and dance wear suppliers that that can be found in our comprehensive Directory of Sri Lankan Dance Companies.
Traditional Sri Lankan Dance
There are three classical dance forms and several folk dances in Sri Lanka the classical dance forms are known as Kandyan dancing Ruhunu dancing and Saparagmu dancing; Kandyan dancing is practiced in the central hills of the island, Ruhunu in the coastal or low country areas, and Saparagamu in the province known as Saparagamuwa, particularly in the district of Ratnapura, world-famous for its gems.

The three classical dance forms differ in their styles of body-movements and gestures, in the costumes worn by the performers, and in the shape and size of the drums use to provide rhythmic sound patterns to accompany the dancing

The drum used in Kandyan dancing is known as the GETA BERE, the drum in Ruhunu dancing as the YAK BERE, and drum in Saparagamu dancing as the DAVULA (the word BERE or BERAYA in Inhale means "Drum") The Geta Bere is beaten with the hands as is also Yaka Bere, while the Davula is played with a stick on one side and with one hand on the other side; the Geta Bere has a body which tapers on both sides while the Yak Bere and the Davula both have cylindrical bodies.

The main distinguishing feature between Kandyan and Saparagamu dancing, and Ruhunu dancing, is that Ruhunu dancers wear masks.

The classical dance forms are associated with the performance of various rituals and ceremonies which are centuries old and are based on the folk religion and folk beliefs going back to times before the advent and acceptance of Buddhism by the Sinhalese people in the third century B.C. These rituals and ceremonies reflect the values, beliefs and customs of an agricultural civilization.

The pre-Buddhistic folk religion consisted of the belief in a variety of deities and demons who were supposed to be capable of awarding benefits and blessings but also causing afflictions and diseases. Accordingly they had to be either propitiated or exorcised with offerings and the performance of rituals and ceremonies.

The repertoire of Dances in Kandyan dancing has its origins in the ritual known as the Kohomba Kankariya, which is performed to propitiate the deity known as Kohomba for the purpose of obtaining relief from personal afflictions or from communal calamities such as pestilence. Although this ritual is rarely performed at the present the various dances associated with its performance could be seen in the Kandy Perahere, and annual religion-cultural event which takes place in the city of Kandy in honor of the sacred tooth-relic of the Buddha housed in the Delude Malaga, the Temple of the Sacred Tooth.

The repertoire of Ruhunu dancing has its origins in the rituals of Devol Maduwa to propitiate a deity of the same name, and in the exorcistic rituals known as Rata Yakuma and Sanni Yakuma. Rata Yakuma and Sanni Yakuma are associated with various demons who are supposed to cause a variety of afflictions and incurable illnesses.

Saparagamu dancing is associated with the ritual known as the Gam Maduwa, which is performed to propitiate a deity called Pattini, a female. The purpose is to obtain a good harvest or to ward off evil or to be rid of and infectious disease.

Apart from the classical dance forms there are also folk dances, which are associated with folk activities and festivities. Leekeli (stick dance), Kalageldi (pot dance) and Raban (a hand drum) folk dances prevalent at the present time.

There is also in the low country a dance-drama called Kolam in which the performers wear masks depicting animals or people such as kings or high officials, and provides amusement and social satire. It has been suggested by scholars that Kolam may have developed from the ritual known as Sanni Yakuma and had later become a dance-drama independent of ritual elements.
Dances of Sri Lanka - By Hemasiri PREMAWARDENE
Featured Sri Lankan Dance Company
The Ranranga Dancing Academy is a well-recognized aesthetic institute in the Democratic Socialist Republic of Sri Lanka, since 1994, specializing students in traditional and folk dancing. We have been sending our artists to many festivals and functions held both at home and abroad. The elegance and grace of performance, of our students have gained appreciation and approbation from many promoters .we are proud to mention that the International Dance Council (CID) and UNESCO , the official umbrella organization for all forms of dance in all the countries of the world has awarded us their prestigious membership considering about our activities towards the enlistment of national culture and folk dance. Our troupe comprises of one Male Manager ,03 Lady teachers and 21 girls who need special permission from the Ministry of Cultural Affairs for participations in this event. As such it is earnestly requested that your recommendations are forwarded to the Ministry of Cultural Affairs through the Ministry of Foreign Affairs .This procedure will help us to get permission from our Ministry of Cultural Affairs for our participation in the festival an official.

If you would like your Sri Lanka Dance Company, Dance Organization, Dance School featured here then please email bangkokcompanies@gmail.com
There are many fine dance schools in Sri Lanka. I know I am in contact with them as we supply a range of high quality dancewear products like leotards, dance pants, dance dresses and other dancing apparel.
Bangkok Companies supplies an amazing range of dancewear from Thailand. I have looked at these dance garments and dance accessories in detail. There is only one word to describe them Superb. For more details click on the pictures or send an email to bangkokcompanies@gmail.com We regret at this time we can only satisfy Sri Lankan wholesale dancewear requests.
"Dancewear designed by dancers for dancers"
| | | | | |
| --- | --- | --- | --- | --- |
| Dance Dresses | Kids Leotards | Adult Leotards | Dance Bras | |
| | | | | |
| | Dance Pants | Tutu's | Dance Shorts | |
| | | | | |
| Dancewear | Dancewear Organizers | Dance Bags | Dance Backpacks | |
| | | | | |
Bangkok Companies is a full service product sourcing company in Thailand. For All your dancewear needs please email bangkokcompanies@gmail.com with your requests.
---
Dance Schools in Sri Lanka, Dancewear Suppliers, Dancing Organizations
Swarna Basnayake
Ranranga Dancing Academy
402-5/12, 5th Lane.Bogahawila Road LK-10230 Pannipitiya Sri Lanka
(009)411.284.1836; (009)477.604.9700 Mobile
Ranranga Dancing Academy is a well recognized aesthatic Institute of the Democratic Socialist Republic of Sri Lanka since 1994 making students specializing in traditional and folk dancing
--------------------------------------------------------------------------------
Saravanapava Guhendran
571/10 - 4/1, Galle Road LK-00006 Colombo Sri Lanka
Tel: 0094-11-2581227 ; 0094-11-2508895 ; Fax: 0094-11-2361303
Bharata Natyam
--------------------------------------------------------------------------------
Meintje Orsel
Av. Diego de Almagro 2057 CL-Providencia Chile
(2 - 56) 2054602, fonofax: (2 - 56) 4743230
www.udenetum.tk
Ceremonial Classical Dance of Sri Lanka - Ceylon
--------------------------------------------------------------------------------
Chitrasena School of Dance
11, School Lane LK-Nawala Sri Lanka
(9411)-286-4671
Traditional Dance & Drums of Sri Lanka
--------------------------------------------------------------------------------
Kalatheera
No 61/1 "Sri Ranga", 3rd Cross S.B.M. Colony, B.S.K I S LK- 560050 Bangalore Sri Lanka
91-80-26722360
www.kalatheera.com
Ours is a odissi dance instauration we conduct festivals in and around Karnataka
--------------------------------------------------------------------------------
Nirmala John
Sri Lanka LK-CO 0004 Colombo Sri Lanka
Tel. 94 112 505927, FAX 94 112 589951
Bharathanatyam Teacher & lecturer in the University, School & at Nirmalanjali
--------------------------------------------------------------------------------
Basil Mihiripenne
75 Jaya Mawathe Mampe, Piliyandala Sri Lanka
+94 11 2615258
Training centre in dance, music and drums; Performing group; The centre maintains highly developed theatre group
--------------------------------------------------------------------------------
Prasanna Rupatilleke
Kotahena Street 111 LK-13 Colombo Sri Lanka
009412330269
Dancing for peace
--------------------------------------------------------------------------------
Lionel Sirisena
113, Pamankada Road LK Colombo 06 Sri Lanka
0094 112 559971 ; Fax 0094 114 201799
Lakranga Dance Academy, Over 30 Years In Traditional Sri Lankan Dance,
--------------------------------------------------------------------------------
Chandana Wickramasinghe
No 08, C P De Silva Mawatha Kaldemulla, Moratuwa Sri Lanka
0094112634574 ; 0094777311826
Chandana Wickramasinghe and the Dancers' Guild of Sri Lanka, A Dance troupe will entertain you with some traditional,f olk, creative and modern dancing based on Kandyan, Low country (Sri Lankan Style), Kat
--------------------------------------------------------------------------------
Isurupaya LK-Battaramulla Sri Lanka
Tel. (94.1)864.812; Fax (94.1)872.158
Organization
--------------------------------------------------------------------------------
Gramodaya Folk Art Centre
Battaramulla, Sri Jayawardenepura LK-Kotto Sri Lanka
School
--------------------------------------------------------------------------------
Institute of Aesthetic Studies, Kelaniya University
21 Albert Crescent LK-7 Colombo Sri Lanka
School
--------------------------------------------------------------------------------
Sri Lanka National Commission for UNESCO
Ministry of Education; Isurupaya LK- Battaramulla Sri Lanka
Tel. (94.1)864.812; Fax (94.1)872.158
National organization
--------------------------------------------------------------------------------
University of Colombo, Sri Palee Campus
Wewala LK-Horana Sri Lanka
School
--------------------------------------------------------------------------------
Nirmala Benedict Adrian
8/3 Vivekananda Avenue Colombo 6 Sri Lanka
--------------------------------------------------------------------------------
Ranjit Dharmakirti
Tower Hall Th.Fd,Sausiripaya, 123 Wiyrama Mawatha LK-7 Colombo Sri Lanka
Tel. 94 1 68 60 80; Fax 94 1 69 97 38
Organisation
--------------------------------------------------------------------------------
Navin Gooneratne
75 Kynsey Road LK-8 Colombo Sri Lanka
tel. 94.75.537 678; Fax 94.74.512 462
Festival, folk, organizer
--------------------------------------------------------------------------------
Ranmali Mirchandani
49 Alfred House Gardens LK-Colombo 3 Sri Lanka
Tel (94)1 581 171 Fax (94)1 587079
--------------------------------------------------------------------------------
Gooneratne Navin
75 Kynsey Road LK-Colombo 8 Sri Lanka
Tel. 94.75.537 678; 94.1.327 758; 94.75.74.512 462
Organizer, festivals