.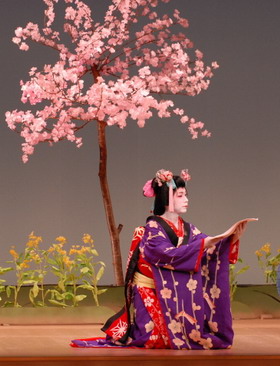 Tokyo Ballet, Erika Akoh Global Dance Theater, Butoh Dance Group, Kawai Dance School, Tokyo City Dance Academy, are just a few of the Japanese dance companies, Japanese dance schools, dancing organizations and dance wear suppliers that that can be found in our comprehensive Directory of Japanese Dance Companies.
Traditional Japanese Dance
There is a tremendous diversity in traditional Japanese dance, from court and religious dance to the ritualistic noh dance-drama and theatrical kabuki dance. In modern times, Japan's avant-garde butoh dance has also attracted international interest.
Historically, kagura (dance of the gods) is the oldest form of dance in Japan. Originally performed by shamans, its influence is perceived in all Shinto dances performed at shrines today to appease or attract the favor of the deities. From the 6th century, Japan received a great deal of cultural influence from other parts of Asia, especially China and Korea. The earliest imported dance was a form of masked dance-drama called gigaku, which came to Japan from Korea in 612. The main legacy from gigaku was a two-man shishimai dance, which is the ancestor of all lion dances in Japan today. From the 7th to 8th centuries in particular, a wide range of Korean and Chinese music and dance were introduced, and came to be known under the generic terms gagaku (court music) and bugaku (court dance). This bugaku was characterized by richly costumed dancers and the accompaniment of gagaku.

Outside the court, bugaku was also performed at shrines and temples along with kagura and Buddhist ceremonial dance. It is still performed to a limited extent today.

An acrobatic or circus-like performance (sarugaku) was used as the dance accompaniment of the court sumo festival in the Heian period (794-1185). Sarugaku and dengaku, originally a fertility ritual held in fields, eventually contributed to the development of the noh drama in the 14th century.

Meanwhile in agricultural and fishing communities around the country, folk and festival dances accompanied by hayashi music (ensemble of drums and flutes), and variations of nembutsu odori based on Buddhist incantations (giving rise to dances such as the bon-odori) were a vital element of community life, and continue to be so today.
Japanese Dance Video
Featured Japanese Dance Company
Erika Akoh Global Dance Theater
Erika Akoh was the last modern dance disciple of the late Seiko Takada who was a legend in the Modern Dance History of Japan. At the same time, Erika was an actress studying at Tokyo Theatrical Art Institute. That is why her performances have deep theatrical values in them. She has her original way of expression by using the 'Ki' energy to portray the scene more vividly. She calls this style "Theater Movement" which means Dramatic Theater Dance. On the five performances that she had choreographed this time, I could notice her specialty was fully expressed.

If you would like your Japan Dance Company, Dance Organization, Dance School featured here then please email bangkokcompanies@gmail.com
There are many fine dance schools in Japan. I know I am in contact with them as we supply a range of high quality dancewear products like leotards, dance pants, dance dresses and other dancing apparel.
Bangkok Companies supplies an amazing range of dancewear from Thailand. I have looked at these dance garments and dance accessories in detail. There is only one word to describe them Superb. For more details click on the pictures or send an email to bangkokcompanies@gmail.com We regret at this time we can only satisfy Japan wholesale dancewear requests.
"Dancewear designed by dancers for dancers"
| | | | | |
| --- | --- | --- | --- | --- |
| Dance Dresses | Kids Leotards | Adult Leotards | Dance Bras | |
| | | | | |
| | Dance Pants | Tutu's | Dance Shorts | |
| | | | | |
| Dancewear | Dancewear Organizers | Dance Bags | Dance Backpacks | |
| | | | | |
Bangkok Companies is a full service product sourcing company in Thailand. For All your dancewear needs please email bangkokcompanies@gmail.com with your requests.
---
Dance Schools in Japan, Dancewear Suppliers, Dancing Organizations
Mr. Itto Morita
Butoh Dance Group "GooSayTen"
Akebono 6-3-8-25 JP-006.0836 Teine-ku, Sapporo Japan
Tel. & Fax 81.11.684.1383
kasait@can.bekkoame.ne.jp
www.ne.jp/asahi/butoh/itto
Dance Group, Butoh dance, body learning and dance therapy, a psychosomatic training
--------------------------------------------------------------------------------
Namahage Daiko
117-5 Aza Tateishi, TarU.S.A.wa, Wakimoto JP-010. 0346 Oga Akita Japan
Tel. 185-25 2028; Fax 185-25 3738
Performer, Teacher
--------------------------------------------------------------------------------
Shogo Kawai
Kawai Dance School
1-36 Kaiunbashi-Dori JP-020 Morioka, Iwate Japan
Tel. (81.196)22.7849
Dance School, ballroom dancing, studio, classes, tuition, couple dances
--------------------------------------------------------------------------------
Mr. Norio Inagaki
Home address 1-8-1-806 Roppongi Minato-ku JP-06-0032 Tokyo Japan
Tel. (81.3)3585.3691
Dance Researcher, folk dance, ethnochoreology, traditional village folk dance, Europe, Japan
--------------------------------------------------------------------------------
Akiko Fujimoto
Dance Studio Mind
7F Nishi-3chome, Minami-2jyo, Chuo-ku JP-060-0062 Sapporo-shi, Hokkaido Japan
Tel. & Fax (81)11.221.8055
http://www2b.biglobe.ne.jp/~mailly/mind/mind.html
Dance Company
--------------------------------------------------------------------------------
Jiro Sasamura, Director
Hokkaido Federation for the Preservation of Traditional Ainu Dance
Nishi 7-chome, Kita 2-jo, Chuo-ku, JP-060.0002 Sapporo Hokkaido Japan
Tel. 11-221 0462; Fax 11-121 0672
Dance Association, Ainu
--------------------------------------------------------------------------------
Ms. Erika Akoh
46, 15jo Minami Chuoku JP-064-09 Sapporo Japan
Tel. 011.511.3029; Fax 011.511.8037
erika@erikaakoh.com
http://erikaakoh.com
choreographer, dancer, teacher
--------------------------------------------------------------------------------
Dr. Ms. Toshiko Sato
1-17 15S 6W Chuo-ku JP-0640915 Sapporo Japan
miwacyan@dj8.so-net.ne.jp
Ballet, research and director
--------------------------------------------------------------------------------
Sal Vanilla
1-11-2 Wakabayashi Setagaya-Ku, #105 JP-100 Tokyo Japan
Tel. & Fax (81.3)3418.1015
Dance Company, performing Butoh, Japanese dance
--------------------------------------------------------------------------------
Harajuku Dance Academy
1-19-8-202 Jingu Mae, Shibuya-ku JP-100 Tokyo Japan
Tel. (03)3402.0032
Dance School
--------------------------------------------------------------------------------
Tokyo City Dance Academy
1-22-5 Higashi Ikaburro, Toshima-ku JP-100 Tokyo Japan
Tel. (03)3984.1040
Dance School
--------------------------------------------------------------------------------
Step In Dance School
1-4-11 Qi, Shinagawa-ku JP-100 Tokyo Japan
Tel. (03)3772.6191
Dance School
--------------------------------------------------------------------------------
Kojima Tetsuji Dance Studio
1-6-B Yumkucho, Chiyoda-ku JP-100 Tokyo Japan
Tel. (03)3580.7220
Dance School
--------------------------------------------------------------------------------
Suzuko Ishikawa Dance School
2-26-8 Kotakecho, Nerima-ku JP-100 Tokyo Japan
Tel. & Fax (03)3958.3313
Dance School
--------------------------------------------------------------------------------
Sakane Dance School
2-27-6 Minami Ikabukurro, Toehima-ku JP-100 Tokyo Japan
Tel. (03)3981.4357
Dance School
--------------------------------------------------------------------------------
Asano Dance School
2-3-5 Ikebukurro, Toshima-Ku JP-100 Tokyo Japan
Tel. (03)3982.8512
Dance School
--------------------------------------------------------------------------------
Nakagawa Saburo Dance Gakuin
3-16-19-1001 Kila Senzoku, Ota-ku JP-100 Tokyo Japan
Tel. (03)3404.5288
Dance School
--------------------------------------------------------------------------------
Ms. Mashino Ako
3-3-16-302 Akazutsumi Setagaya-ku JP-100 Tokyo Japan
Tel. & Fax (81.3)3324.3450
akomas@bu.iij4u.or.jp
Dance Researcher, folk dance, performing arts, Bali, Indonesia, Balinese sung dance-drama "Arja"
--------------------------------------------------------------------------------
Torij Dance School
5-1-1 Roppongl. Minato-ku JP-100 Tokyo Japan
Tel. (03)3405.4541
Dance School
--------------------------------------------------------------------------------
Ana's School of Dance, The International Dance School in Tokyo
5-2-9 Den'en Chofu, Ota-Ku JP-100 Tokyo Japan
Tel. (03)3721.5495
Dance School
--------------------------------------------------------------------------------
Watanabe Dance Studio
Biritau Building, 3-3 Kande Kajicho, Chiyedaku JP-100 Tokyo Japan
Tel. (03)3256.2720
Dance School
--------------------------------------------------------------------------------
Dancing Plaza Eminent
Izumiya building, 2-20-2 Nardmasu, Itabashi-ku JP-100 Tokyo Japan
Tel. (03)3977.7500
Dance School
--------------------------------------------------------------------------------
International Dance School
Matsulshi building, 2F, 1-8-9 Hirroo, Shibuya-ku JP-100 Tokyo Japan
Tel. & Fax (03)3444.2180
Dance School
--------------------------------------------------------------------------------
Matsuyma Ballet
Minami-aoyama 3-10-16, Minato-ku JP-100 Tokyo Japan
Tel. 03.3408.6640
Dance Company, ballet, classical
--------------------------------------------------------------------------------
Yamagusvhi Dance Studio
MTC building, 8F, 5-30-16, Ogikubo, Suginami-ku JP-100 Tokyo Japan
Tel. (03)3391.8899, Fax (03)3391.3609
Dance School
--------------------------------------------------------------------------------
Aloha Dalire
Keolalaulani Hlau Olapa O Laka, Elua
Nagoya JP-100 Tokyo Japan
Tel. 011 81 52 9331817
Dance Group, Polynesian dances, Hula
--------------------------------------------------------------------------------
Sawako Makaalohilohi Yamasaki
Keolalaulani Hoau Olapa O Laka, Elua
Nagoya JP-100 Tokyo Japan
Tel. 011 81 45 4724205
Dance Group, Polynesian dances, Hula
--------------------------------------------------------------------------------
Yujiro & Yukiko Saino
Saino Dance School
Nakameguro JP-100 Tokyo Japan
Tel. (81.3)3793.1973, Fax (81.3)3793.1951
Dance School, ballroom dancing, studio, classes, tuition, couple dances
--------------------------------------------------------------------------------
Japan Dance Art
No 10 Kyutei Maralon 7F, 2-2-4 Shinjuku, Shinjuku- JP-100 Tokyo Japan
Tel. (03)3225.3091, Fax (03)3225.3092
marika@blue.ocn.ne.jp
http://marika-dance.com/engdex.html
Dance School
--------------------------------------------------------------------------------
Nakura Jazz Dance Studio
Paradole Noglzaka 301, 9-8-42 Akasaka, Mihato-ku JP-100 Tokyo Japan
Tel. (03)3367.0333
Dance School
--------------------------------------------------------------------------------
Balon House
Shuwa building, 7F, 3-14-12 Rppongi, Minato-ku JP-100 Tokyo Japan
Tel. (03)3401.2936
Dance School
--------------------------------------------------------------------------------
Tokyo Ballet
Yakumo 5-1-20, Meguro-ku JP-100 Tokyo Japan
Tel. 03.723.2356
Dance Company, ballet, classical
--------------------------------------------------------------------------------
National Commission for UNESCO, Ministry of Education
3-2-2 Kasumigaseki, Chiyoda-Ku JP-100-0013 Tokyo Japan
Tel. (81.3)3581.2174/2754; Fax (81.3)3581.9149
Dance Organization
--------------------------------------------------------------------------------
Mr. Kentaro Hayashi, President
Japan Ballroom Dance Federation - JBDF
Ishizuka-Building 4F, Misaki-cho 2-9-7 JP-101 Chiyoda-ku Tokyo Japan
Tel. (81.3)3222.0680, Fax (81.3)3222.3187, (81.3)3264.4575
Dance Organization, ballroom dance
--------------------------------------------------------------------------------
Tomoko Ehara
2-21-4 Kanda Tsukasa-cho JP-101 Chiyoda-ku, Tokyo Japan
Tel. 81(3).3291.8649, Fax 81(3).3291.8648
Dance Company
--------------------------------------------------------------------------------
Kyoichi & Masako Sudo
Metro Dance Studio
Kyoei Kanda building 3F, Uchi-kanda 2-9-9 JP-101 Chiyoda-ku, Tokyo Japan
Tel. (81.3)3254.1907, Fax (81.3)3253.6117
Dance School, ballroom dancing, studio, classes, tuition, couple dances
--------------------------------------------------------------------------------
Toru & Yumi Futatsumori, Directors
Futatsumori Toru Dance School
Kandasurugadai 3-5-4 4F JP-101-0062 Chiyoda-ku, Tokyo Japan
Tel. (81.3)5280.0013, Fax (81.3)5280.0013
Dance School, ballroom dances, tuition, classes
--------------------------------------------------------------------------------
Tomoko Ehara, Director
Tomoko Ehara Dance Company
2-21-4 Kanda TsU.K.asa-cho, Chiyoda-ku JP-101.0048 Tokyo Japan
Tel. 3-3291 8649; Fax 3-3291 8648
ehara@path.ne.jp
www.jpan.org./dance/ehara/index-j.html
Dance Company
--------------------------------------------------------------------------------
Takao Ashino, Director
Butai Sozo Kenkyujo
Matsunuma building 3F, 4-12-20 Ginza JP-104 Chuo-ku, Tokyo Japan
Tel. (81)3.5565.1550; Fax (81)3.5565.1560
Dance Company, Japanese dances, Kabuki
--------------------------------------------------------------------------------
Manabu & Masako Shinoda
Shinoda School of Dancing
San-ai building 3F, Kyobashi 2-2-14 JP-104 Chuo-ku, Tokyo Japan
Tel. (81.3)3275.3973
Dance School, ballroom dancing, studio, classes, tuition, couple dances
--------------------------------------------------------------------------------
Japanese Classical Dance Association, Shadan Hojin, Nihon Buyo Kyokai
2-18-1-210 Kachidoki, Chuo-ku JP-104.0054 Tokyo Japan
Tel. (81.3)3533.6455, Fax (81.3)3533.8768
Dance Organization, classical dance
--------------------------------------------------------------------------------
Miki Wakamatsu, Director
Jade '93 Committee
5b Roppongi International Building 7-3-12 JP-106 Tokyo, Roppongi, Minatoku Japan
Tel. 81.3.3423.7018, Fax 81.3.3423.6984
Dance Organizer
--------------------------------------------------------------------------------
Shoji Kojima, Director
Shoji Kojima Flamenco Dance Company
Kojima Shoji Flamenco Buyohdan JP-106.0031 Tokyo Japan
Tel. 3-3498 0923; Fax 3-3498 5442
Dance Company, Flamenco